Barangay Ginebra cruised to an easy win over the Meralco Bolts, while the TNT Tropang Giga barely escaped the Phoenix Super LPG Fuel Masters.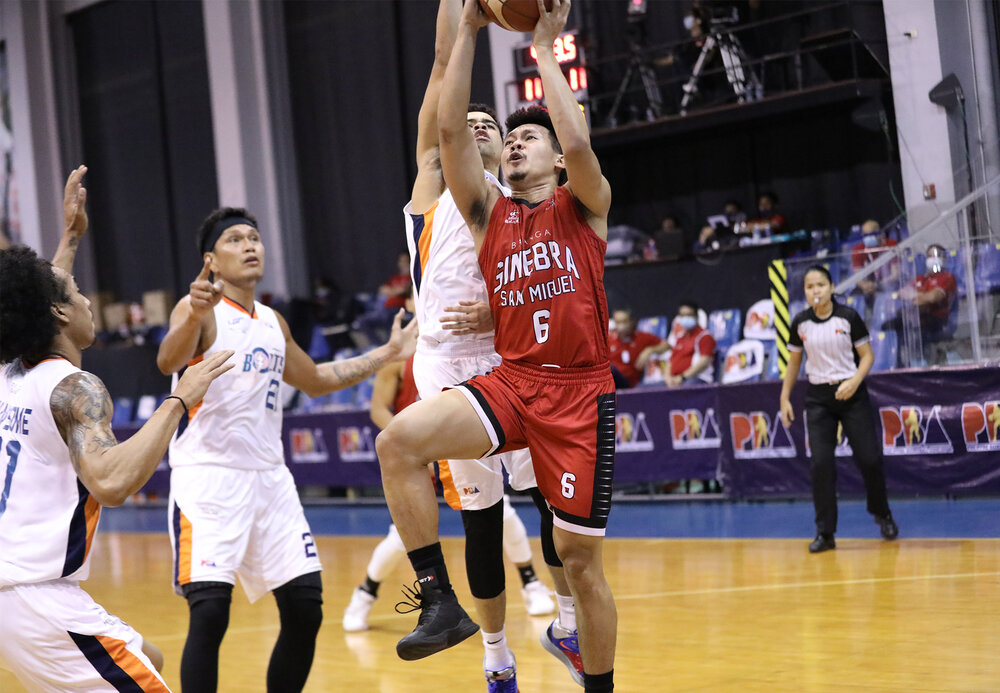 Ginebra's Scottie Thompson drives past Aaron Black of Meralco. (Photo from PBA Media Group)
The Gin Kings didn't have to sweat much as they take a resounding Game 1 victory over the Bolts in their best-of-five semifinals match-up. Stanley Pringle topscored for Ginebra with his 19 points and 7 rebounds, while Scottie Thompson notched another near-triple-double of 13 points, 9 boards and 8 assists.
Ginebra's offense clicked all night long. Their ball movement helped them produce a stellar 48% clip from the field as they pounded Meralco inside the paint.
But it was Ginebra's defense that launched them to the win. They held Meralco to below 20 points in each of the first three quarters, and limited the Bolts to only 12 total assists as a team.
Allein Maliksi led the charge for Meralco with his game-high 24 markers, while Chris Newsome contributed 13 points and 4 assists. The Bolts have to find a way to come up with a more fluid ball movement in Game 2, which will be held on Friday.
Castro wills TNT past Phoenix
TNT's Jayson Castro attempts a difficult shot against Justin Chua of Phoenix. (Photo from PBA Media Group)
Behind clutch buckets from no other than Jayson Castro, TNT drew first blood against Phoenix via a thrilling 95-92 victory. Castro topscored for TNT with his 20 markers, to go along with 6 rebounds and 6 assists. Poy Erram also stuffed the stat sheet with his 15 points, 14 boards, 3 dimes and 2 blocks.
Phoenix suffered a huge blow in the first quarter when top gun Matthew Wright sprained his ankle, forcing him to sit out the rest of the game. Calvin Abueva also got into foul trouble all game long, but the Fuel Masters courageously held down the fort.
With RJ Jazul leading the way, Phoenix even led by two points early in the payoff period. It would become a back-and-forth affair in the waning minutes, but a booming triple and a putback lay-up from Castro ultimately sealed the win for the Tropang Giga.
Jazul led all scorers with his 21 markers, while Jason Perkins punched in a double-double of 15 points and 10 rebounds. The important question for the Phoenix moving forward would be the severity of Wright's ankle injury.
SCORES
First Game
TNT (95) – Castro 20, Parks 17, Pogoy 16, Erram 15, Reyes 11, Montalbo 6, Rosario 5, Enciso 4, Carey 1, Washington 0
Phoenix (92) – Jazul 21, Perkins 15, Abueva 13, Mallari 13, Garcia 12, Heruela 6, Chua 3, Intal 3, Marcelo 2, Rios 2, Wright 2, Napoles 0, Reyes 0
Second Game
Ginebra (96) – Pringle 19, Thompson 13, Tolentino 13, Mariano 11, Tenorio 11, Caperal 10, Aguilar 9, Dillinger 4, Devance 2, Dela Cruz 2, Balanza 2
Meralco (79) – Maliksi 24, Newsome 13, Hugnatan 9, Black 8, Pinto 6, Hodge 4, Jamito 4, Almazan 3, Faundo 2, Amer 2, Quinto 2, Salva 2, Jackson 0, Caram 0