Every week, Dribble Media will be handing out individual grades for the talented crop of Filipino imports now playing in the 2021-22 B.League season.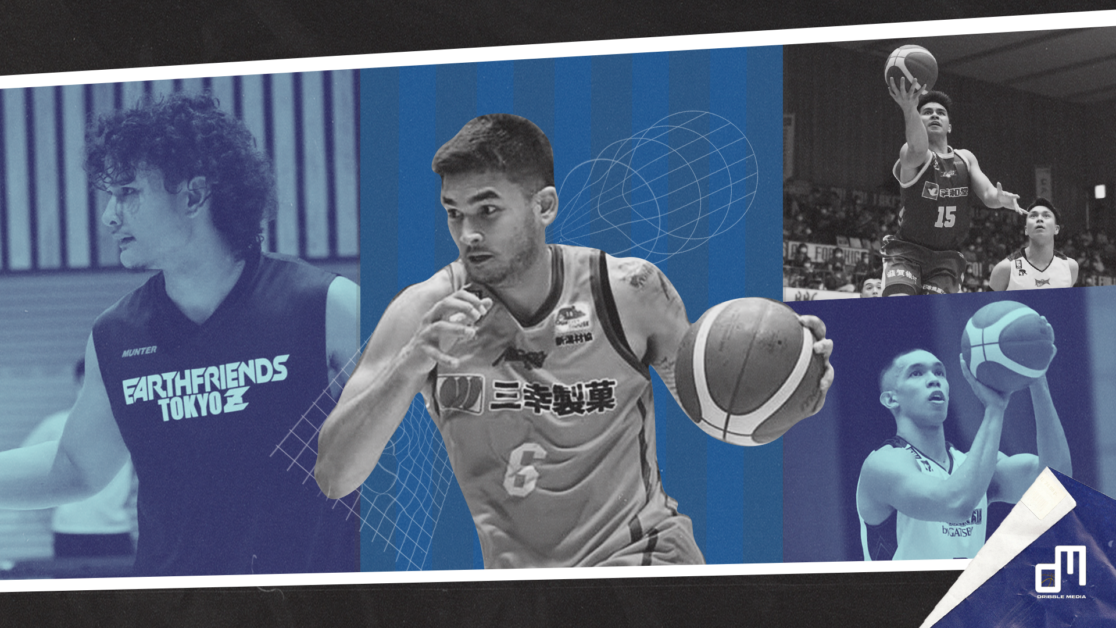 Players who missed action
Ray Parks Jr., Nagoya Diamond Dolphins – Muscle injury
Dwight Ramos, Toyama Grouses – Quarantine protocols
Javi Gomez de Liaño, Ibaraki Robots – Quarantine protocols
Kenmark Cariño, Aomori Wat's (Division II) – Quarantine protocols
---
Kiefer Ravena, Shiga Lakestars
Week 1 Averages: 15.5 points on 44.4/50/84.6 shooting splits, 2.0 rebounds, 7.5 assists, 2.0 steals, 1.0 turnovers
The most complete Filipino guard today has taken his talents to the B.League, and he did not disappoint in his first couple of games. There were lots of him just standing around in the corner in his first few minutes of action with Shiga, but the team figured out later on that Kiefer is much too valuable for that kind of stagnant role. He played a key role in the Shiga fightback that saw them overturn a 22-point deficit to turn back San-En in their first contest, and then made his presence felt even more with his 20 points and 7 assists in the second game.
This high level of all-around, efficient offense is not surprising anymore for Kiefer. His scoring toolbox and his knack for precise decision-making make him one of the most effective scoring playmakers out there. In the four games that he played for the NLEX Road Warriors in the 2021 PBA Philippine Cup, Kiefer ranked first in the league in box creation (BoxCr), an advanced metric that estimates the number of opportunities that a player creates for his teammates based on his passing, playmaking, scoring, and shooting. Per Stats by Ryan, an advanced stats platform for Philippine basketball, Kiefer also produced an excellent 53.6% true shooting percentage, ranking him 5th among players who averaged more than 15 points per game. That's definitely a high shooting percentage for a guard who almost always takes his shots off the dribble.
Kiefer's efficient scoring and shooting, partnered with his ability to dish out assists without turning the ball over, make him the top-performing Filipino import in Week 1.
Kiefer's Week 1 Grade: A
Thirdy Ravena, San-En NeoPhoenix
Week 1 Averages: 16.0 points on 37/40/80 shooting splits, 6.0 rebounds, 3.0 assists, 1.0 steals, 1.5 turnovers
Acrobatic finishes, open-court buckets, elite athleticism — we certainly received the usual dynamic dose of Thirdy during San-En's first two assignments of the season. Similar to the role that Kiefer played in the Shiga comeback win in the first game, Thirdy also helped San-En erase their counterparts' 18-point lead in the second contest. The younger Ravena had nine points in the fourth quarter, and finished with an all-around stat line of 21 points, 7 boards, and 5 assists.
Thirdy had some questionable shot choices, especially in the first game, but he also showed progress in his offense. The sample size is still rather small but his jumper looks a bit smoother, as he made 40% of his combined 10 three-point attempts against Shiga. His confidence with his shot is also on a high, as evidenced by a jab step wing triple he made over the outstretched arms of a Lakestars defender, along with the very deep three-pointer he swished to end the third quarter of the second game.
Thirdy also tried posting up smaller players, which is something that he could hone in to expand his offense. Thirdy is still more of an open-court scorer and he still needs a lot of work in operating the pick-and-roll as he is not yet a really good ball-handler. So for the meantime, he could make use of his strength down low and take advantage of smaller defenders. Of course, we still want Thirdy to improve his guard skills even more, but an improved post-up game could help him get more involved in San-En's half-court sets.
Thirdy's Week 1 Grade: A-
Kobe Paras, Niigata Albirex BB
Week 1 Averages: 17.5 points on 43.3/44.4/71.4 shooting splits, 1.5 rebounds, 2.0 assists, 1.0 steals, 1.5 turnovers
He cooled off a bit in his second game, but this was still a great first weekend of B.League games for Paras. He hit four triples on his way to a scintillating 25-point outing in his first go-around for Niigata, while also dishing out four assists on only one turnover.
Paras also surprised a lot of people with his much-improved jumpshot, and he made a couple of three-pointers off the dribble after coming off a pick. But after his first game with Niigata, there were questions on how sustainable his outside shooting success was, especially if you look at the level of difficulty on those shots. Those questions were partly answered when Paras went empty from beyond the arc in the next game, but we still need more games to really assess how far the 6-foot-6 stalwart has improved in terms of his shooting. 
One more thing that we're excited to see out of Paras this season is his playmaking. Can he effectively involve his teammates and put them in scoring positions especially when he's struggling with his shots? Paras was able to compile four assists during his 25-point game, but had none in his measly shooting performance the next day. With his superb athleticism and above-average shooting (so far), Paras could wreak more havoc if his playmaking takes the next step forward.
Kobe's Week 1 Grade: B+
Juan Gomez de Liaño, Earthfriends Tokyo Z (Division II)
Week 1 Averages: 6.0 points on 41.7/33.3/0.0 shooting splits, 1.0 rebounds, 0.5 assists, 1.0 steal, 1.5 turnovers
Last weekend felt incomplete for the former University of the Philippines star, as an injury forced him to log limited minutes in his first game for Earthfriends Tokyo Z. He did play more in the second game as he finished with 10 points on two hits from three-point land in 16 minutes on the court, but he also missed all of his four attempts from the charity stripe.
We'll put in a more detailed assessment of Juan's performance when he reaches peak physical condition and logs a bigger amount of playing time, but there's no doubt that his multifaceted scoring will make waves in the B.League Division II.
Juan's Week 1 Grade: B-
---
Advanced Stats are now available for Philippine basketball! Through Ryan Alba's 'Stats by Ryan', you can now look at team and player advanced stats for the current 2021 PBA Philippine Cup (and the previous three seasons) via the Dribble Media website.
Check out this glossary for a list of the basketball advanced stats terminologies.
You can also contact Ryan via his Twitter handle (@_alba__).
---
GET MORE BASKETBALL AND SNEAKER UPDATES WHEN YOU SUBSCRIBE TO DRIBBLE MEDIA'S YOUTUBE CHANNEL!