After the widely-documented deal that landed James Harden on the Brooklyn Nets, two quality players in Victor Oladipo and P.J. Tucker are still gaining tons of trade interest around the league.
Victor Oladipo could join Jimmy Butler in the Heat camp this season. (Photo by Michael Reaves/Getty Images)
Will the Heat bite on an Oladipo trade?
As a key piece in that Harden deal, two-time All-Star Victor Oladipo will now be suiting up for the Houston Rockets. He will be joining an intriguing core that includes John Wall, DeMarcus Cousins, and Christian Wood. There is no doubt that the Rockets have enough firepower to chase a playoff berth this season, but it remains to be seen how the players will buy into a new system and a new head coach.
However, Oladipo may have other plans after all. As per Kevin O'Connor of The Ringer, Oladipo is still more inclined on playing in South Beach and joining the Miami Heat. These rumors of a potential Oladipo-Miami partnership have been swirling since last season, but will the Heat take this gamble?
Oladipo is currently in the final year of his contract. Yahoo Sports' Keith Smith says that it won't come as a surprise if the Rockets make another trade, this time via Oladipo's services.
I wouldn't be surprised if the Rockets eventually flipped Oladipo in another trade. $21M expiring contract is a very easily movable numbers. Houston could continue to add to their growing stash of draft picks.

— Keith Smith (@KeithSmithNBA) January 13, 2021
Most importantly, this is a low-risk, high-reward gamble for the Heat. Even if Oladipo's contract is expiring next offseason, the Pacers star seems very interested in playing for Miami in a long-term basis. Furthermore, 'Dipo is playing great this season. He is back to eclipsing the 20-point average in the scoring column, and his much-known defensive prowess is again taking shape.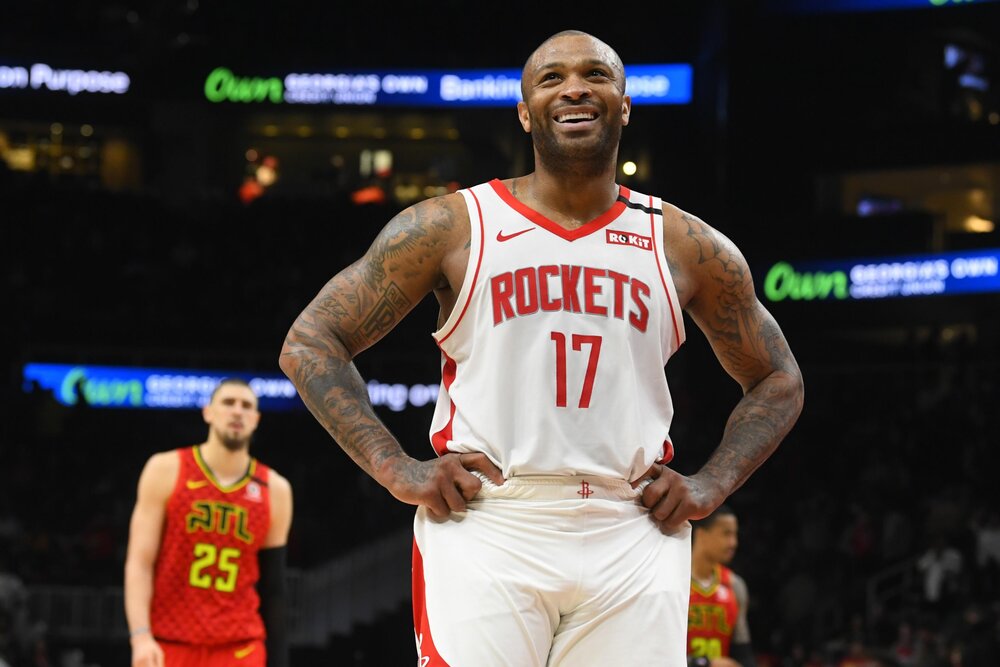 P.J. Tucker could play for a new team this season. (Photo by John Amis/AP)
Is P.J. Tucker on the trading block?
P.J. Tucker, more popularly known as the 6-foot-5 center who held the fort for the "micro-ball" Rockets, could be donning new jerseys this season. Kelly Iko of The Athletic recently reported that the bruising veteran is gaining a significant amount of trade interest around the league.
Multiple teams have inquired about P.J. Tucker's availability and have expressed interest in acquiring the veteran forward, sources tell @TheAthletic.

— Kelly Iko (@KellyIkoNBA) January 13, 2021
Tucker, 35, is norming 6.0 points, 4.6 rebounds, and 1.2 steals per contest this season. His unique ability of effectively guarding all five positions is widely coveted by teams, especially those who have serious plans of contending in the playoffs.
Still, the Rockets may stick onto Tucker, and at least try him out with John Wall and the budding Christian Wood. Tucker's floor-spacing and defensive prowess make him a solid leader for this Rockets squad who are still building much-needed chemistry on both offense and defense.