An obviously-happy James Harden tallied 14 assists in his first Brooklyn Nets game, partnering with a 42-point performance from Kevin Durant to defeat the Orlando Magic.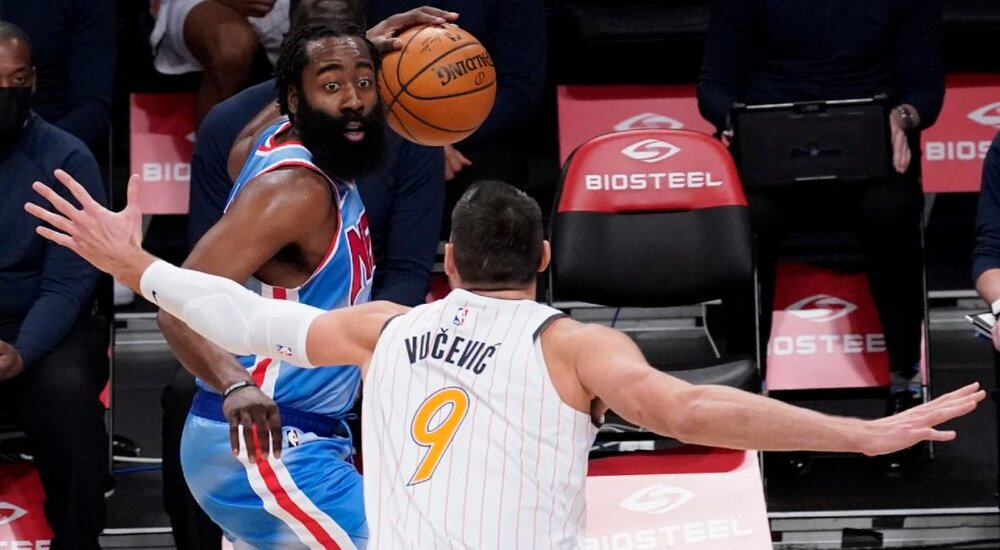 James Harden making a play during his first game as a member of the Brooklyn Nets. (Photo by Mary Altaffer/AP)
KD, Harden combine for 74 in Nets' victory
The James Harden is officially on in Brooklyn. The former MVP finished with a triple-double stat line of 32 points, 12 rebounds, 14 assists, and 4 steals as he led the Nets to a 122-115 win over the Orlando Magic. His co-star Kevin Durant produced a game-high 42 markers, built on a stellar 61% from the field and five three-pointers to cap it off.
Harden was obviously motivated to lead and support his new teammates. He was even caught on video encouraging Durant, who missed a wide-open lay-up at one point in the first half.
James Harden encouraging KD from the sideline after he missed a layup pic.twitter.com/Sw2wi3bbRr

— ESPN (@espn) January 16, 2021
Harden and Durant combined for 74 points in their first NBA game together since the former left the Oklahoma City Thunder in 2012 to join the Houston Rockets. Harden also got to play again with former teammate Jeff Green. Green played with the two superstars for two years in Oklahoma City, then joined Harden's Rockets last season.
Harden displayed his full repertoire in the win, including this signature step-back trifecta over the outstretched hands of Magic big man Nikola Vucevic.
Jesus what a statline James harden first triple double as a net 28-14-10

Meanwhile Kevin Durant drops 42 points pic.twitter.com/mLIQqs6m7d

— NBAGotNext (@NBAGotNext) January 17, 2021
Vucevic led the charge for the Magic as he compiled an all-around outing of 34 points, 10 boards, 7 dimes, and 5 steals. Vooch only missed eight of his 22 attempts from the field and drained six triples. Terrence Ross came off the bench to chip in 23 markers, while rookie point guard Cole Anthony impressed with 16 points and 8 assists.
Meanwhile, Nets star point guard Kyrie Irving continues to sit out games for the team. He was recently fined by the NBA due to violations of the league's safety health protocols, and he will be undergoing a mandated five-day quarantine before he can re-join the Nets.