With superstar Kevin Durant sitting out, the Brooklyn Nets relied on Kyrie Irving and Jarrett Allen as the duo landed at the top of last night's best individual performances.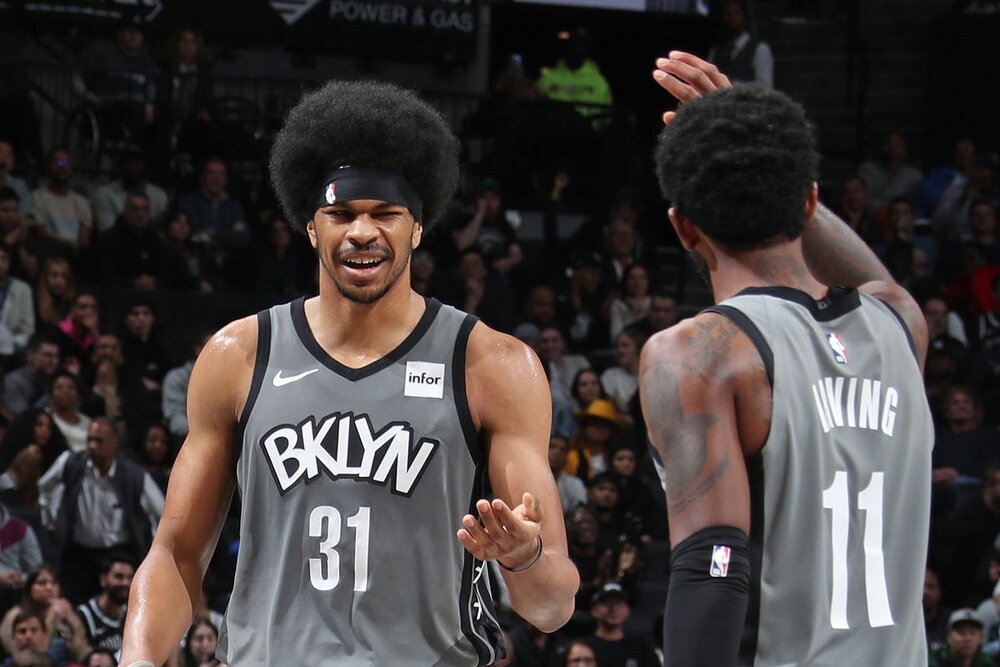 Irving and Allen lifted the Nets to a convincing win over the Jazz. (Photo by Nathaniel S. Butler/NBAE/Getty Images)
Kyrie Irving, Brooklyn Nets
Irving could have added more to his stat line of 29 points, 6 rebounds, 5 assists and 3 steals, but the game was over after three quarters. Irving absolutely showed his full repertoire in the Nets' 130-96 win over the Utah Jazz. He razzled and dazzled in creating his own shots, while also dishing out fancy yet accurate assists to his teammates.
As Durant sits out the next three games and the injured Spencer Dinwiddie continuing to recover, don't be surprised if Kyrie explodes for a 50-piece in one of the Nets' next assignments.
Jarrett Allen, Brooklyn Nets
Allen deserves to be a starter for any team, and he showed why in his masterful performance against the Jazz. With DeAndre Jordan hounded by foul trouble, Allen proceeded to outduel Jazz All-Star Rudy Gobert. The Fro finished with 19 points, 18 rebounds, 3 steals and 2 blocks, and was a force to be reckoned with in the resounding win.
Allen didn't just score on lob dunks and easy putbacks. He constantly displayed his much-improved footwork on the post and also his underrated soft touch around the rim.
Nikola Jokic, Denver Nuggets
The Nuggets carved a 123-116 win over the Minnesota Timberwolves, and it was their star Nikola Jokic that saved them from an upset. Jokic was a steady hand all night long as he finished with 35 points, 15 boards, 6 dimes, and 3 steals. He shot an efficient 60% clip from the field and made 10 of his 12 trips to the free-throw line.
Jokic's excellent knack for passing is his signature attribute, but he showed again that he can score whenever he wants to. The Joker is averaging a triple-double stat line this season, and there's no doubt that he could maintain these impressive numbers for the rest of the year.
Anthony Davis, Los Angeles Lakers
While it's true that it was LeBron James who delivered the clutch heroics in the Lakers' 94-92 victory over the injury-plagued Memphis Grizzlies, it was Davis who did it all for the defending champs. Davis drained four triples on his way to a game-high 26 markers, then added 10 rebounds, 4 assists, 3 steals, and 3 blocks to his name.
All-around nights like this just indicate how primed AD is for a potential MVP award, but it will boil down on how much energy does he want to spend as he paces himself for the more important games in the playoffs.
Other notable performances:
Donovan Mitchell (Jazz) – 31 points, 4 rebounds, 4 assists
CJ McCollum (Blazers) – 26 points, 5 rebounds, 4 assists, 3 steals
Coby White (Bulls) – 21 points, 10 rebounds, 5 assists
LeBron James (Lakers) – 26 points, 11 rebounds, 7 assists
D'Angelo Russell (Timberwolves) – 33 points, 11 assists, 2 steals
Kawhi Leonard (Clippers) – 30 points, 10 assists, 2 steals