Former Boston Celtics star Paul Pierce says that LeBron James is tougher to defend than Kobe Bryant, pointing out to The King's extreme physicality and high basketball IQ.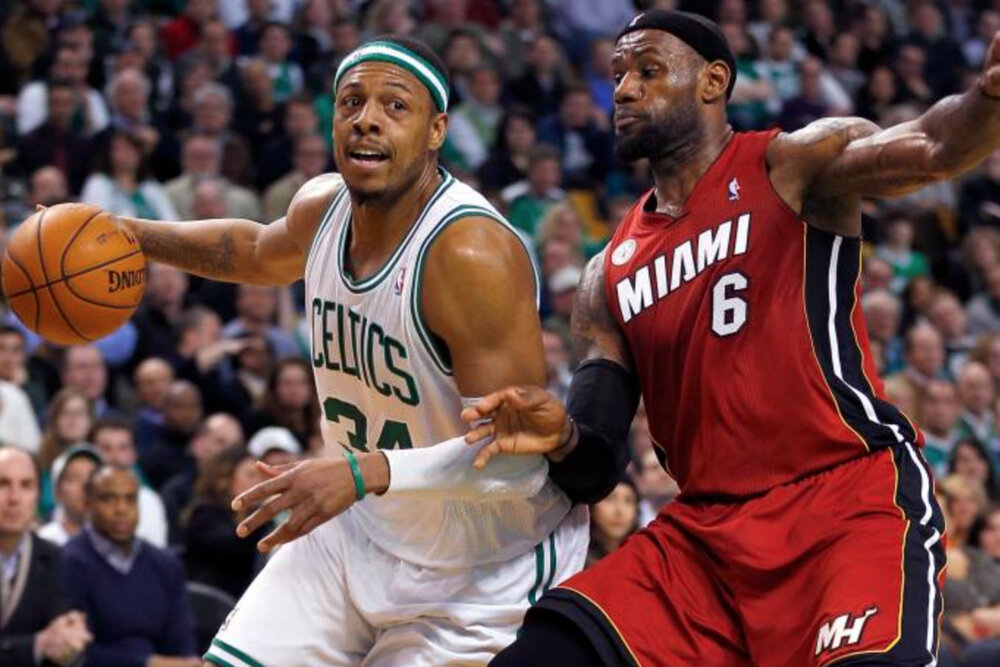 Paul Pierce had heaps of praises for four-time MVP LeBron James. (Photo by Jim Rogash/Getty Images)
In a recent appearance on The Opinionated 7-Footers podcast hosted by Ryan Hollins and Brendan Haywood, Pierce gave heaps of praises for James, a rare thing that "The Truth" does for one of his biggest rivals. Pierce had countless playoff battles with LeBron during his career, and emphasized that the latter's physical gifts and court smarts are unprecedented.
But probably the biggest praise that Pierce gave was to say that LeBron was harder to defend than Kobe.
"I have to say LeBron, man," Pierce told Hollins and Haywood. "I guess because I went through so many series of guarding him and I didn't guard Kobe as much as I had to guard LeBron. When (LeBron) catches fire, and when he put that Game 6 on us in Boston, that's when I was like, 'That's different.'
He beats you in so many different ways with his passing, his IQ, and with his scoring."
Pierce, a 10-time All-Star, was a fixture in LeBron's path in the playoffs. Pierce's Celtics would always beat James' Cavaliers, but the tides would change when James joined Dwyane Wade and Chris Bosh in Miami.
It was in 2012 when 'Bron salvaged the Heat's championship hopes. They were down 2-3 against Boston in the Eastern Conference Finals, and a loss could have broken up the Heat's Big 3 before they even won one championship. But LeBron had other plans as he finished with 45 points and 15 rebounds, and led his team all the way to a successful run for the Larry O'Brien trophy.
Along with his praises for James, Pierce also discussed some unrevealed secrets in his career with the Celtics, including that time when the team initially wanted to trade for Shawn Marion.
To dive in deeper to Pierce's interview on The Opinionated 7-Footers podcast, just click on the Spotify link below.