Dribble Media will be rolling out reports cards for each team that already saw their 2021 PBA Philippine Cup campaign end. We'll start things off with the 2020 champions Barangay Ginebra, who were recently booted out of contention by the top-ranked TNT Tropang Giga.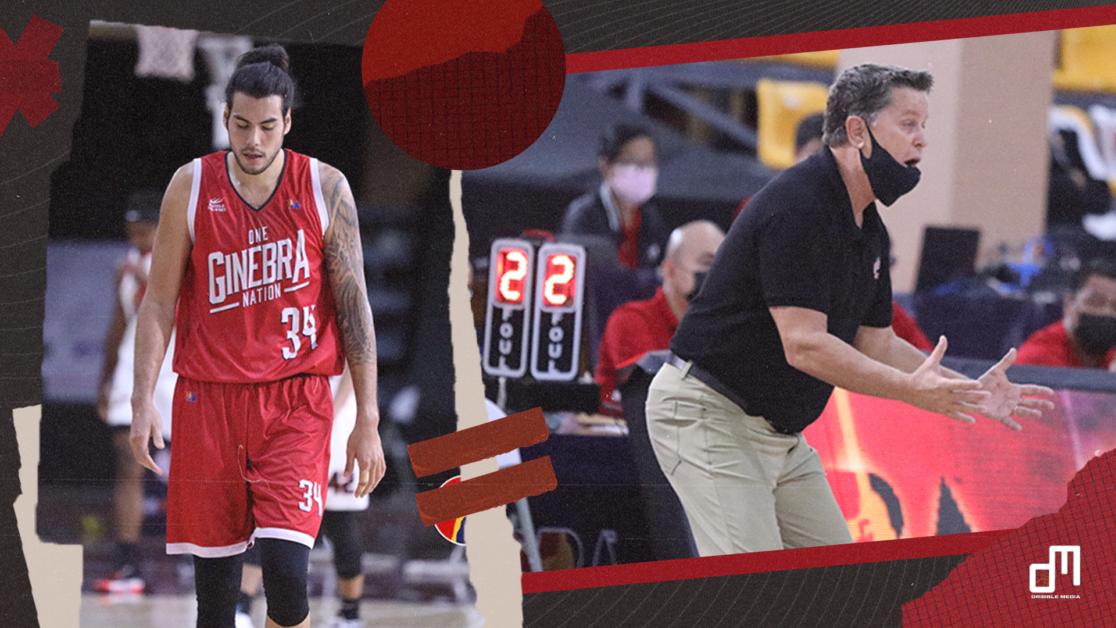 Overview
Deemed as one of the favorites this conference after the offseason addition of Christian Standhardinger, Ginebra fell short (really short) of every expectation. The Gin Kings finished the eliminations with a lowly 4-7 record, and then ended their disappointing campaign with an equally disappointing performance in their do-or-die quarterfinals match against the Tropang Giga. 
Offense: C-
| | |
| --- | --- |
| Category | League Rank |
| Points Per Game | 83.1 (10th) |
| Offensive Rating | 95.1 (10th) |
| True Shooting Percentage | 48.1% (9th) |
*
Numbers courtesy of Stats by Ryan on Dribble Media
Even in the past several seasons, Ginebra wasn't the team that would beat you by pushing the ball and scoring tons of buckets. They love to slow the game down and they are very deliberate in moving the ball numerous times before thinking of going for a shot. In fact, they only ranked 10th in the league in total points per game during their successful 2020 All-Filipino title run, and placed in the same position during the 2019 iteration.
So how do they rank in that same category this conference, you ask? They're also 10th, just a couple of spots above Rain or Shine and a place higher than the winless Blackwater. But what went wrong?
The efficiency has spiralled downward, and it seemed like they were very uncoordinated in their spacing and ball movement. Look at how their assists and outside shooting stack up against their performances in the previous four conferences. 
| | | |
| --- | --- | --- |
| | Assists Percentage | Three-Point Percentage |
| 2019 Philippine Cup | 70.5% (2nd) | 28.1% (11th) |
| 2019 Commissioner's Cup | 67.9% (1st) | 32.8% (5th) |
| 2019 Governor's Cup | 66.4% (1st) | 36.5% (1st) |
| 2020 Philippine Cup | 67.9% (2nd) | 34.4% (4th) |
| 2021 Philippine Cup | 59.6% (6th) | 27.8% (10th) |
Along with their measly shooting efficiency and their relatively lower assists output, the eye test on their offensive sets did not produce pleasing results. Their off-ball movements were all over the place, and the shot selection was not as proficient as it was in the past few years. The triangle offense is not the culprit here, as Ginebra head coach Tim Cone himself pointed out that the team has already "moved away from the pure triangle."
In short, we cannot say that Stanhardinger's unfamiliarity with the triangle is the root problem of the team's woeful offense because in the first place, Ginebra is not fully reliant on the triangle anymore. But a high-caliber big man like Standhardinger will surely be involved a lot in an offense (triangle or not), so he and the Gin Kings will have to figure out how to be more effective next conference. 
Defense – C
| | |
| --- | --- |
| Category | League Rank |
| Opponent Points Per Game | 88.6 (6th) |
| Defensive Rating | 101.4 (8th) |
| Opponent True Shooting Percentage | 50.8% (9th) |
Much of the talk was about Standhardinger's adjustment on a new offense, but there's a case to be made that he hurt Ginebra more on the defensive end of the floor. He has always been a good rebounder, but Standhardinger is not a good defender, as he cannot protect the rim and he is not mobile enough to switch on quicker players. Per Stats by Ryan, an advanced stats platform for Philippine basketball, Standhardinger's -1.3 defensive box plus/minus rating was the worst among Ginebra players who logged at least 15 minutes per contest and played at least six games this conference.
Standhardinger's lack of rim protection ability was the reason why Ginebra always had to pair him up with Japeth Aguilar at the same time, even if it resulted in a less-effective floor spacing on offense. Aguilar placed second in blocks (2.0) this conference, and also had a second-best block percentage of 6.4%.
The Bright Spot: Scottie's all-around play
This has to be Thompson's best conference thus far in his career. He scored more efficiently, as evidenced by his average of 12.2 points on 45.3/37.5/72.4 shooting splits for a 56.5% TS%. On top of that, Thompson also stuffed the rest of his stat sheet with ranking 8th in rebounds (8.7), 11th in assists (4.2), 6th in steals (1.5), and 6th in blocks (1.3). What more can you ask from a single player?
It was unfortunate that it ended with him being placed in the league's safety and health protocols that forced him to miss out on Ginebra's more important games. But Thompson's all-around brilliance this conference is something that the Gin Kings can build up on for the near future. 
Overall Grade: C-
Let's call a spade a spade: this was a disaster of a campaign for the former champions. As pointed out by Dribble Media's Ryan Alba in his PBA efficiency column, Ginebra was one of the three teams this conference that produced an appalling combination of bad offense and bad defense. Standhardinger and Stanley Pringle's shooting percentages went down, and the supporting cast led by Prince Caperal and Aljon Mariano was nowhere to be seen more often than not.
Still, it's doubtful that Ginebra can sink deeper than this, so the worst is already behind them. This is still a very talented group of players, and adding a shot creator and a 3-and-D combo forward on their second unit could help answer some of their questions.
---
Advanced Stats are now available for Philippine basketball! Through Ryan Alba's 'Stats by Ryan', you can now look at team and player advanced stats for the current 2021 PBA Philippine Cup (and the previous three seasons) via the Dribble Media website.
Check out this glossary for a list of the basketball advanced stats terminologies.
You can also contact Ryan via his Twitter handle (@_alba__).
---
GET MORE BASKETBALL AND SNEAKER UPDATES WHEN YOU SUBSCRIBE TO DRIBBLE MEDIA'S YOUTUBE CHANNEL!