The Meralco Bolts and the Magnolia Hotshots will face each other in a best-of-seven semifinals battle for the right to advance to the Finals.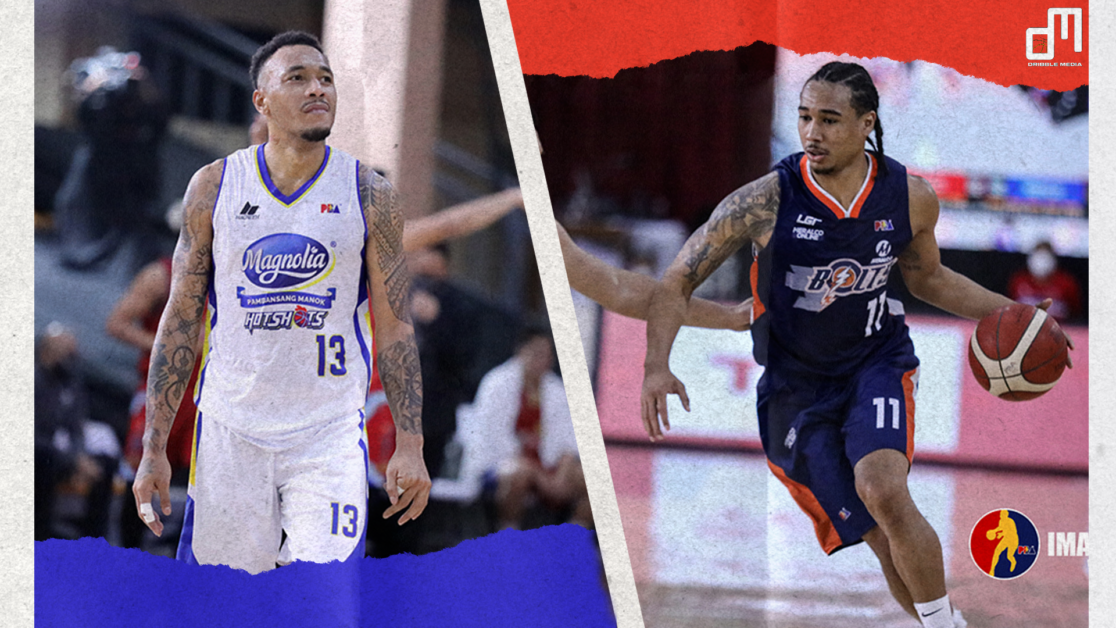 Team Stats Comparison
| | | | | |
| --- | --- | --- | --- | --- |
| Teams | Offensive Rating | Defensive Rating | Net Rating | Pace |
| Meralco | 102.6 (3rd) | 96.8 (5th) | +5.8 (5th) | 87.1 (11th) |
| Magnolia | 100.5 (5th) | 94.1 (3rd) | +6.5 (4th) | 88.4 (8th) |
*
Numbers courtesy of
Stats by Ryan
on Dribble Media
Key Individual Performers
Chris Newsome, Meralco: 11.1 points on 56.9% true shooting percentage, 4.3 rebounds, 4.4 assists, 1.2 steals, 7.4 Box Creation (2nd), 6.7 Passing Production (2nd)
Calvin Abueva, Magnolia: 16.1 points (10th) on 56.6% true shooting percentage, 9.7 rebounds (4th), 5.5 VORP or Value Over Replacement Player (1st), 3.3 DBPM or Defensive Box Plus-Minus (5th)
Can Newsome come up with a memorable playoff performance?
Chris Newsome is the best player in the second-best team in the league — that alone should merit him more attention. He has always been an excellent perimeter defender, but he is now showing that he can be the top cog in a team that is performing on a high level on both ends of the floor.
One highlight of Newsome's all-around game this conference is his much-improved playmaking. Per Stats by Ryan, an advanced stats platform for Philippine basketball, Newsome is producing a stellar 7.4 rating in Box Creation (BoxCr), which is a metric used to estimate the scoring opportunities that a player creates for his teammates based on his own scoring, shooting, passing, and assisting. His high rating in box creation puts him just a spot behind the league-leading Terrence Romeo, which is another testament to how far Newsome has climbed in the current list of the elite guards in the league.
His scoring hasn't been as productive as he would have wanted, but he doesn't have to carry the lion's share of the workload in that category. The fact that Meralco has eleven players averaging at least five points each game means that scoring is a collective mindset for the team. However, Newsome still has the capability of taking over games when needed. Anjo Caram's timely shots dominated the headlines of their do-or-die win against NLEX in the last timeout, but Newsome poured in a game-high 23 points, then stuffed the rest of his stat sheet with nine rebounds, six assists, and two steals.
It's true that Newsome has been an underrated star for a long time, but if he could come up with a memorable playoff performance and lead Meralco past a very strong Magnolia squad, then that narrative could change.
Jalalon's recent fine play
Magnolia's four horsemen of Paul Lee, Calvin Abueva, Ian Sangalang, and Mark Barroca have been the driving force of their success in this conference, especially with their consistency and their ability to not only create shots for themselves but also create scoring opportunities for their teammates.  
But the Hotshots have recently found a bonus prize in their ranks — Jio Jalalon's promising string of performances in the team's quarterfinals battle against Rain or Shine. Jalalon scored in double digits in each of those two contests and finished the series with a stat line of 13.0 points, 3.0 rebounds, 4.0 assists, and 1.5 steals. Jalalon's recent scoring boost is definitely a welcome sight for the Hotshots, especially if you look at how he struggled with his shots in the eliminations. Before the Rain or Shine series, he only averaged 5.9 points on  34.2%/30.0/71.4 shooting splits for a lowly 39.6% true shooting percentage.
With the improved efficiency that Jalalon has shown in the past couple of games, Magnolia now has five key players they can rely on to put up buckets. That's a tough cover even for a good defensive team like Meralco.
Prediction: Magnolia proves too much in a best-of-seven series
There's no doubt that this is the best All-Filipino Meralco team in the past several years. The Bolts had three trips to the Finals since 2016, and all of them came with the help of resident import Allen Durham. They came very close to a championship ticket in the 2020 Philippine Cup, but they lost in the semifinals to the eventual champions Barangay Ginebra.
With a deep and versatile roster depth, this is the best chance for Meralco to go all the way in an All-Filipino format. But they will be going up against a Magnolia squad that boasts a Best Player of the Conference frontrunner (Abueva), an always-deadly scorer (Lee), a consistent scoring big man (Sangalang), and two all-around point guards (Barroca and Jalalon).
Meralco will win a game or two, but this complete Magnolia squad will be a tough team to beat in a best-of-seven series. Magnolia should be able to take this series in six games and go on to face either San Miguel or TNT in the Finals.
---
Advanced Stats are now available for Philippine basketball! Through Ryan Alba's 'Stats by Ryan', you can now look at team and player advanced stats for the current 2021 PBA Philippine Cup (and the previous three seasons) via the Dribble Media website.
Check out this glossary for a list of the basketball advanced stats terminologies.
You can also contact Ryan via his Twitter handle (@_alba__).
---
GET MORE BASKETBALL AND SNEAKER UPDATES WHEN YOU SUBSCRIBE TO DRIBBLE MEDIA'S YOUTUBE CHANNEL!