The TNT Tropang Giga again dominated in Game 2 of the 2021 PBA Philippine Cup Finals as they defeated the Magnolia Hotshots, 105-93. Let's look at the numbers that mattered and would matter in the next game.
(Advanced stats are courtesy of Stats by Ryan on DribbleMedia.com, an advanced stats and metrics platform for Philippine basketball.)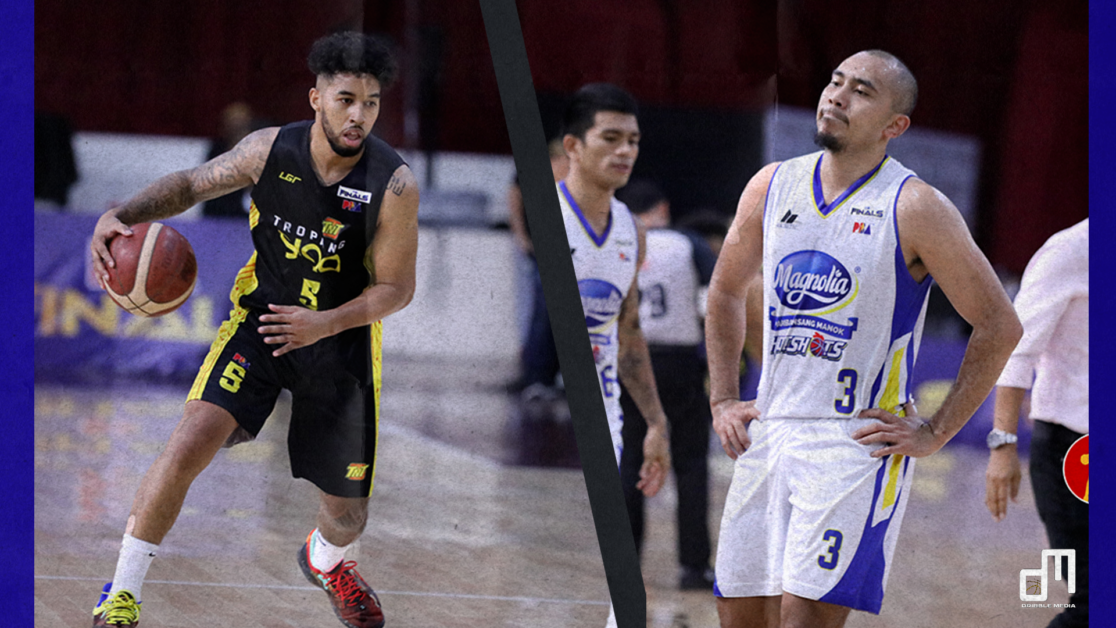 64.3%
Mikey Williams' efficiency in scoring and playmaking was off the charts in Game 2. He scored a game-high 28 points on shooting splits of 50/55/75 for a true shooting percentage (TS%) of 64.3%. In his first two PBA Finals games, the TNT rookie guard has averaged 24.5 points to the tune of an excellent TS% of 66.7%. On top of that, Mikey only committed two turnovers and dished out six assists while playing a grand total of 41 minutes in Game 2.
His work may have been made easier by Magnolia's horrendous decisions on defense, but Mikey's riding a great momentum right now and that should bode well for the Tropang Giga in Game 3.
9.36
Calvin Abueva leads all players in this conference in Value Over Replacement Player (VORP) with an outstanding rating of 9.36. VORP is an advanced metric that measures a player's contribution by taking his Box Plus/Minus (BPM) and converting it into a "scale wherein a replacement-level player (a non-rotation player) is equivalent to zero." In short, a player with a high VORP rating brings a high level of impact on both ends of the floor, making him a valuable cog in the success of his team.
Abueva's excellent VORP rating of 9.36 is almost four points higher than the second-best 5.57 rating produced by Scottie Thompson of Barangay Ginebra. In terms of doing a bit of everything on both offense and defense, Abueva is the most complete player in the PBA right now. However, Magnolia loses all the things that Abueva brings to the table when he constantly finds himself in foul trouble. In a column that Eros Villanueva wrote for Spin.ph, he pointed out that heading into the Finals, Abueva led the league in fouls per game (4.1).
Even in games when he doesn't incur the limit of six fouls, being in foul trouble strips Abueva of valuable minutes on the floor. In Game 2, the Magnolia star forward fouled out in the fifth-minute mark of the fourth quarter, but he already tallied a double-double outing of 11 points and rebounds. Abueva brings an unmatched level of energy and hustle that allows him to cover multiple bases on defense and also haul in a significant number of offensive boards. 
Abueva is so valuable of a player for the Hotshots, but his tendency to commit useless fouls is something that his team cannot afford now that they're down 0-2 in the Finals.
2-of-26
Since sustaining that shoulder injury in Game 3 of Magnolia's semifinals matchup against Meralco, Paul Lee has shot only 2-of-26 from the three-point line in the last five games. Along with his faltering outside shot, Lee has also failed to make plays for his teammates. He has only averaged only one assist in Games 1 and 2, further dampening his impact on the Hotshots' offense.
Furthermore, Lee uncharacteristically attempted only two free throws in Game 2. Lee has been struggling with his shooting the whole conference, but his scoring receives a much-needed boost from his league-high 6.6 free throw attempts, of which he makes a staggering 91.3%. 
His bothersome shoulder injury surely isn't going away anytime soon, so there's a reason to believe that his shooting woes will linger. But Magnolia can put him in a position to be more effective in Game 3 by drawing up plays where Lee is set up more to create scoring opportunities for his teammates, rather than him taking the shots.
---
Advanced Stats are now available for Philippine basketball! Through Ryan Alba's 'Stats by Ryan', you can now look at team and player advanced stats for the current 2021 PBA Philippine Cup (and the previous three seasons) via the Dribble Media website.
Check out this glossary for a list of the basketball advanced stats terminologies.
You can also contact Ryan via his Twitter handle (@_alba__).