The 2021 PBA Philippine Cup Semifinals will continue on Wednesday at the Don Honorario Ventura State University Gym in Bacolor, Pampanga. The first game features the Meralco Bolts and the Magnolia Hotshots at 3:00 p.m., followed by a match between the San Miguel Beermen and the TNT Tropang Giga at 6:00 p.m.
Let's look at a couple of interesting storylines heading into PBA Wednesday.
Can the Meralco offense fix itself?
In Game 4, Meralco was able to limit Magnolia star Paul Lee to only nine points on a lowly 2-of-11 shooting. On top of Lee's shooting woes, the Hotshots also struggled from beyond the arc, making only five of their 24 three-point attempts (20%). When a team and its best scorer struggles like that in a single game, it almost always leads to a loss, right?
But Magnolia would still go on to win that game by double digits mainly because the Meralco offense was even worse. The Bolts produced a horrendous 5-32 (15%) clip from the three-point line, and committed 22 miscues that led to 26 turnover points for the Hotshots. Moreover, Meralco only received 11 points from their second unit, which is surprisingly bad for one of the best supporting casts in this conference.
Mac Belo and Allein Maliksi, two of the Meralco players averaging in double digits in the scoring column, only had a combined total of five markers. Usually when these two players struggle with their shooting, it would be Bong Quinto or Alvin Pasaol who will step up to the plate. Unfortunately, they labored with their shots, too. Belo, Maliksi, Quinto, and Pasaol combined for only 15 total points on a measly 4-of-23 shooting.
The Bolts, with their backs up against the wall in Game 5, can't afford another string of off-nights from these four players.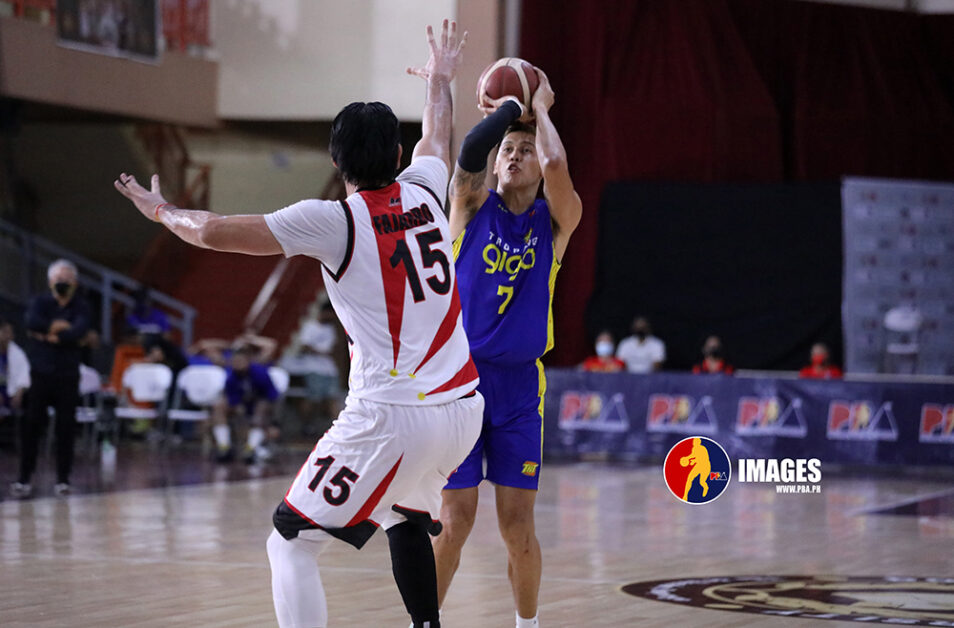 Cloud of uncertainty hovering around TNT's camp
After getting blown out in Game 4 of their best-of-seven semifinals series against the Beermen, the Tropang Giga might be dealing with two key absences tomorrow. Per Eros Villanueva of ESPN5, there is a possibility that both Kelly Williams (health protocols) and Poy Erram (fractured cheekbone) will sit out the pivotal Game 5 tomorrow.
Losing Williams in the series' first four games is already quite the damage in itself as the veteran big man served as the anchor of the team's top-ranked defense in the eliminations. Per Stats by Ryan, an advanced stats platform for Philippine basketball, Williams ranks first among frontcourt players in the league in defensive box plus/minus (DBPM) with a rating of 3.6, which means that he is one of the most impactful defensive players in the league.
But potentially losing another key big man in Erram could spoil TNT's winning chances in Game 5. Erram, who had his fair share of bad games in the eliminations, has arguably been the most consistent Tropang Giga player in the semifinals. Through Games 1 to 3, Erram averaged a near double-double of 18.7 points and 9.3 rebounds, and has produced an efficient set of shooting percentages that includes an excellent 55% overall clip from the field and 44% shooting from the three-point line.
It's indeed an unfortunate development for the Tropang Giga, but there's no doubt that they will put up a tough fight against the more-favorited Beermen.
---
Advanced Stats are now available for Philippine basketball! Through Ryan Alba's 'Stats by Ryan', you can now look at team and player advanced stats for the current 2021 PBA Philippine Cup (and the previous three seasons) via the Dribble Media website.
Check out this glossary for a list of the basketball advanced stats terminologies.
You can also contact Ryan via his Twitter handle (@_alba__).