Here are some storylines and trends that highlighted the 2021 PBA Philippine Cup's triple-header bill on Friday.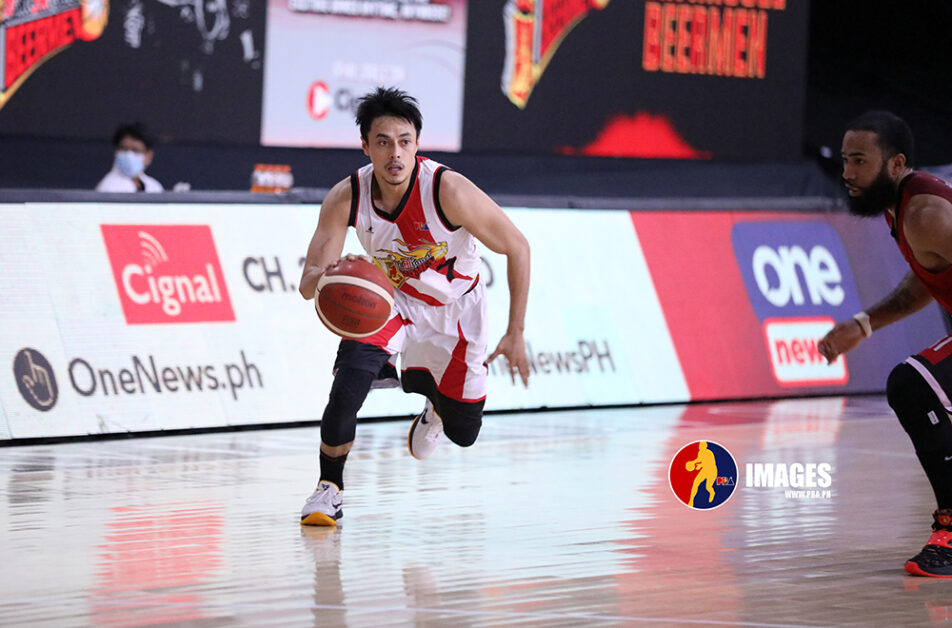 Romeo leads San Miguel to 5th win
The San Miguel Beermen (5-2) jumped to joint second spot in the standings by hacking out a 110-102 win over the Barangay Ginebra San Miguel (3-4).
Main Takeaways:
Ginebra just had no answers for the sizzling Terrence Romeo. The 29-year-old guard set the tone with 12 early points in the first quarter, and finished with a total of 29 points and 6 assists. Romeo did his usual damage from mid-range, but he was also effective from beyond the arc. He came into the game averaging a paltry 16.7% clip from the three-point line, but he was able to drain four out of his seven attempted triples against the Gin Kings. Romeo also proved to be San Miguel's hero in the closing minutes. With the Beermen holding a precarious three-point lead in the closing minutes, Romeo converted on a four-point play, then followed it up with two huge steals on the other end of the floor.
June Mar Fajardo is still not asserting himself on offense. He only had eight attempts the whole game and went to the free throw line only twice. Fajardo did play heavy minutes (34:36), but it was his teammates who shouldered the heavy workload on offense. With the Beermen pacing Fajardo, we may have to wait until the playoffs to see the more dominant form of the six-time Most Valuable Player.
Rain or Shine's defense stifles Magnolia
In a bid to boost their playoff chances, the Rain or Shine Elasto Painters (5-3) escaped the Magnolia Hotshots (6-3), 75-72.
Main Takeaways:
Known for their vaunted defense, the Elasto Painters lived up to their billing. They held the Hotshots to a measly 30% field goal clip, which also happened to be the latter's lowest shooting percentage in a game this conference. Magnolia star Paul Lee still had double digits in scoring with 11 points, but he only made two of his nine attempts from the field. Per Stats by Ryan, an advanced stats platform for Philippine basketball, Rain or Shine has a second-best defensive rating of 90.4, and they definitely flexed that strength against Magnolia on Friday.
Another Rain or Shine rookie showed out yesterday — this time in the form of power forward Leonard Santillan. The 6-foot-5 scoring finished with 14 points and 5 rebounds in 25 minutes of play, including a crucial and-one play over Calvin Abueva that showed one variety of his good inside-outside offense. Santillan's post play allows him to take advantage when a small player switches on him, and he can also blow past bigger players with his penetrations. The Elasto Painters surely had one of the best hauls in this year's draft, as they got Santillan, Anton Asistio, Andrei Caracut, and Franky Johnson.
TNT rookie carves up NLEX's defense
Behind the exploits of their prized rookie, the TNT Tropang Giga (7-1) blew past the NLEX Road Warriors (4-4), 100-85.
Main Takeaways:
Rookie Mikey Williams absolutely displayed his full repertoire in the Tropang Giga's win over the Road Warriors. He paced the team with 36 points on a scintillating 65% overall clip from the field. He single-handedly kept TNT in the game in the first half, scoring 19 points while missing only two of his nine attempts. On offense, Williams showed every trick in the bag — from two difficult lefty finishes to a behind-the-back assist in transition. With Jayson Castro struggling (0 points, 0-of-4 FG), Williams delivered for the Tropang Giga to help the team notch its seventh win in eight games.
In our preview of the game, we said that the TNT defense has a history of forcing the opposing teams' best players to have off nights, and that was what they did against NLEX star Jericho Cruz. After solid outings in his previous games, Cruz was only limited to eight points on a 2-of-7 shooting. Without their lead guard Kiefer Ravena, Cruz' performances could be the Road Warriors' barometer for success. When he's at the top of his game, Cruz' ability to score and create shots for his teammates keeps the defense on its heels, and gives NLEX a better shot at winning games.
---
Advanced Stats are now available for Philippine basketball! Through Ryan Alba's 'Stats by Ryan', you can now look at team and player advanced stats for the current 2021 PBA Philippine Cup (and the previous three seasons) via the Dribble Media website.
Check out this glossary for a list of the basketball advanced stats terminologies.
You can also contact Ryan via his Twitter handle (@_alba__).