Magnolia Hotshots' Calvin Abueva was recently crowned the 2021 PBA Philippine Cup's Best Player of the Conference. Let's look at what the advanced stats say about Abueva's stellar debut campaign for Magnolia.
(Advanced stats are from Stats by Ryan on DribbleMedia.com, an advanced stats and metrics platform for Philippine basketball.)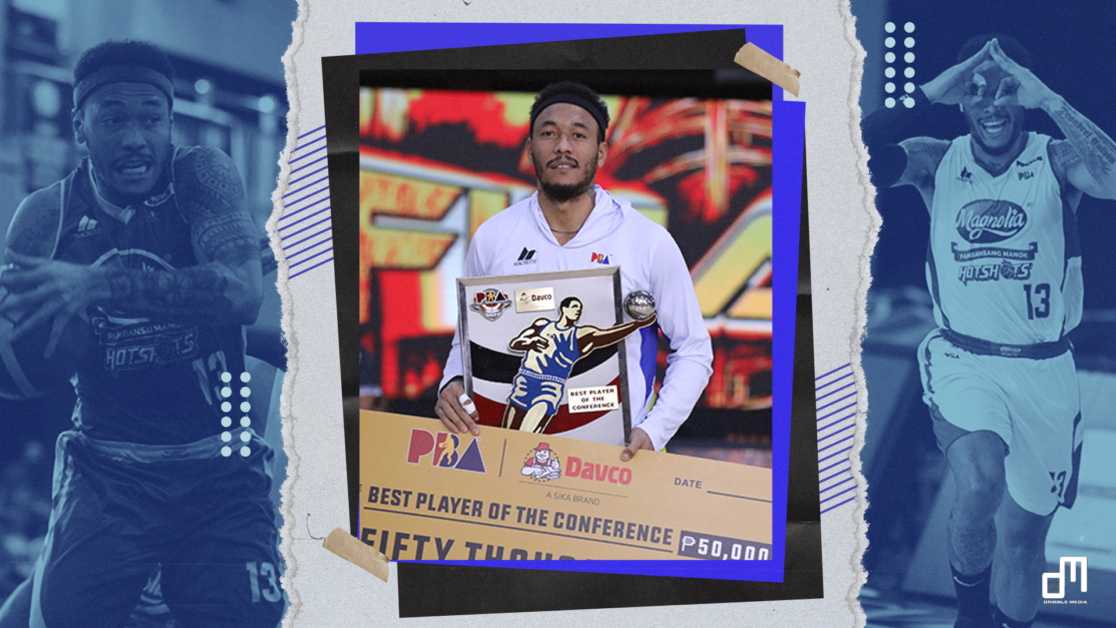 If you're Calvin Abueva, you really couldn't script this any better — a Best Player Conference award and a Finals appearance in your first go-around with your new team. The 33-year-old combo forward, when he's in the right focus, is still one of the best, if not the best, two-way players in the PBA right now. He doesn't have the smoothest of skills, but he does everything in the stat sheet — whether that be on offense or defense.
Just by looking at his raw individual numbers of 15.2 points, 10.0 rebounds, 2.8 assists, 1.0 steals, and 1.1 blocks this conference, you can already say that Abueva's work on both ends of the floor is second to none. So let's take a step further and examine how Abueva's advanced stats stack up against the rest of the league, and why he deserves to be named the top player of this current All-Filipino campaign.
9.36 VORP (1st)
Abueva leads the league in Value Over Replacement Player (VORP), an advanced metric that "converts a player's Box Plus/Minus (BPM) into a scale wherein a replacement-level player (a non-rotation player) is equivalent to zero," according to Stats by Ryan. In essence, a player with a high VORP rating means that he's bringing in a high level of positive impact on both offense and defense — an asset that Abueva has always personified throughout his career.
Abueva's 9.36 VORP rating this conference is almost four points ahead of the second-highest mark of 5.57, which is owned by Scottie Thompson of Barangay Ginebra. San Miguel's June Mar Fajardo (5.36), NorthPort's Jamie Malonzo (5.33), and TNT's Mikey Williams (5.16) compose the rest of the top five in this list. It's noticeable that Abueva's VORP rating is way ahead of the other frontrunners, and that's bolstered by his well-balanced brilliance on both ends of the floor.
4.03 OBPM (4th)
Paul Lee and Ian Sangalang may be the top scoring options for Magnolia, but it doesn't mean that they're the only valuable offensive players on the team. Abueva leads the Hotshots in Offensive Box Plus/Minus (OBPM) with 4.03, with Lee coming in second with 2.6, followed by Sangalang's 1.58. Abueva's OBPM rating also ranks fourth-highest this conference, just behind Terrafirma's Roosevelt Adams (5.89), San Miguel's Terrence Romeo (5.27), and Ginebra's Thompson (4.07).
Abueva isn't as skilled as other offensive players, but he finds ways to score the ball. His scoring average is just a point below Lee and Sangalang's, and his 33.8% three-point percentage ranks highest among Magnolia players attempting at least two triples per game. Abueva has become a "decent" three-point shooter in PBA standards, and his 4.1 attempts from deep show his willingness to launch that outside shot.
There is also the fact that Abueva is a good passer for his position. His 4.33 Box Creation (BoxCr) rating ranks in the top 20 this conference and places second among power forwards and centers. Box creation is an advanced metric that "estimates how many opportunities a player creates for his teammates based on his passing, playmaking, scoring, and shooting skills." Abueva averages almost three assists this conference, along with a 17.02% assist percentage, which just trails Rain or Shine's Beau Belga among power forwards and centers.
2.39 DBPM (6th)
Abueva is just a ball of energy on defense, and his sixth-best rating in Defensive Box Plus/Minus (DBPM) attests to his body of work on that end of the floor. He is one of the only three players who average at least one steal and one block this conference, and he also ranks fourth in defensive rebounds with 7.2. There are just some instances that he becomes too eager, leading to some useless fouls that almost always get him to foul trouble.
But when he's focused on doing the right things, Abueva's excellent blend of mobility and strength allows him to effectively defend positions one through four, making him an essential cog in the Hotshots' third-ranking defensive rating of 95.79.
3.16 Win Shares (1st)
Win Shares (WS) is an "estimate of a player's contribution to his team's total wins," and Abueva's league-best rating in that area tells us how much of a winning presence he is for Magnolia. He ranks second in the league this conference in offensive win shares — just behind Fajardo — and first in defensive win shares.
It's also no coincidence that the Phoenix Fuel Masters, who had an inspired semifinals run during the 2020 PBA Philippine Cup, has struggled mightily since trading away Abueva prior to the current conference. With his ability to do almost everything on offense and defense, along with his endless energy and hustle, Abueva brings winning wherever he goes.
---
Advanced Stats are now available for Philippine basketball! Through Ryan Alba's 'Stats by Ryan', you can now look at team and player advanced stats for the current 2021 PBA Philippine Cup (and the previous three seasons) via the Dribble Media website.
Check out this glossary for a list of the basketball advanced stats terminologies.
You can also contact Ryan via his Twitter handle (@_alba__).