If you happened to miss out on the 2021 PBA Philippine Cup's Friday match, here's a quick rundown to keep you updated.
(Advanced stats are from Stats by Ryan on DribbleMedia.com, an advanced stats and metrics platform for Philippine basketball.)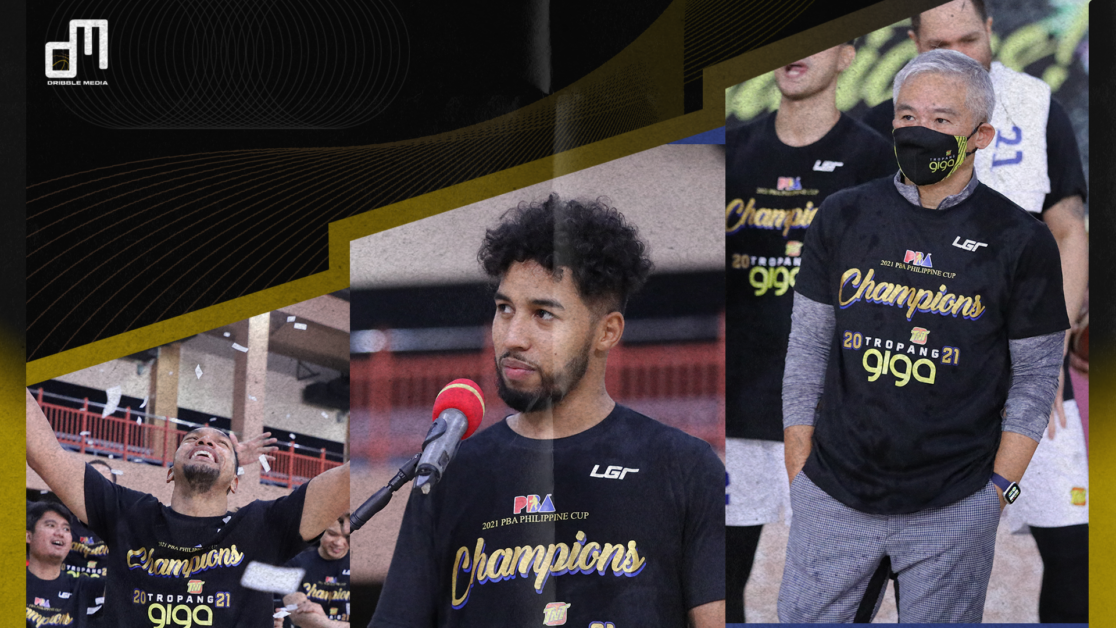 A fitting end to a masterful campaign
The TNT Tropang Giga won the coveted crown by hacking out a 94-79 win over the Magnolia Hotshots in Game 5 of the 2021 PBA Philippine Cup Finals.
Main Takeaways:
A dominant end to an equally dominant conference — the Tropang Giga built a double-digit lead after the first two quarters in Game 5, setting the tone for a fitting finale to their commanding All-Filipino campaign. Mikey Williams was still the high-point man with his game-high 28 markers, but TNT received a huge boost from scoring guard RR Pogoy. Pogoy, who only accumulated 9.8 points in the first four games, came in extra aggressive in Game 5 and finished with 19 points, 2 assists, and 3 steals. TNT was a bit sloppy with the ball — as indicated by their 17 turnovers on just 15 assists — but their defense only held Magnolia to a 37% overall clip from the field, and a paltry 16% (4-of-25) from beyond the arc. Defense was the driving force of the Tropang Giga's success in this conference, and defense was their catalyst in this Finals-clinching Game 5 victory.
51.6/54.5/76.9 for a true shooting percentage (TS%) of 68.5% — these are Mikey Williams' incredible shooting percentages in his first Finals appearance in the PBA. What's even more amazing was that he produced this high level of efficiency while taking most of his shots off the dribble, with most of them coming from isolations above the three-point line that almost always result in a "swish." Williams, who was rightfully named as the Finals MVP, averaged 27.6 points and scored at least 21 markers in each of TNT's five games against Magnolia. The Hotshots failed to put a stop on the Tropang Giga rookie, and they weren't even able to contain him.
They may have lost the battle, but Magnolia has nothing to be ashamed of. In their first conference with Calvin Abueva, they finished the eliminations with an excellent 8-3 record, then got past a great defensive team in Rain or Shine in the quarterfinals. Paul Lee played through a shoulder injury in the semifinals series against Meralco, but behind an inspired scoring streak from Mark Barroca and the consistency of Abueva and Ian Sangalang, escaped that matchup and booked a seat in the Finals. It's just that they ran against a well-oiled and well-coached TNT squad, but there's no doubt that the Hotshots will still be a perennial contender next conference. They may be a veteran team but they aren't that old just yet — there's a case to be made that Lee (32 years old), Abueva (33), and Sangalang (29) are still at the peak of their careers. The 35-year-old Barroca is still the impactful player that he is, although Jio Jalalon's sudden halt in his individual growth is a bit concerning.
---
Advanced Stats are now available for Philippine basketball! Through Ryan Alba's 'Stats by Ryan', you can now look at team and player advanced stats for the current 2021 PBA Philippine Cup (and the previous three seasons) via the Dribble Media website.
Check out this glossary for a list of the basketball advanced stats terminologies.
You can also contact Ryan via his Twitter handle (@_alba__).