Gilas Pilipinas will stake its perfect record at home against its arch-nemesis, South Korea, in the final window of the 2021 FIBA Asia Cup qualifiers, and the Philippine team will be fielding one of its youngest squads in recent memory (the average player is 22 years old). The Koreans will likewise be trotting out a relatively fresh team (average age is 25 years old) with three non-professionals and only five players with seniors' team experience prior to the qualifiers. There are certainly a lot of unknowns and uncertainties heading into the games. So to preview the game, let's not try to predict what lies ahead, and instead, let's just take a look back.
Now, this writer does not particularly believe that history repeats itself. Humans are far too unique, far too complex to be in a perpetual circular loop. What this writer does believe is, as Thucydides says, human affairs resemble themselves. That's why to act as a preview of the coming games, we should watch the 2018 Jones Cup matchup between the Philippines, which was represented by the Ateneo Blue Eagles, and South Korea. To be exact, we're going to look at how the Tab Baldwin-led squad handled the South Korean offense. Let's face it: we're worried about the defense more than anything. Who doesn't have night terrors revolving around perfectly executed screens leading to wide-open 3s by a Korean player? 
We're going to discuss the 2018 Jones Cup game in two parts: the necessity of Ange Kouame, and the power of the power play.
There are tons of expectations placed upon the shoulders of the country's newest naturalized player. That has always been the case. In recent memory, we've tasked naturalized big men to play almost like how a PBA import would. We rely on them as go-to scorers and run our whole offenses through them. When the going got tough for the early iterations of Gilas, we gave the ball to Kuya Marcus (Douthit) and we let him work. In the 2014 FIBA World Cup, Andray Blatche lifted us to the best international performance we've had in the sport's modern era. 
But Ange is different. If you expect him to create his own offense and be the guy we give the ball to when we want a bucket, then you haven't been paying attention. Ange isn't that guy, and coach Tab isn't that kind of coach. Ange carries a different but equally important burden: he has to be the backbone of our defense. 
With Ateneo, it feels like he's everywhere at once. His length, his agility, and his motor were all just levels above the competition, but that won't be the case against Korea — or any other team internationally. The biggest change would be the lack of elite point-of-attack defense around him. In the UAAP, he had guys like Mamuyac who could swallow up guards and funnel them to him nicely. Here, our guards have historically been pretty bad at defense. Ange will have to cover for their mistakes and act as our failsafe on defense.
Against Korea, Ange would probably be tasked with simultaneously protecting the rim and reducing Ra Gun-Ah's impact.
Ra is strong with a great touch around the rim. He is particularly a prolific offensive rebounder, and it's a source of a ton of easy shots for him. He has a nose for the ball and uses his relatively low center of gravity well in jostling for position. He's also not just big; he also uses his body well. In this clip, look at how well he uses his hips for positioning for both the offensive rebound and stepping through Ange for a clear look at the rim. The path to victory relies on making Ra work for his points.
A jumper is a win for us. This isn't to say he's bad at jumpers, but rather, it's much better than letting him waltz inside. In the 2014 World Cup, he shot 42.4 percent (14-for-33) on midrange shots and 54.9 percent (28-for-51) on shots inside the paint. Without even taking into consideration how often he gets fouled in close range, it's pretty easy to understand that these are the shots you want him to take.
But the challenge isn't guarding Ra in isolation. It's guarding Ra while the four other guys on the team try to get you out of position and cause general chaos around you.
Ra sets a screen for Park Chan-Hee (#1), with Ange defending above the level of the screen in a drop coverage. Heo Il-Young (#11) sets a back pick on Ange, which prevents him from backpedaling at full speed. This creates a blow by. On this play, Ange has to process within seconds the location of his man (Ra) and the location and direction of the ball handler (Park). His thought process, however, is undercut by a screen in his blind spot. Korea usually loves to have multiple moving pieces in their sets, and this is something that we should expect will happen again.
In this one, Ange is again in drop coverage as Ra sets a screen. After Kim Sun-Hyung (#5) passes out, Ange gets caught in a back screen set by Lee Seung-Hyun (#33), a stretch big.
At this point, he had to make a choice whether to contest or rush to Ra, who has an open look under the rim. Ultimately, Lee telegraphs the pass and doesn't even consider shooting, but at this point, there were already two scoring opportunities created. The sequence ends with two defenders on Ra (Thirdy Ravena and Kouame) and an open shot for Heo, who is a 40% shooter from deep. 
A big part of the burden that Ange bears is that he has to sit down and a lesser defender steps in for him. This means he has to not only do a good job, but do a good enough job to provide a cushion for whoever gives him a breather. In this game, Isaac Go and the second unit needed a ton of cushion.
Ra is seven years older than Isaac Go, but you wouldn't know it from watching them run. Ra just calmly outruns a team of college kids and gets the easy two. This is probably going to be a common theme in the next two games where Ra gets easy shots from transition or semi-transition mismatches.
Remember those back picks Korea set on Ange? Well, turns out, they're way more effective when they're set on slower and weaker bigs. In one word, Ra against the team without Ange was brutal. He scored 11 of his 15 points on them and didn't even miss a single shot. 
It's also an important thing to note that we've only really talked about Ange's defensive role inside. We haven't even talked about what would happen when he has to close out to sharpshooters.
In 2018, it wasn't pretty. To be honest, this writer's first reaction to this was how great and how bad it was at the same time. First, notice the processing speed. He doesn't really anticipate the pass to the wing, but the speed at which he processes the action is top-notch among Filipinos. Second, that slide. Ange has the length, the flexibility, and the speed to close out in time, but it's the deceleration that gets him. Here, he ends up sliding as Heo Ung (#9) uses his momentum against him and hits the one-dribble pull-up. Here's to hoping that he's gotten better at this aspect of the game.
Ange's role on defense seeps into every part of the game, even when he's sitting down. It's a huge burden to bear especially for a player his age, but he's also a pretty special defensive talent with a motor that can match anyone on the floor. I mean, just take a look at this block. He bites on the fake, but turns, recovers, and saves the play.
THE POWER OF THE POWER PLAY
We talk about how Korea's movement and shooting are what kills. This is arguably correct, but it is not a precise way of describing how their organized chaos messes up our defense. I think the proper way to describe it is that Korea creates "power plays".
A power play is more of a hockey term. It's a play where the offensive team has a numerical advantage over the defensive team. The same concept is applicable in basketball when an offensive player draws multiple defenders and creates a numerical advantage for the rest of his teammates.
In this play, Heo Hoon (#6) draws two defenders on him and kicks it out to the left wing. Since there are two defenders on Heo, the rest of the team is playing 4-on-3. Thirdy has to rush out to the wing in case there's a shot attempt and this leaves the corner open. The ball is quickly swung to the corner and that's an easy three for Korea. 
On this play, Lee Seung-Hyun (#33), a stretch big, drives inside. Instead of running towards his man, White "stunts" — that is, he briefly lunges towards the penetrating Lee — and tries to steal it from him. The result? A relatively open deep ball for the shooter Heo Il-Young.
Help defense can, at times, not be helpful. Instead of forcing errors, it creates exploitable openings and numerical advantages for the other team. Now, this isn't to say help defense is bad and we should just stick to our man. That is a fatal error and will have us losing by 30 at the half. All that matters is proper execution and knowing when and where to help.  If a team keeps helping, but its opponent continuously and unabashedly abuses the help, it ceases to be helpful and instead plays into the hands of their opponent. This is what happened in the 2018 Jones Cup meeting between Ateneo/Philippines and South Korea. The Koreans relentlessly picked apart the help to the tune of 30 assists on 36 made shots, including 10 made shots from downtown. To put it into perspective, they had more assists than the total number of shots that Ateneo/Philippines made.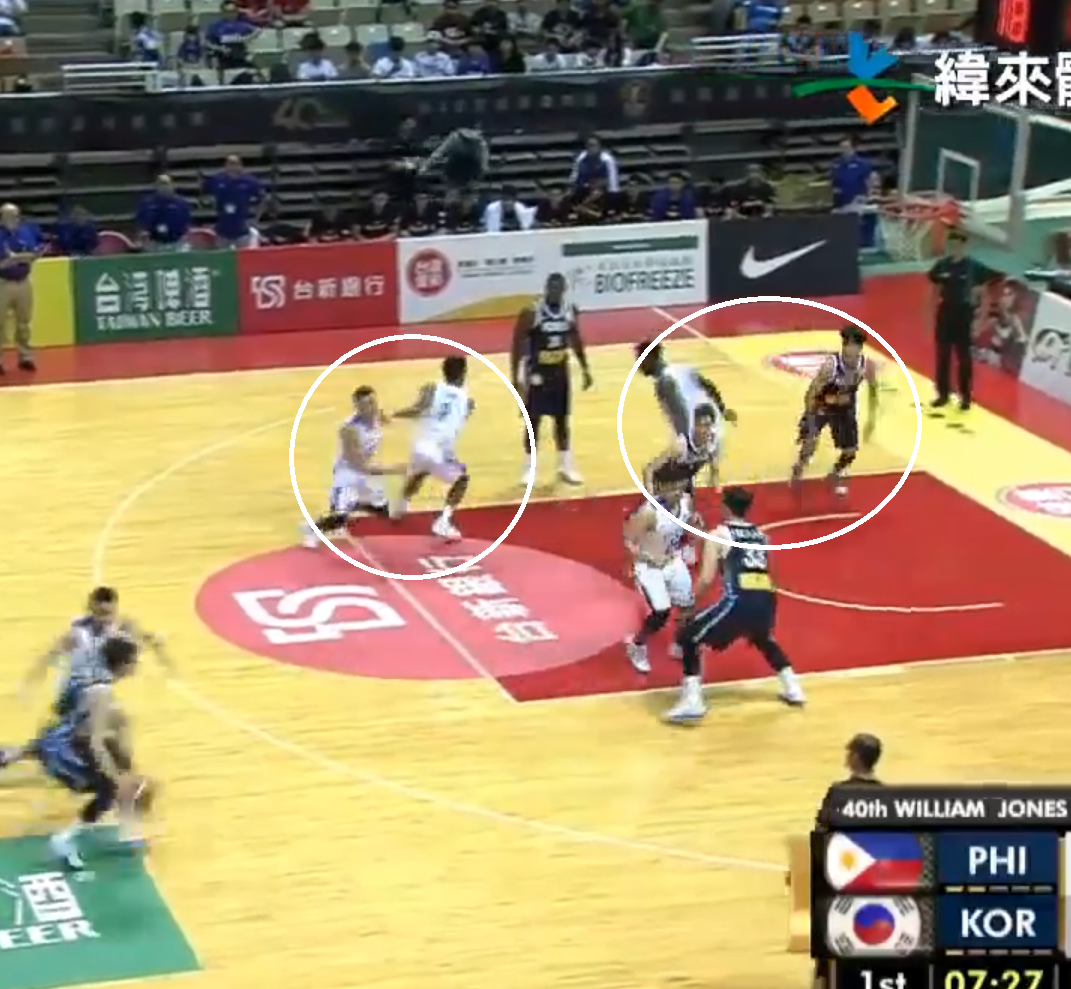 Now, this play illustrates the good things that come from good team defense. Thirdy misreads the direction his man is heading and inadvertently sets a screen on a teammate, this creates openings for the two Koreans up top. The advantage is killed by a timely switch by Raffy Verano, but Kim Sun-Hyung (#5) draws help with Ange coming in to meet him. Instead of a precise pass to an opening created by help, the long limbs of Ange force the bad pass and get him an easy dunk in transition.
So, what does Korea have in store against good set defenses? They prevent you from setting up in the first place by attacking quickly and early before you're ready.
In transition, Thirdy fails to find his man quick enough and this creates a situation where Adrian Wong has to guard a pair of Koreans in the perimeter. As soon as Wong reaches Heo Hoon (#6), the ball is passed to Heo Ung (#9) for the wide-open 3. Before the defense was set and before each defender got to their assigned man, Korea had already started to deal out the pain.
This one is an early shot clock play in semi-transition. Mamuyac and Kouame move to trap Kang San-Jae (#13) who swings the ball to Choi Joon-Young (#2). A pair of white shirts scramble towards Choi's immediate vicinity and that's a wide-open shot for Yang Jun-Beom (#17) created in just nine seconds.
South Korea is really good precisely because they know how to create advantages for their players. They play a game of organized chaos. They're organized, we're in chaos.
There are so many things they do at a single time that makes it really hard for defenders to process what's happening in front of them. These create the openings that they exploit on almost every possession. 
The Koreans play a great game of team basketball. We've heard multiple platitudes about how important teamwork or playing like a team is, but it really is true. To beat them, we have to do the same.
Constant and efficient communication on defense to close holes as soon as they open is of paramount importance. Maybe then, the curse of Korea will finally be truly broken.
FOLLOW US ON OUR FACEBOOK PAGE FOR MORE BASKETBALL AND SNEAKER UPDATES!