As the regular season looms just around the corner, are the San Antonio Spurs actually shooting for a playoff spot by giving the Aldridge-DeRozan partnership another chance?
Aldridge and DeRozan will be entering their third season together with the Spurs. (Photo by Soobum Im/USA TODAY Sports)
Where do the San Antonio Spurs go from here? Are they going to rebuild, or are they chasing a return to the playoffs? The Spurs were in an unfamiliar territory last season, failing to book a postseason berth after 22 straight years of being a fixture in the playoffs.
As San Antonio heads into their 2020-21 campaign, let's take a look at the top storylines surrounding what could be a vague season for them.
Gregg Popovich teaching a play to LaMarcus Aldridge. (Photo by Soobum Im/USA TODAY Sports)
Is Popovich willing to dive deep into youth movement?
Maybe. Maybe not. Of course, we all know that Gregg Popovich has a knack for developing young players into all-around stars. Tony Parker and Manu Ginobili came into the league unheralded. Although he was a lottery pick in the 2011 NBA Draft, Kawhi Leonard was still considered as an under-the-radar prospect.
There were rumblings last season that Popovich may be headed into retirement soon. But unless he would officially announce his departure from the team, I still believe that the Spurs will do everything they can to be a contender for a playoff spot.
Will Aldridge and DeRozan suit up for new teams this season?
Aldridge and DeRozan are both entering the final year of their respective contracts with the Spurs. That is a win-win situation for the Spurs. First, it makes them more tradeable as teams who will be acquiring them will not be required to make any financial commitments beyond this season.
Of course, there will be teams who will have inhibitions in securing the long-term services of Aldridge and DeRozan, but it's not like they have to give up really valuable assets in exchange for those two names. Aldridge's value in the trade market has drastically decreased, and I think that a package of a good young player and a couple of future draft picks will be enough to nab DeRozan.
Then if the Spurs decide to run it back for the playoffs, they need their two veteran stars to achieve that goal. Still, my bet is that the Spurs will trade Aldridge and DeRozan before the March deadline, paving the way for them to develop their young talent.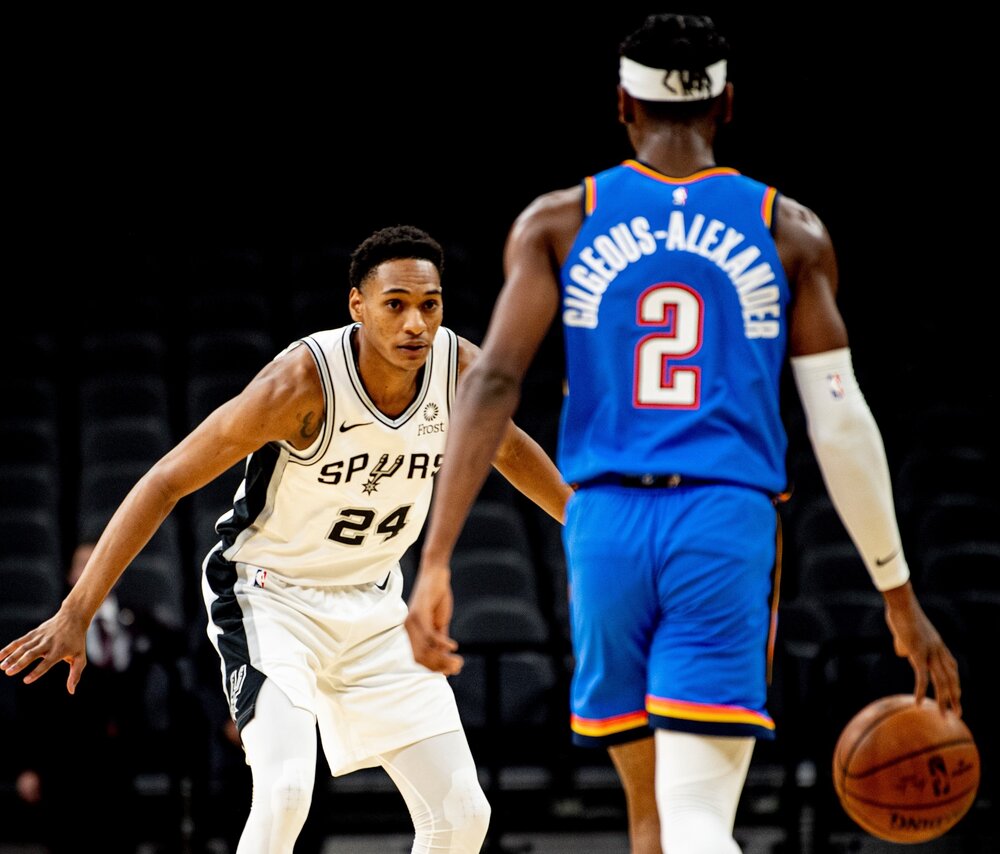 Spurs rookie Devin Vassell guarding Thunder's Shai Gilgeous-Alexander. (Photo by Reginald Thomas II)
Vassell and the underrated young Spurs core
Why hasn't anyone paid attention to this young core in San Antonio? Dejounte Murray and Derrick White are all-around combo guards who have exhibited growth on both ends of the floor. Lonnie Walker and Keldon Johnson are two 6-foot-5 lengthy perimeter players with intriguing potentials.
The Spurs also got a gem in Devin Vassell, a 6-foot-7 wing who has every potential to be an All-Star level 3-and-D player. If the Spurs can snatch a couple of young guns in an Aldridge or a DeRozan trade, their future is indeed in good hands.