Did you know that Hall of Famer Shaquille O'Neal has his own podcast? Here's how you can listen to it, along with NBA player podcasts that will surely garner your interest.
Shaquille O'Neal hosts The Big Podcast. (Photo courtesy of NBC NewsWire/NBCUniversal/Getty Images)
The Steam Room
Hosts: Charles Barkley and Ernie Johnson
The Steam Room launched its first full episode last December, and now is a weekly fixture in the podcast world. Barkley and Johnson have been in the show business for decades now, as both of them are hosts of the Inside the NBA show, along with former basketball stars Shaquille O'Neal and Kenny Smith.
Barkley was the NBA's Most Valuable Player in 1993, and has made the All-Star game eleven times. However, he never won a championship in the league, something that Shaq would constantly remind and tease him of.
All The Smoke
Hosts: Stephen Jackson and Matt Barnes
All The Smoke is produced by Showtime, the people behind highly-acclaimed TV series like Homeland and Billions. This NBA player podcast employed the services of two tough and fiery former NBA players in Jackson and Barnes. The two forwards teamed up on the "We Believe" Golden State Warriors squad that famously pulled off the playoff upset over the top-seeded Dallas Mavericks during the 2007 NBA Playoffs.
All The Smoke debuted last October, and had former Cleveland Cavaliers champion guard JR Smith as their first guest. Barnes and Jackson have succeeded in inviting over some of the most popular athletes and celebrity icons to the show, including the late great Los Angeles Lakers legend Kobe Bryant.
Winging It with Vince Carter
Hosts: Vince Carter and Annie Finberg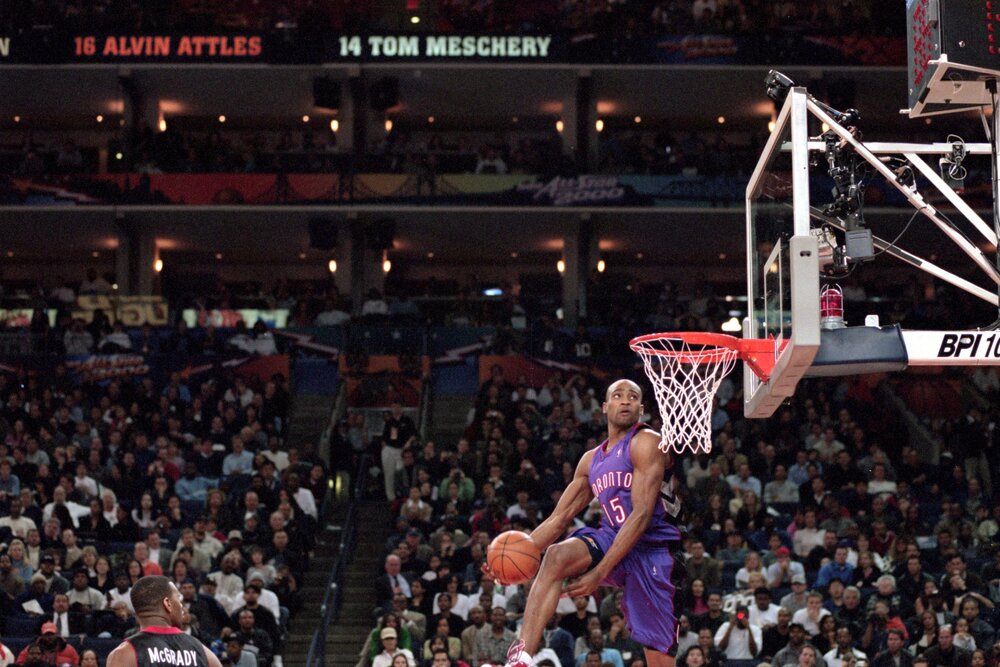 Vince Carter hosts the Winging It podcast. (Photo by Jed Jacobsohn/Getty Images)
The Vinsanity may have already gotten rid of his basketball sneakers, but the former NBA star's voice is still highly-anticipated in the podcast world. Winging It is produced by The Ringer, one of the best media companies today in terms of sports, pop culture and technology.
Launched last December 2018, Carter and Finberg had champion stalwarts Stephen Curry and Andre Iguodala as their first guests in the pod. Since then, NBA stars like Dwyane Wade, Dirk Nowitzki, DeMar DeRozan, Damian Lillard, Jimmy Butler and Lamar Odom have appeared on the show.
Knuckleheads
Hosts: Quentin Richardson and Darius Miles
Just from the fact that it is produced by The Players' Tribune, you could tell that Knuckleheads is a NBA player podcast that features unfiltered conversations with prominent athletes. Just like Barnes and Jackson, Richardson and Miles were former teammates in the NBA. Knuckleheads was launched last March 2019, and had Kemba Walker as their first guest.
If you want to listen to brutally honest takes from players on current events and their playing experiences, definitely tune in to Knuckleheads. Aside from Kemba, QRich and Miles have featured topnotch names like Kevin Durant, Baron Davis, Ron Artest, Steve Nash and even Kobe himself.
The Big Podcast With Shaq
Hosts: Shaquille O'Neal and John Kincade
Shaquille O'neal has his own sports podcast. (Photo via Getty Images)
Yep, the Big Diesel himself has his own show. Launched under the umbrella of PodcastOne, the four-time NBA champ talks about sports and entertainment, while also diving in on the social issues that envelope the country. Shaq has featured influential NBA players like Stephen Jackson, Dallas Mavericks owner Mark Cuban, and even his Inside the NBA co-host Kenny Smith.
One of the most memorable episodes of The Big Podcast is when Shaq paid a heartfelt tribute to his former Lakers sidekick Kobe Bryant, just a day after the late great All-Star died in a helicopter crash.
Road Trippin'
Hosts: Richard Jefferson, Channing Frye and Allie Clifton
Produced by Uninterrupted, Road Trippin' features two former NBA players in Jefferson and Frye. After winning the 2016 NBA championship with the Cleveland Cavaliers, Channing and RJ have developed a fun friendship that has translated into exciting conversations that should have you laughing throughout the show.
Road Trippin' has brought in the likes of Steve Kerr, James Worthy, and even the polarizing LaVar Ball to the show.
The No Chill Podcast
Hosts: Gilbert Arenas and Mike Botticello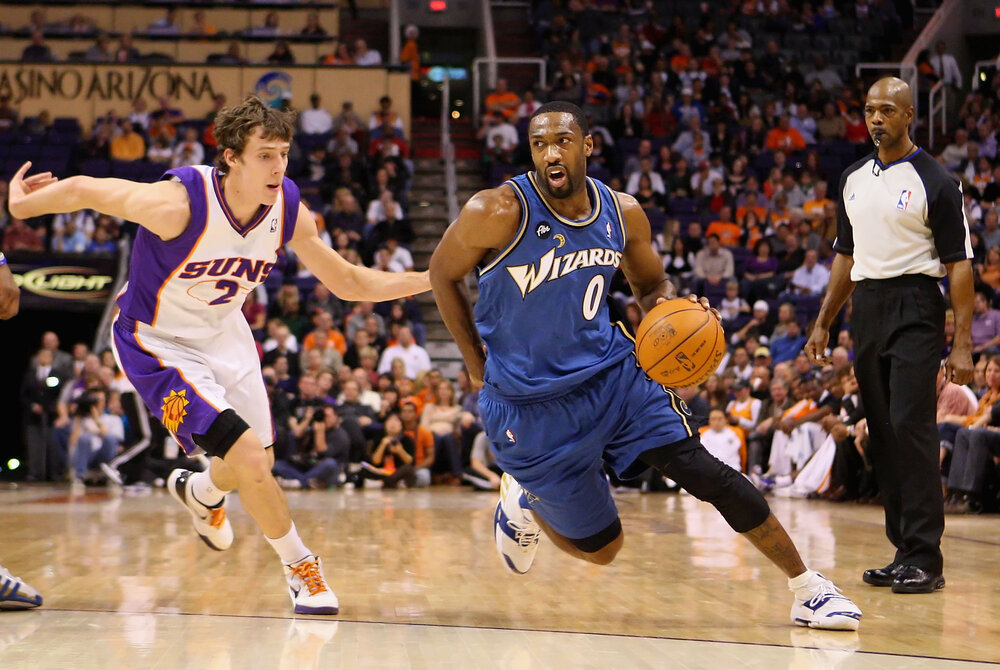 Gilbert Arenas hosts The No Chill Podcast.. (Photo by Christian Petersen/Getty Images)
If you want a no holds barred conversation about sports, then look no further as the Agent Zero himself has you covered. Arenas makes his own hot takes on the happenings around the sports world, while inviting the likes of Jason Richardson, Shaq's son Shareef, and his former Washington Wizards teammate Nick Young.
Arenas also takes the time to give basketball pointers in The No Chill Podcast, just like this episode about how to attack different defensive schemes.
Let's Get Technical
Hosts: Rasheed Wallace, Bonzi Wells and Gerald Brown
Fresh off its launching last April, Let's Get Technical has now accumulated 20 episodes featuring top-notch former and current athletes. Getting its name from Wallace's notoriety for receiving technical fouls during his NBA career, the four-time All-Star power forward partners with his Portland Trail Blazers teammate Bonzi Wells to deliver interesting conversations with sports figures.
Since it launch a few months back, Wallace and Wells have successfully invited former NBA players like Damon Stoudamire, Nate Robinson, Kendrick Perkins and the ever-exciting Metta World Peace to the podcast.