Even without superstars Kevin Durant and Kyrie Irving, the Brooklyn Nets pulled off an upset win over Joel Embiid and the streaking Philadelphia 76ers.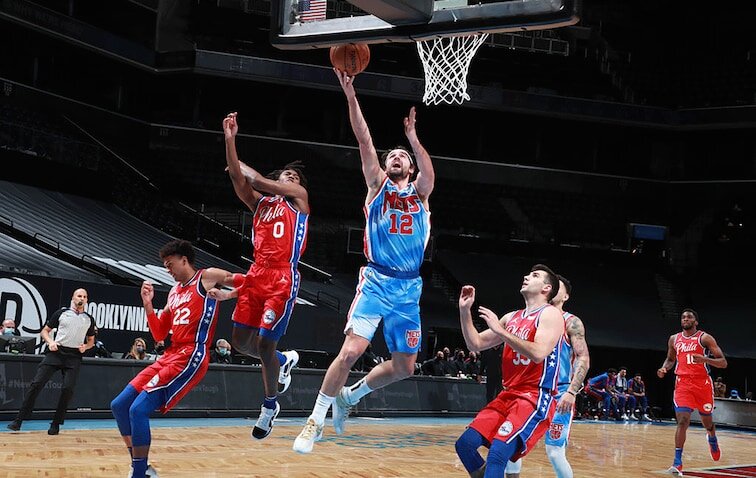 Joe Harris scored 28 points in the Nets' win over the Sixers. (Photo via NBA.com)
Harris powers depleted Nets past Sixers
The Philadelphia 76ers came in hot and fiery after a five-game winning streak, but they were in for a surprise in Brooklyn. With both Kyrie Irving and Kevin Durant sitting out, the Nets turned in a balanced offensive attack to hack out a 122-109 victory over the Sixers.
Joe Harris waxed hot in the win as he amassed a game-high 28 markers, including a solid 6-9 clip from the three-point line. Caris LeVert did the heavy-lifting from a playmaking perspective as he turned in an all-around outing of 22 points, 7 rebounds, and 10 assists. The Nets only had a two-point advantage at the end of the opening period but broke the game wide open with a strong second-quarter surge.
Durant, who is under the league's health protocol, missed his second straight game. But it was Irving's absence that came as a surprise, and even Nets head coach Steve Nash only got wind of the development moments before the contest. It was then reported that "personal reasons" caused Irving to sit out, and that he would also miss the Nets' next assignment against the Memphis Grizzlies.
The Nets say Kyrie Irving, who missed tonight's win over Philadelphia for what the team termed personal reasons, will not travel on Brooklyn's post-game flight to Memphis for Friday's meeting with the Grizzlies

— Marc Stein (@TheSteinLine) January 8, 2021
Shake Milton topscored for the Sixers with his 24 points, while Joel Embiid put in a double-double performance of 20 points and 12 boards. However, Philly struggled to take care of the ball as they committed 20 costly turnovers with 10 miscues coming from Embiid and co-star Ben Simmons.
Drummond, Cavaliers' defense prove too much for the Grizzlies
The Cleveland Cavaliers put up a strong defensive stand as they defeated the injury-plagued Memphis Grizzlies, 94-90. Andre Drummond led all scorers with his 22 points and added 15 rebounds, 3 assists, and 2 steals to his name. The much-needed win halted the Cavaliers' two-game losing skid.
The Cavs played without their top backcourt duo of Darius Garland and Collin Sexton. Kevin Love, who is still recovering from a right calf strain, sat out for the sixth straight time.