Former Batang Gilas standout and Ateneo Blue Eagle Josh Lazaro joined Dribble Media's ZerJosh Serrano to talk about his on-court partnership with teammate Forthsky Padrigao, and why he decided to commit to the Ateneo seniors team.
Joshua Lazaro of the Ateneo De Manila University Blue Eagles.
When you're a top-ranked high school basketball prospect who is heavily recruited by a number of schools, the logical choice moving forward is to focus on your on-court development for the hopes of landing a professional basketball career in the near future.
The thought of playing in the PBA or overseas is an almost-impossible dream for teenagers who grow up watching their favourite basketball stars on the television. So you would understand why they pour all their efforts on basketball, and have this kind of tunnel vision to achieve their hoops dreams.
But there are those exceptional people, who at an early age, can already balance the best of both worlds. Josh Lazaro was only 16 years of age when he transferred from San Beda to Ateneo, but he was already sure back then that he made the right choice.
Ateneo has been a dominant force in the UAAP for the last few years, so people think that Josh made that decision solely because of that topnotch basketball program. That's where almost everyone got it wrong.
"The biggest reason for my transfer is the education in Ateneo. Minor factor lang talaga sa decision ko yung program ng Ateneo sa basketball. My main priority is to get quality education, and that was also what my parents emphasized when they were helping me decide."
— Josh
It's not easy to make this kind of decisions, especially for a 16-year old teenager who is still finding his footing in the society. It was in San Beda that he first learned the intricacies of a system-based basketball, having played there from grade school to high school.
So we asked Josh what was the biggest adjustment that he had to make during his first few months in Ateneo. Surprisingly, his answer wasn't related to the basketball.
"In general, the way it works in Ateneo is different of course. But the biggest adjustment I had to make was that they really pay more attention to our studies. The first few months was really hard, but I was able to adjust thanks to the help of my teammates."
— Josh
But of course, we'll be kidding ourselves if we don't believe in the fact that Ateneo's renowned basketball program didn't play a vital role in Josh's decision to transfer. Aside from the overall program spearheaded by the excellent Tab Baldwin, Josh also emphasized that the chance to play with a smart point guard like Forthsky Padrigao was a great boost to his development.
So how important it is for a big man like Josh to have a playmaker who has the ability to make quick adjustments on the court? He has one answer.
"It's a luxury. I've been with Forthsky since our Batang Gilas days. One of the many things that I like about him is that he is very smart on and off the court. Ang dami ko natututunan sa kanya at magaling talaga siya mag-adjust sa court.

He makes life easier for his teammates. To play with him is an honor and a big boost to my development."
— Josh
Lazaro's Ateneo teammate and point guard, Forthsky Padrigao. (Photo by Luisa Morales/Philstar)
Unfortunately, Josh wasn't able to reach the UAAP Finals in his brief stint with the Juniors team of Ateneo. He was looking forward to bouncing back last year but the COVID-19 pandemic cancelled the entirety of the UAAP season.
But Josh was able to show his full repertoire as a dynamic combo big man for Ateneo. NBTC listed him as the 8th-ranked prospect coming out of high school in 2020. That's something to be proud of but Josh admitted that it also comes with a lot of pressure.
"The tough thing about is that you have to live up to the expectations. You have to meet the expectations of not necessarily everyone, but of the people close to you. Doon pa lang nakaka-pressure na.

Still, it's normal for an athlete to have this kind of pressure. It's also flattering because there are so many basketball players who aspire to be in this stage. I'm very grateful and fulfilled because people recognize the results of my hardwork."
— Josh
As for handling doubts and disappointments, Josh says that you just have to pick up on those criticisms that you know would help you down the road.
"Sa tagal kong naglalaro, I've learned to accept criticisms na din. Dapat alam mo paghiwalayin yung mga dapat mo pakinggan at yung iba naman na walang laman at wala ka matututunan. In handling criticisms, it's either you pick up something from it or ignore those that don't have substance."
— Josh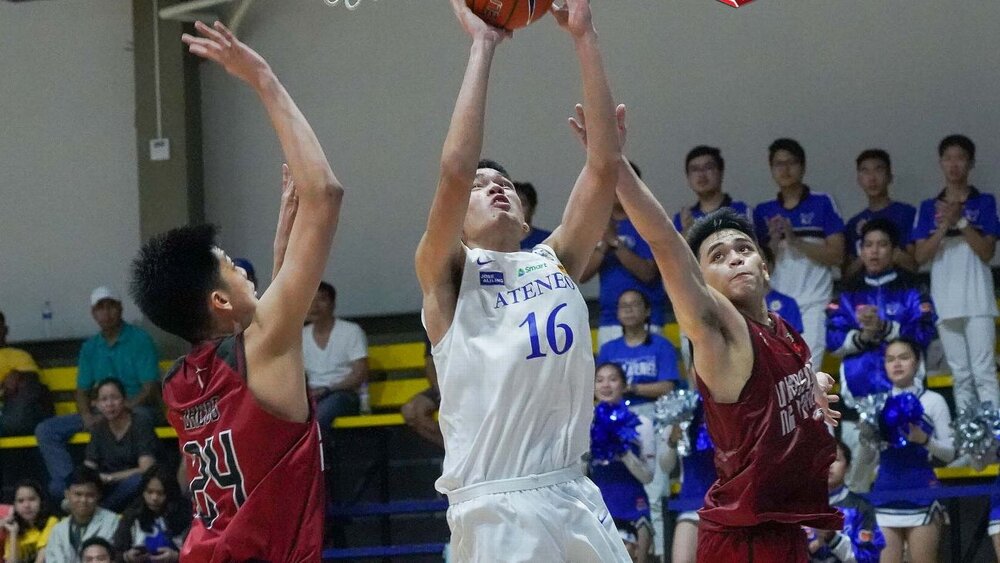 Lazaro going up for a shot inside the paint against two UP defenders. (Photo via ESPN)
Now that he has committed to playing for Ateneo's Seniors squad, Josh says that he has been lifting weights in an effort to build up mass for the grind of bodying up to the bigger frontcourt players in the collegiate level.
But the greatest asset that he can offer to the Baldwin-led Blue Eagles is his unique ability to be a high-level role player. Since Baldwin took over the team several years ago, we have seen Ateneo produce unselfish, team-oriented players on their way to consecutive championships in the UAAP.
"I haven't met Coach Tab yet in person, but we did talk right after I committed. I'm hearing things that he really unleashes the potential of his players, both in basketball and in real life. So I'm really looking forward because he's obviously one of the best coaches we have in the country right now.

I think the best asset that I can offer to the team is that whatever coach wants me to do, I'm willing to do it. Ever since my San Beda and Batang Gilas days, I've been a role player so I understand the value of that position.

Most importantly, the maturity and experience that I gained from Batang Gilas should help me on the court."
— Josh
To put a fitting end to the conversation, Josh said that if you really want to pursue basketball, you need to instill a sense of dedication and commitment to the process. It's the driving force of his career so far, and that is the piece of advice that he wants to impart to aspiring hoopers.
"Dedication is one thing you need to have in order to progress in basketball. It's a very long process that will take years for you to start realizing your true potential. If you want to pursue a road to professional basketball, you have to know that the sport will already be a part of your life.

Kailangan talaga mag-invest ka ng time and effort to succeed in this sport."
— Josh