Dribble Media's ZerJosh Serrano talked to former UAAP champion and national team player Renren Ritualo as he discussed his successful basketball career, and why he chose to quietly retire from the PBA.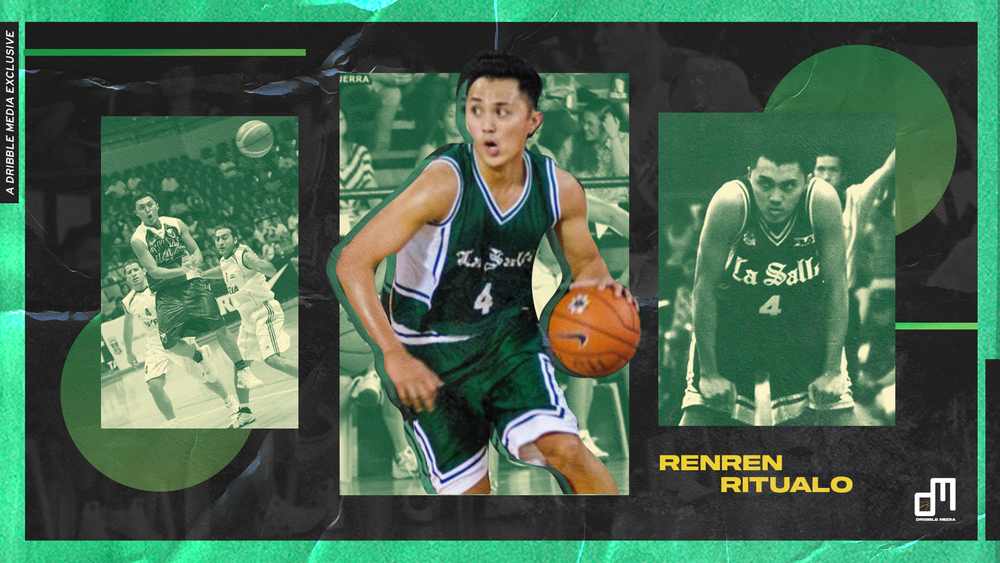 If you've been around the Filipino basketball landscape since the late 90s, there's no way that you could ever forget Renren Ritualo's name. Dubbed as "The Rainman," Ritualo was a proven winner in all levels.
He was a champion with the San Beda Red Cubs in high school, then won four straight championships with De La Salle University in the UAAP. It took a while before he nabbed his first title in the PBA, but he did it with the Talk N' Text Phone Pals in 2009.
Along with his winning pedigree, Ritualo is more popularly known for his smooth shooting form. He is easily one of the best three-point shooters in the history of Filipino basketball, and Renren attributed that to his obsessive nature in practice.
"May pagka-obsessive kasi ako pagdating sa practice, especially sa shooting. I wasn't born a shooter. Pinaghirapan ko yun. I invested a lot of time. I wanted to perform at a high level every single game, every single practice, and every single drill."
— Renren
You'll also remember Ritualo for his overly-competitive nature and livewire presence on the court. Even when he is struggling through the first 47 minutes of a game, he would always ask for the ball in the clutch and take the most important shot of the night.
Ritualo acknowledges that the presence of his father allowed him to wield that courage and sheer confidence every game. The late Florendo Ritualo Sr. was a member of the 1974 Philippine Youth team, and one of the first players in the PBA.
"My dad was a very big influence in my life. I didn't feel any pressure knowing that he is a former PBA player. Very focused din ako sa sarili kong development. When I was younger, I was misinterpreted na parang nagwawala ako kasi sometimes I cry kahit panalo kami kasi I missed a shot. My dad guided me through those stages. He gave me the courage to always take the crucial shots when I'm struggling. Tinuruan niya ako maging matapang sa court. "
— Renren
Of course, it was his magical stint in La Salle that spelled the golden moments of his basketball career. He led the Green Archers to four straight championships from 1998 to 2001, and you can now see his iconic #4 jersey up in the DLSU rafters.
Right from the first day that he stepped into the La Salle practice floor, Ritualo already knew that it was a perfect match.
"I was recruited from San Beda. Actually, they (La Salle) didn't have to recruit me kasi gusto ko na talaga maglaro for them. The only adjustment that I needed to make was in terms of socializing. Co-ed kasi sa La Salle, and I came from San Beda which was all-boys back then. Coach Jong Uichico was the one who recruited me to La Salle. Everyone was welcoming. They made me feel that they needed me and they gave me a big responsibility right away, which is something that I thrive in."
— Renren
After his stellar collegiate career with the Green Archers, Ritualo was drafted by the FedEx Express in the 2002 PBA Draft. He immediately became the main man for FedEx, and was awarded with the Rookie of the Year plum.
His speed and shooting translated to the pros, but Ritualo emphasized that he had to log in more hours in the weight room to keep up with the bigger, stronger players in the PBA.
"Entering the PBA, they said na I was small for the shooting guard position. Ibang klase din kasi yung strength ng mga players sa PBA. You really have to lift weights just to keep up. Coming from DLSU, conditioned naman na ako. Yung practices naming doon pwede na for track and field. Pero yung challenge sa akin noong umakyat na ko sa PBA ay kung paano ako makikipag-banggaan. So I invested more time sa weight room, and it eventually paid off."
— Renren
Ritualo would become a bona fide star in his third season with FedEx. But in 2006, he was a centrepiece of a blockbuster trade that shipped him to Talk N' Text. Ritualo reiterated that the move confused him, especially during that time when FedEx is just coming off a semifinals appearance.
"I was really performing great para sa FedEx noon. I was their leading scorer. I was also a member of the national team. In terms of team success sa FedEx, we were in the semifinals. We were beating great teams. So, I don't really know what happened and why I was traded."
— Renren
In Talk N' Text, his role would become different. Ritualo shared backcourt duties with Jimmy Alapag and Mark Cardona, who were both at the peak of their respective careers. He faced an unfamiliar territory by assuming a role off the bench, but Ritualo was more than willing to make his coaches proud.
"I just wanted to win. I was already on my 7th year in the PBA that time. From high school to college, I was always in the Finals, always winning championships. Pero from 2002 to 2009, I didn't win a single trophy. I'm a solier, and I will do whatever job assigned to me by the coaches. Tiwala naman sa akin si Coach Chot (Reyes) and tiwala din ako sa kanya. So I played a role off the bench, everything fell into place, and we won a championship."
— Renren
At the height of Ritualo's basketball career, there were rumors that NBA teams scouted him. Ritualo was at the peak of his abilities at that time, and he was playing for the national team. Ritualo addressed the truth to those speculations.
"I was with the national team that time, and we were playing in Las Vegas against ex-NBA veterans and aspiring NBA players. I was shooting the lights out from NBA range during that game, and I think it captured the attention of some scouts. Pero wala naman lumapit sa akin. Nabasa ko lang yung rumors pag-uwi ko ng Pilipinas. So nothing is confirmed about that."
— Renren
Ritualo also took the time to look back at his time with the national team, which he believes is the crowning glory of his basketball career.
"Ibang klase because you're wearing the flag on your jerseys, and you're playing in front of very supportive Filipinos. Kahit saan kami magpunta, they are always there. Akala mo nasa Pilipinas ka pa. They'll invite you to their homes for dinner, and punong-puno palagi nila yung mga courts abroad. We feel really proud that we made them happy. We're like soldiers who are ready to protect the country. "
— Renren
While he emphasized that he never looked at his opponents as "rivals," Ritualo admitted that he was always into the art of trash-talking. He never retaliated physically, but he cherished talking to his opponents on the court.
"When I was in high school and college, mahilig talaga ako sa trash-talking. I wasn't nice. Kapag nagsalita talaga ako, hindi ko na alam sinasabi ko kung na-iinsulto ko na ba yung kalaban o napapahiya ko siya. Ako kasi yung madalas nakakatanggap ng mga siko, mga suntok at mga patid. But I won't retaliate. Most of the time I kept my composure, pero I would keep on talking and talking."
— Renren
When we asked him what franchise he wanted to play for outside of the PBA teams that he suited up for, Ritualo gave us a surprising answer.
"Alaska, because of Tim Cone. I've been with great coaches throughout my career, but I wanted to learn more under Tim Cone. Alam ni Coach Tim yun kasi tinawagan ko siya dati to play for him, pero bigla naman siya napunta sa Ginebra that time. Hindi na natuloy."
— Renren
Ritualo also cleared out the air on one vague point of his career: his retirement. After his stint with Talk N' Text, he would become a journeyman, bouncing from one team to another. He last played for Air21 during the 2013-14 season, then his name just vanished right after.
Ritualo took on an assistant coaching job for the Adamson University Soaring Falcons under Franz Pumaren, and is now serving as Sports Marketing Director for Aclan Sports. When asked about his departure from the PBA, Ritualo said that he preferred to go out quietly rather than announce his retirement.
"Hindi kasi ako nagsalita or nag-announce. It wasn't my personality. Like on a party, I will just go home na hindi nagpa-paalam. I'm a private person and basketball is very personal for me. At that time kasi, I won't go anywhere na din. Hindi ko na nararamdaman na kailangan pa ako, and no other teams showed interest. So I just stopped. Yun din ang naging decision namin with my wife and my family. "
— Renren
Renren Ritualo is now a Sports Marketing Director for Aclan Sports. He is also a skills coach who mentors young aspiring basketball players. To know more about how to reserve a spot in Ritualo's individual skills training programs, reach out to hisInstagram account or to Aclan Sports' Facebook page.