Former Brgy. Ginebra Gin King Rob Labagala sat down with Dribble Media's ZerJosh Serrano to talk about his basketball career, the Passion Sports program he started, and why teaching young athletes gives him a sense of fulfillment like no other.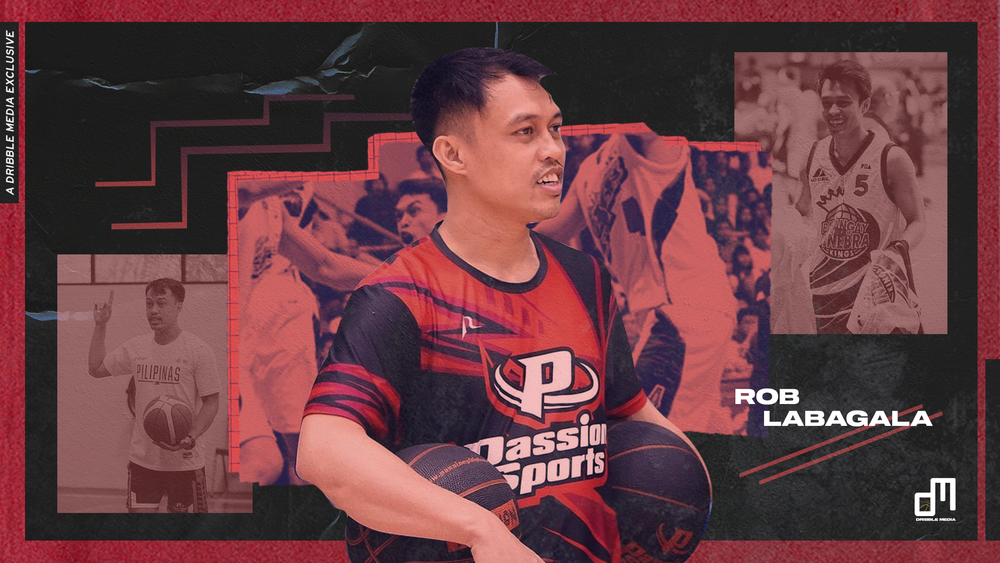 Waiting for your time to come is an overrated cliché. Opportunities will eventually come your way, but it's also true that not everyone has the luxury to wait for that to happen.
Such is the case for Rob Labagala, a 5-foot-7 defensive-minded point guard who formerly played for Ginebra, Barako Bull and Talk N' Text. Having played high school basketball in Cebu, Labagala never had any direct offers from UAAP schools.
But rather than waiting for a call, Labagala took the matter into his own hands.
"After my playing days in high school, I tried out for two schools in Cebu pero hindi ako natanggap. Kaya my father and I came to a decision to migrate to Manila, and try my luck there. I tried out first for NU (National University), then San Sebastian, and then sa La Salle Pero before my first practice with La Salle, somebody encouraged me to try out at UE (University of the East). Pagdating ko sa UE, sinalang ako agad. I was blessed by the Lord kasi maganda agad performance ko. Right there and then, kinuha nila ako to be part of the team. "
— Rob
But Labagala admitted that it didn't seem easy as it looked. When you have lofty dreams of playing in the PBA, being scouted and recruited to prominent UAAP schools is always a big step in the right direction. But Labagala's name never made it to the scouts' notebooks, so he had to go through a more difficult path towards his PBA dreams.
"When you get recruited, yung mga trials na pagdadaanan mo hindi na ganoong ka-hirap bago ka ma-isama sa line-up. Wala kasing kasiguraduhan kapag nagtry-out ka lang. But the people who believed in me, sila yung nag-motivate sa akin na huwag ako ma-discourage. Pursigido din talaga ako na makamit yung pangarap ko, kaya pinag-hirapan ko talaga."
— Rob
However, Labagala would still face a rough patch in his playing days with the Red Warriors. UE, which was led by Paul Lee back then, was loaded in the backcourt. Labagala didn't get to see much playing time, a reason why he was not that popular among Filipino basketball fans before he got into the PBA.
Yet, Labagala stayed optimistic through it all. Most importantly, he never asked anything to be freely given to him.
"Even though I wasn't logging in the minutes on the court, I was just so optimistic that time. Hindi ako yung player na I will be asking for playing time. My mindset is that I have to earn that spot. I don't grumble. I also look at it from a perspective na I was blessed to get a scholarship out of playing basketball. So I stayed patient, and I learned how to put in the work while waiting for my time."
— Rob
The attitude and hardwork he put in eventually paid dividends when he transitioned to the PBA in 2010. The draft class that year was headlined by Nonoy Baclao and Rabeh Al-Hussaini, two high-potential big men coming from Ateneo.
Labagala's name was eventually introduced to the country when Ginebra surprisingly picked him 12th overall. It did shock a lot of fans, even Labagala himself.
"At that time, I don't have any idea na makukuha ako ng Ginebra. Ang prayer ko lang noon na kung sino mang team ang kumuha sa akin, sana mabigyan ako kahit isang conference na contract para lang I can say to myself that I did everything possible to achieve my dream. I didn't expect that I will be drafted that early."
— Rob
When his name was called, everything became a blur for Labagala. He didn't even hear the name of the team that picked him, and it was right until he was already sitting with his new teammates that he realized that Ginebra selected him.
"Actually, hindi ko kaagad na-realize na Ginebra ang kumuha sa akin. When I came up to the stage to be welcomed by them, everything was a blur. Nalaman ko lang na nasa Ginebra na ako noong nandoon na kami sa table at nakita yung placard ng team."
— Rob
It's both a blessing and a curse to be playing for the most popular team in a basketball country like the Philippines. You will receive all kinds of adulation when you're doing well. But when you go on a cold streak, your mistakes will also be in the spotlight.
When asked on how enormous of a pressure it was to don the Ginebra threads, Labagala said that pressure has become a norm in his life that he doesn't feel the magnitude of it anymore.
"Hindi mo masasabing mayroong added pressure. It's because everyday that I come to practice, to the weight room or to try-outs, nandoon na ang pressure. Pressure has always been a part of my life na parang naging normal na siya para sa akin."
— Rob
One thing that the avid Ginebra fans remember about Labagala is his defensive prowess. At 5-foot-7, he was always the smallest player on the court. Labagala says that this was never a problem for him. In fact, he looks at it as his advantage.
"I never look at myself na maliit ako. Hindi ko pinapansin yung mga sinasabi ng ibang tao. Para sa akin, I have the advantage kahit maliit ako. May unique strengths ako like my quickness and defense. I don't worry about the things I can't control. Iniisip ko lang yung mga bagay na I can control like practicing everyday, studying my opponents, and working on my weaknesses. "
— Rob
It also helped that when Labagala first stepped into a Ginebra practice, he was immediately welcomed by the team. So who spearheaded that welcome party? It was none other than the staple Ginebra star figures, Jayjay Helterbrand and Mark Caguioa.
"Oo superstars sina Kuya Jay (Helterbrand) and Kuya Mark (Caguioa), pero hindi mo mararamdaman na iba ka sa kanila. Sobrang bait nila. Welcome na welcome ako noon at tinulungan kaagad nila ako. "
— Rob
Labagala also revealed that it was through Helterbrand's unique act of kindness that helped him crack Ginebra's active line-up. Helterbrand was dealing with an injury during Labagala's rookie year, and he was set to miss a significant amount of time. What Helterbrand did was to give his blessing and recommend Labagala's name to the coaching staff, paving the way for the young unproven rookie to show what he can do on the court.
"Before my rookie year, Kuya Jay got injured. The reason why I got into the Ginebra line-up is that I received Kuya Jay's blessing to replace him temporarily in the roster. Kaya sobrang thankful ako sa kanya for that simple act of unselfishness. It had a lot of impact in my career because it gave me the opportunity to show out."
— Rob
Labagala spent most of his career with Ginebra, before he was traded to Barako Bull during the 2013-14 season. Shortly after, he was then shipped to Talk N' Text, where he eventually won his first championship in the pros.
When he got to the TNT camp, it was exactly the time when Jimmy Alapag first retired from the PBA. While it was unfortunate that he didn't get to play with Alapag at the same court, Labagala still learned a lot from the star point guard, who was transitioning into the role of team manager for TNT at that time.
"Kuya Jimmy wasn't in the roster when I got to TNT, but he was the team manager. The way that he treats the players and the passion that he brought in everyday were amazing. Naipasa niya sa amin yung winning culture na meron ang Talk N' Text. Kuya Jimmy was a huge part of our success. Ibang klase yung leadership niya, even from a managerial position."
— Rob
Labagala would play just one season for Talk N' Text, before calling it quits in the PBA and turning his attention into a basketball clinic that he started in 2013 while still playing for Ginebra.
That sports camp is called Passion Sports, which Labagala established to teach young aspiring athletes and help them grow into better players on the court and better individuals off the court. Passion Sports now has almost 30 venues across the country, and this venture became Labagala's focus after playing professional basketball.
"Back in 2016 when my contract ended, naghahanap ako ng teams noon pero walang nag-commit sa akin. I then decided to continue growing the reach of Passion Sports, which I started in 2013. Habang naghahanap ako ng teams at nagpapa-kundisyon, nagtuturo ako sa mga bata. Then the summer of 2017 came, and Passion Sports saw a drastic increase in growth. Lumaki yung reach namin kaya doon na napupunta lahat ng oras ko hanggang sa nakalimutan ko na ang PBA."
— Rob
Even though he retired from the PBA earlier than most players do, Labagala doesn't feel any regret about it. In fact, he says that teaching young athletes and seeing them improve give him a sense of fulfillment that nothing can ever match.
"Naging reward ko dito yung nakakapagturo ako. It is very rewarding to see these kids work hard at an early age. Kapag nakikita mo sila mag-improve on a daily basis, nawawala yung pagod mo. I am able to reach out to them, and also help them become better persons outside of sports. Dito na talaga ako masaya sa Passion Sports."
— Rob
Passion Sports is a sports training program established by Robert Labagala in 2013. The sports clinic caters to basketball, volleyball and badminton athletes aged 6-18, and they offer a wide range of extensive programs that include skills training and one-on-one personalized sessions with prominent trainers. Check out Passion Sports' Facebook page to learn more!