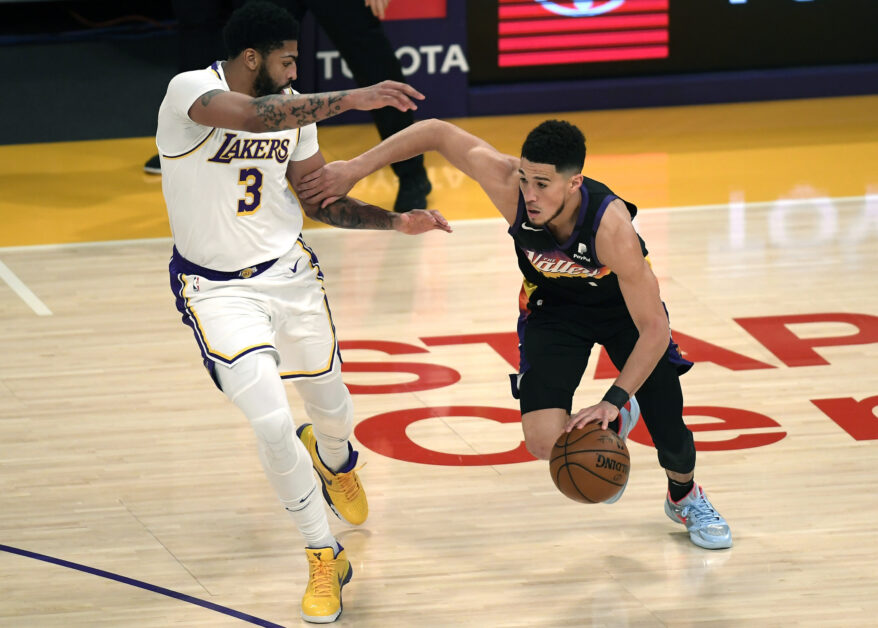 Dallas Mavericks superstar Luka Doncic recently joined a short list of NBA players with a signature shoe line. The Jordan Luka 1 was released in June 2022, and it offers a ton of potential.
However, the addition of the Slovenian sensation to this exclusive list is just the beginning. Recently, Nike and Air Jordan announced that their respective athletes, Memphis Grizzlies budding star Ja Morant and Boston Celtics superstar Jayson Tatum, will both have a signature line in 2023.
Undoubtedly, these two young stars deserve to be granted their own signature lines. But it is mind-boggling that some rising and already-established stars still do not have their own.
Hence, Dribble Media is here to present a list of NBA players that deserve to banner their own signature shoe line.
Anthony Davis, Los Angeles Lakers
There may be doubts surrounding big men's potential on sales of signature shoes, but Davis remains an absolute candidate for a signature shoe line.
After all, the eight-time All-Star was recently recognized as one of the NBA's All-Time Top 75. While eyebrows were raised with his inclusion, the basketball world could not deny that Davis' accomplishments are already impressive.
Moreover, being on a superstar status and donning a Lakers uniform definitely mean something, particularly in terms of marketability.
Under Armour, which is Nike's rival, was able to produce a signature line for Philadelphia 76ers superstar Joel Embiid. Definitely, the brand can do the same for Davis.
Devin Booker, Phoenix Suns
The Phoenix Suns scorched anew en route to last season's best record. The Suns' ascent to elite status is a nod to the emergence of their star, Devin Booker.
Though the team's championship aspiration was cut short by Doncic and the Mavericks in a brutal Game 7 loss in the second round, Booker has already established himself as a lethal scorer.
The Michigan native averaged 26.8 points during the season and 23.4 points against the Mavericks. Moreover, the 25-year-old already has three All-Star appearances in his resume.
Booker is known for lacing up Kobe sneakers during games and it is no secret that he loves playing in those. In addition, the three-time All-Star recently inked a contract extension with Nike that will go through 2029.
Perhaps, a Nike Booker series is already in the works. It could be anytime soon.
Nikola Jokic, Denver Nuggets
Unfortunately for big men, the glory of having a signature shoe line may be harder to attain than anyone else. Like Davis, Denver Nuggets' own Nikola Jokic may be another victim of this dilemma.
The Joker has been consistent in leading the Nuggets both in the regular season and postseason. The 27-year-old center even brought the team to the Western Conference Finals during the 2020-21 season. That is the first time that the Nuggets achieved that feat since the Carmelo Anthony-led Nuggets battled toe-to-toe against the Lakers in 2009.
Additionally, the Serbian superstar already has two MVP awards and four All-Star appearances. Undoubtedly, Jokic is considered one of the big names in basketball today.
But Jokic having a signature shoe is still far-fetched at the moment. Definitely, his role, stardom, and awards are signature shoe deal-worthy, it's just that signature shoes for big men don't sell much. The marketability of the shoe will always remain a question mark.
The back-to-back MVP awardee is currently under Nike's contract. Unless the renowned brand rolls the dice in releasing a signature line, the Nike Jokic series will remain improbable.
Zach LaVine, Chicago Bulls
The 27-year-old UCLA product has been phenomenal in the Bulls uniform. LaVine is already known as a prolific dunker with two Slam Dunk Contest championships in his name.
Now, the high-flying guard is a proven offensive threat and a two-time All-Star. Additionally, thanks to his breathtaking dunks, LaVine is already known by millions of fans even prior to his arrival in a big market city like Chicago.
Most importantly, the Washington native recently signed with New Balance, which officially ended his brief sneaker free agency. As of the moment, Los Angeles Clippers superstar Kawhi Leonard is the only NBA player with a signature shoe with the brand.
Well, LaVine may join that list anytime soon.
Jaylen Brown, Boston Celtics
Brown, a Georgia native, is an excellent two-way player with a high ceiling. Unfortunately for him, his name is usually eclipsed by his All-Star teammate, Jayson Tatum, who will already have his own signature shoe in 2023.
Despite this, the 2016 3rd overall pick's contribution to the Celtics' success for the past few seasons could not be denied. He has become an offensive threat, a go-to guy, and a defensive stopper.
Additionally, Brown is already a one-time All-Star and is projected to be named again in the upcoming seasons as he enters his prime.
This may be premature to some, but Brown's caliber and status are enough for a signature shoe deal nod. Besides, Brown is a sneaker free agent, as his deal with Adidas concluded without contract extensions.
Surely, there will be a sweepstakes as to which endorser he will sign with. Perhaps, a signature shoe deal may be a part of that package.
Ben Simmons, Brooklyn Nets
A trade to the Brooklyn Nets ended the Ben Simmons saga, at least for now. The LSU product's career has been shrouded by various issues on and off the court.
From his offensive game to suiting up in games, the 26-year-old guard has always been in fiasco. But all of these could be concluded when Simmons finally plays alongside Kevin Durant and Kyrie Irving in the upcoming season.
Simmons is a solid point guard with proven accomplishments. He was the 2018 Rookie of the Year and is a three-time All-Star. These are accomplishments that such dramas could not even deny.
Is Simmons a signature shoe deal-worthy? Yes. With his accomplishments and popularity, he definitely deserves one. However, his antics and attitude could hinder him from landing one.
He recently signed an extension with Nike after a discussion with New Balance. But who knows? Nike may pull this one off. Besides, bad publicity is still publicity. Perhaps, these on and off-court dramas may make Simmons more marketable.
Bradley Beal, Washington Wizards
Beal is probably one of the most unheralded and underrated All-Stars in the league today. Beal has been keeping the lowly Washington Wizards relevant for the last few seasons.
The 10-year veteran is a three-time All-Star and he is the Wizards' focal point offensively. However, Beal's lack of help since the departure of John Wall and Russell Westbrook hurt his promising career.
Moreover, Washington is not as marketable and popular as other teams, making Beal look like a big fish in a small barrel.
The Florida product is currently signed with Jordan for which he laced up Air Jordan 36 and Jordan React Elevation. But looking at the list of NBA players with signature shoes with Jordan, it is obviously harder for Beal to be granted one.
Honorable Mentions
Bam Adebayo, Miami Heat
Karl-Anthony Towns, Minnesota Timberwolves
Shai Gilgeous-Alexander, Oklahoma City Thunder
Jamal Murray, Denver Nuggets
DeMar DeRozan, Chicago Bulls
Darius Garland, Cleveland Cavaliers
Brandon Ingram, New Orleans Pelicans