Listing down the most prolific, celebrated, and decorated basketball players to ever lace up the panther logo on the court.
Source: PUMA
Ever since the infamous Tommie Smith's black power salute in 1986, Puma has established its brand as an integral staple in the early years of sports marketing. It had been eluded to be a huge part of the blooming sneaker culture. Its suede silhouette was an impactful design not only in urban culture, but also in sports, specifically in basketball.
All throughout the years, the German brand has tapped the most well-known and influential cagers to endorse them. Let's take a look at the basketball players who have distinctively represented the company.
Illustrations via Khammy Vilaysing.
The Pioneers
Walt "Clyde" Frazier
Credit: NBAE/Getty Images
Known as "The Godfather" of Puma basketball, "Clyde" Frazier had been what he was to Puma as what Michael Jordan was to Nike. In the basketball court, he was a widely accomplished player and an enigmatic style icon in New York.
Because of this dynamic persona, Puma signed Frazier as they saw him as a commodity in terms of sports endorsement. The deal is one of the most compelling collaborations between an athlete and a label. The collaboration produced the second shoe to be named after a player since Chuck Taylor, and the first sneaker to be co-designed by a player.
Hence, the Puma 'Clyde's' were released.
Courtesy of www.kicksonfire.com
The Clyde's have been, since then, an impressive and reliable alternative for sneaker heads. Up until now, Frazier is still an ambassador for Puma and has become an elder statesman for future superstars.
"I couldn't believe it, because they couldn't even drop me with the players that they have now," Frazier says in an interview with ONE37pm "They have all these young first-round draft choices, they got Jay-Z and all these different people with them now. But they didn't forget their past and what I did for the shoe."
Isiah Thomas
Photo courtesy of Detroit Free Press
Perhaps one of the most memorable and iconic NBA Finals moment is the 1988 Game 6 performance by the Detroit Pistons Guard Lauriat, Isiah Thomas. Despite suffering an ankle sprain, Zeke was able to produce 43 points, scoring 25 in the fourth, and lifting his team past the eventual champions, Los Angeles Lakers.
During that time, Thomas was still using Converse. But in the following year, he signed with Puma to create a sneaker that would complement the guard's playing style. Puma would then release the "Palace Guard" in 1989.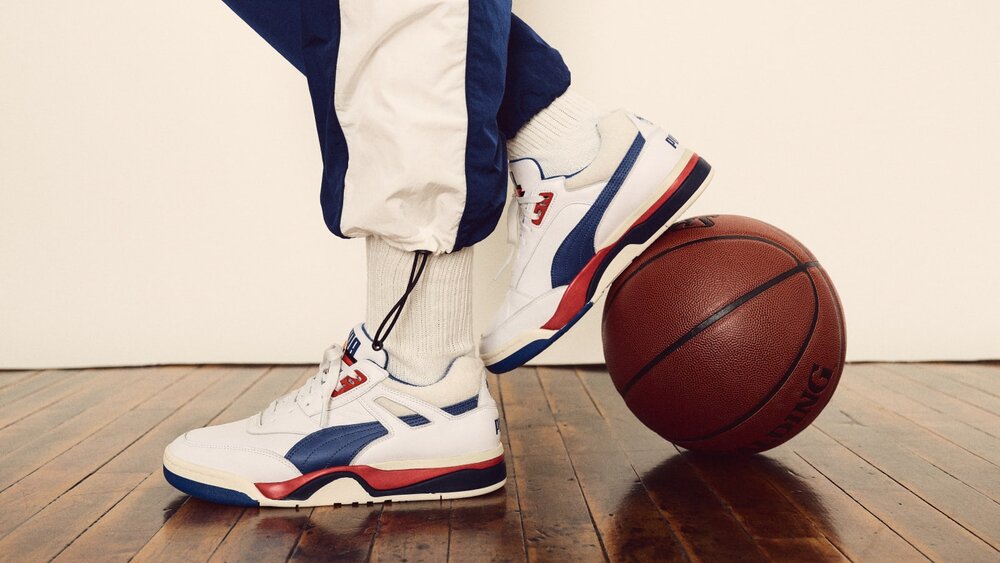 Image via Puma
The "Palace Guard", named after the home court of the Pistons, was not really a blockbuster in terms of sales. However, because of its unique design and innovative technology together with Isiah's influence, the sneakers became an instant retro classic.
Wes Matthews Sr.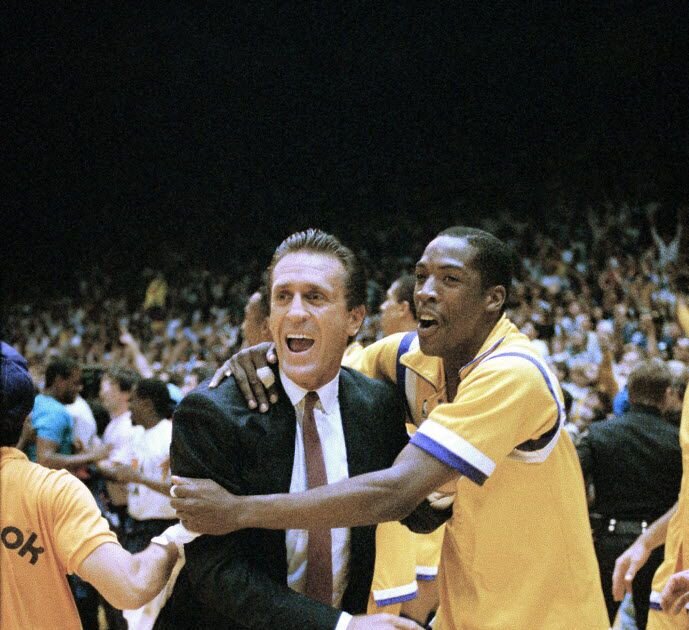 (AP Photo/Bob Galbraith, File)
The eventual two-time NBA champion and father of Wes Matthews Jr., was one of the first players to endorse and use Puma on the basketball court. He promoted the brand from 1984 to 1986.
"I'd been a Frazier fan since I was a little kid," the retired league journeyman told The Undefeated. "In high school, I wore No. 10 like him. I wanted a Rolls-Royce like him … wanted fur coats like him. I wanted to be a player like Clyde. He got me really into Puma."
— https://theundefeated.com/features/the-forgotten-history-of-puma-basketball/
Alex English
Image via sneakerhistory.com
Playing 82 games completely in a season is a commendable effort already for an NBA player, let alone averaging 28.4 points a night. That was a feat accomplished by the 1983 scoring champion, Alex English. English proficiency indeed.
Before the start of the '83 season, English planned on signing a deal with Pony, but was lured by Puma in the process. The deal lasted for four seasons and made English the primary ambassador of the Puma Sky II. He was later inducted into the Hall of Fame in 1997.
Ralph Samson
Photo via SB Nation
Samson is a 7-foot-4 Hall of Famer, three-time College Player of the Year, and one-time NBA All-Star Game MVP. However, if you see him play, you'll know he's much more that. A center who runs like a football quarterback from coast to coast and a prolific scorer is what every team crave for at that time. His playing style is a head-turner for team scouts.
He then signed a shoe deal with Puma after his current shoeline stopped manufacturing. Puma had early difficulties in creating a prototype for Samson because of his enormous size 17 feet. After multiple attempts, the company was able to construct a sneaker and named it after the colossal giant, the "Puma Ralph Samson".
Image via Puma US
The Succeeders
Vince Carter
Image via nicekicks.com
If Merriam-Webster decides to put the name 'Vince Carter on their dictionary, we will not let it pass if they don't put "half man-half amazing" as his definitive meaning. The 20-year NBA veteran and future Hall of Famer spent his early high-flying years dawning the Puma brand. During his rookie and sophomore year, he already has signatures such as the PUMA Cell VI and the PUMA Vinsanity.
Image via nicekicks.com
Skylar Diggins-Smith
Image via Puma
Puma decided to pull out of the "basketball sneaker war" from the early 2000s up until the mid 2010s. Their hiatus ended when the company decided to sign WNBA All-Star Skylar Diggins-Smith in 2017. This landmark signing of a WNBA star became the ground-breaking movement for the return of the athletic giant brand into the basketball court.
Known to be a frequent top 10 player in terms of assists, rebounds, and points, the Phoenix Mercury player became an epitome of a well-verse guard in the WNBA. Puma rightfully went to a great player to kickstart their journey back to the NBA.
The Futures
2018 Draftees
Image via Bleacher Report Kicks
In every draft, analysts try to speculate what teams have won the draft class. But when it came to the 2018 Draft, it is clear one brand made a huge impact: Puma.
The company was able to sign four topnotch draftees, namely: Deandre Ayton, Marvin Bagley III, Michael Porter Jr. and Zhaire Smith. This was a very insightful move for Puma. Sign rookies now that they still have low value, then hope that some will become stars and stick around after their contract.
It's an investment a company with a perspective towards building a more competitive brand in the future. As far the 2020 season is concerned, the rookies are looking to be a great fit in the league.
Kyle Kuzma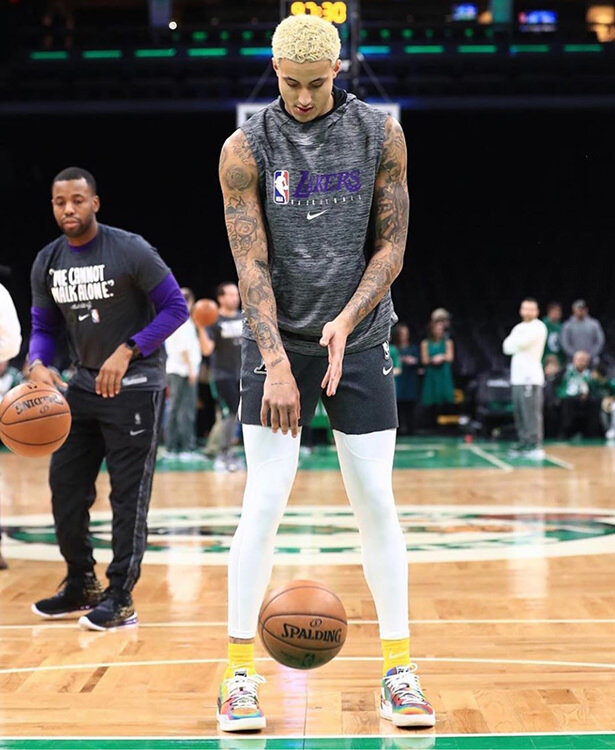 Kyle Kuzma in a custom PUMA Clyde Hardwood by Sierato
The most recent and, as far as I'm concerned, the most promising signee on the renaissance of Puma ambassadors on th