As another early playoff exit loomed Russell Westbrook during his first season with the Houston Rockets, an unusual duo might soon emerge in Phoenix.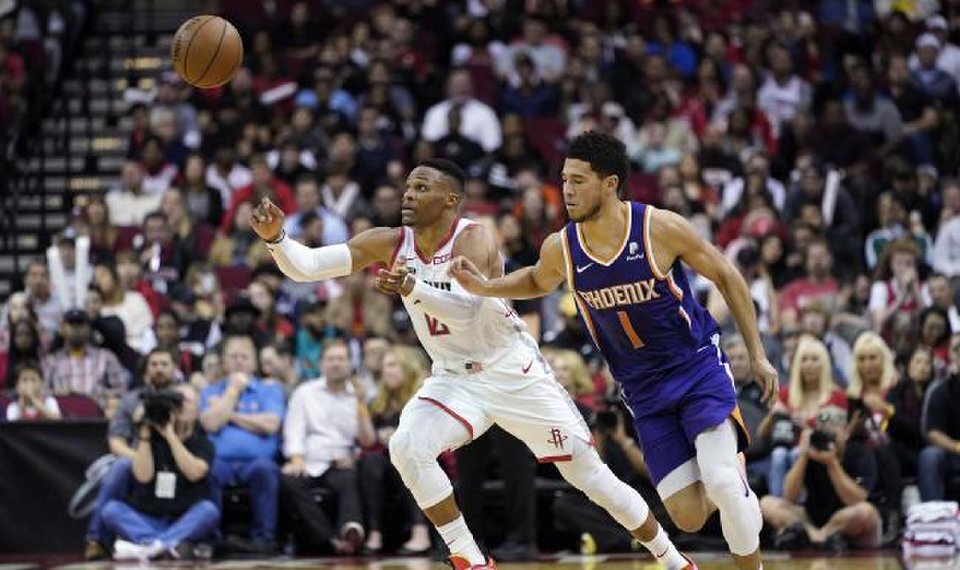 After another tough season for both Westbrook and Booker, the two stars can team up in Phoenix. ( Photo courtesy of David J. Phillip/AP Photo)
The 2017 MVP was reunited with his former Thunder teammate James Harden in Houston after a blockbuster trade that sent Chris Paul to the Oklahoma City Thunder. Despite a change in scenery, Westbrook still had a productive 2019-2020 campaign as he posted 27.2 points, 7.9 rebounds, and 7.0 assists under the offensive-minded coach Mike D' Antoni.
The Rockets played under small-ball scheme and was able to reach the second round in the playoffs before getting eliminated by the Los Angeles Lakers in five games.
The 31-year old athletic guard will enter his 13th year next season and it's no secret that his championship window is closing soon. With his partnership with other superstars like Kevin Durant and Paul George failing to produce a championship, the nine-time All-Star might consider helping a younger star create a championship-caliber team.
This three-team trade might create the Westbrook-Booker backcourt duo in Phoenix.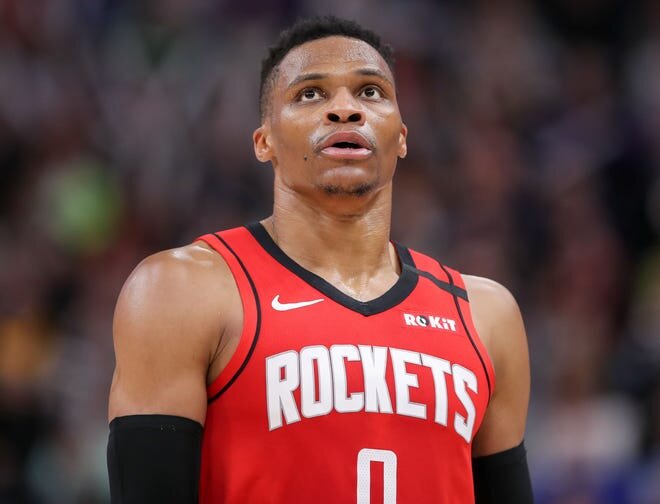 Phoenix Suns can go after Russell Westbrook without losing a lot. (Photo courtesy of Chriss Nicoll/ USA Today Sports)
Phoenix Suns
Player to acquire: Russell Westbrook (HOU)
Players to trade: Ricky Rubio, Kelly Oubre Jr.
Ricky Rubio and Kelly Oubre Jr. have become major contributors for the young Suns squad. Rubio posted his career bests in points and assists during his first season with the Suns, complementing the strong offensive game of Devin Booker. With his playmaking and defense, the Suns received significant boost in the backcourt while also giving Booker all the touches and shots he needed.
Oubre Jr., on the other hand, improved on the offensive end on his two-year stint with the Suns. The 24-year old forward averaged 18.7 points and 6.4 rebounds for the Suns, although he did not turn into a pretty decent defender as advertised. The former Wizard was acquired by the Suns in a trade which sent veteran Trevor Ariza to Washington, and later signed the lefty swingman to a two-year, $30 million contract.
While this will be an unusual pairing since both players need the ball to utilize their effectivity, the possible acquisition of Westbrook might be more of pros than cons for the Suns. Despite his notorious on-court antics, the 6"3 combo guard has a lot of experience playing alongside more established superstars. That might help a blooming superstar like Booker to become more ready when the Suns will finally have a real shot at a playoff spot.
With a backcourt partner like Rubio, who is not really known for being a threat offensively, Booker is constantly being a target of the opposing team's defensive schemes. If Phoenix will try to pull the strings to acquire Westbrook, the team can have a double offensive threat in the backcourt position, and relieve some spaces from Booker and allow him to execute more plays for himself and for his teammates. Westbrook can provide much needed spark and rebounds which are highly needed by Suns.
Westbrook will not become a free agent until he decides to opt out in 2022, and if this trade pushes through, the 2017 MVP pairing with a young superstar in Booker would be deadly. However, Westbrook has to back off a bit and let Booker take over games when it matters the most.
Philadelphia 76ers
Players to Acquire: Kelly Oubre Jr. (PHX), Eric Gordon (HOU)
Player to Trade: Al Horford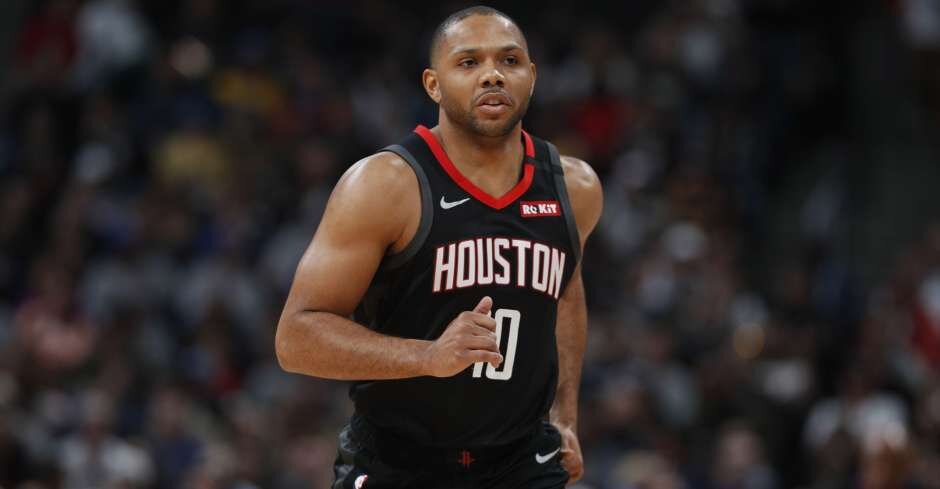 Eric Gordon can fill up Sixers' weakness from the outside. (Photo courtesy of David Zalubowski/Associated Press)
After a productive three-year campaign donning the green jerseys of Boston. Horford signed with Philadelphia last summer. But the five-time All-Star would hit his lowest production in 12 years, averaging 11.9 points per contest. While being known as a good all-around defender, his game does not really complement the style of Joel Embiid, resulting into another season mishap for the Sixers.
Sixers badly need a three-point expert to cover up that weakness of Ben Simmons. With the addition of Eric Gordon, the Sixers can have a real threat from beyond the arc so Embiid can focus his dominance in the paint, and at the same time, take some pressure off from Simmons. The 2017 Sixth Man of the Year can still focus on taking spot-up shots, and will not really be required to create his own shots, thus, diminishing the tendencies for him to get injured.
Oubre Jr. can provide on-court swag for the Sixers squad. While he is not a real go-to guy and a polished offensive weapon, his 18.7 points per game will be vital for Philadelphia. The lefty forward can provide some spark off the bench for the Sixers, and strengthen the second unit which the team lacked during this year's playoffs.
Houston Rockets
Players to Acquire: Al Horford ( PHI), Ricky Rubio (PHX)
Player to Trade: Russell Westbrook
Al Horford can provide the Rockets the size they needed. (Photo courtesy of Stacy Revere/ Getty Images)
Westbrook has been a tremendous combo guard all throughout his 12-year campaign in the league. He won the MVP award in 2017, and averaged a triple-double in two straight seasons. After spending his first 11 seasons with the Thunder, the nine-time All-Star was finally witnessed in a different uniform. However, the team's experiment of small-ball line-up did not succeed and the Harden-Westbrook era might end soon before it really began.
If this Westbrook trade comes into fruition, the Rockets can pair up a pass-first point guard with the ball-dominant Harden. Westbrook is a terrific point guard, there is no question about it. But in order to fully utilize Harden on the offensive end and give him all the shots he needed, he needs a point guard that will not take away shots from him. Rubio is known for his passing skills, and he was able to develop some shooting as he stayed longer in the NBA. With his playing style, he can effectively compliment Harden's game.
Since D' Antoni will no longer return as the head coach, it is safe to assume that the small-ball Rockets experiment will be scrapped, so the acquisition of Horford will be very beneficial. Horford can defend almost every position. With his mobility and underrated strength, he can keep up with players of any size. The five-time All-Star also has an offensive arsenal under his sleeves.
Horford can post up, play on the inside, pass the ball, and even knock down some three-pointers. As the Rocket's potential main big man, it will be easier for him to be effective on both ends of the floor without really dragging down the chemistry and eclipse the game of the team's superstar.
Rockets will lose their main sharpshooter in the process, but there will be plenty of three-point specialists that will be available during the free agency season, and for a cheaper price. Besides, if Houston wants to compete with the likes of the Lakers, they really have to beef up their frontline.
While this trade proposal is still up in the air, and teams might not be really interested in pulling the strings, it will be a very intriguing scenario for these teams. The Rockets and Sixers can retool and push for a deeper playoff run, while the young Phoenix squad will lean on a veteran superstar as they try to go back to the playoffs for the first time since 2010.