Denver Nuggets star Jamal Murray stuffed the stat sheet in Game 3 to land at the top of last night's best individual performances.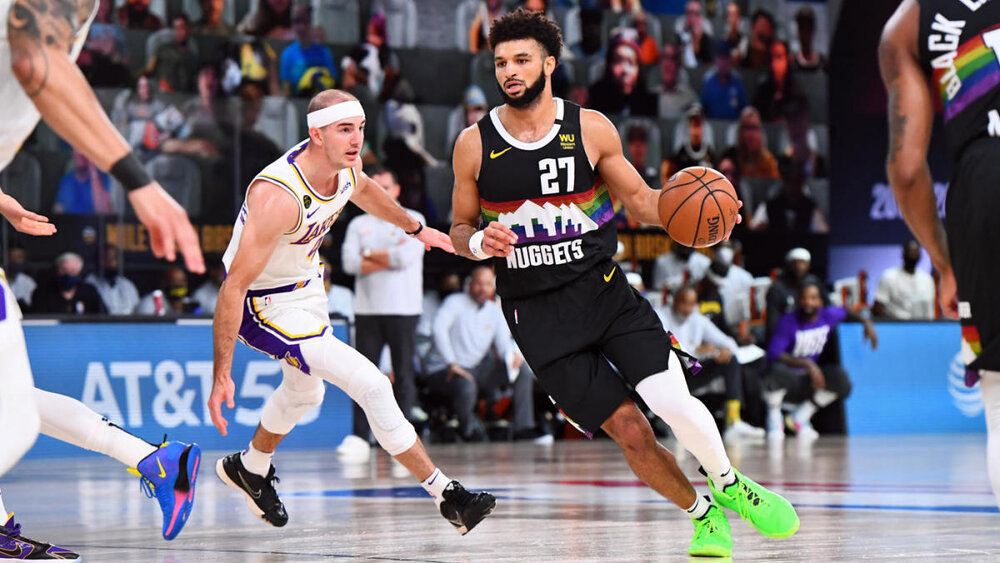 Murray came up with a double-double in the Nuggets' Game 3 victory over the Lakers. (Photo by Garrett Ellwood/Getty Images)
Jamal Murray, Denver Nuggets
Murray did not just put up the buckets in the Nuggets' Game 3 win. Along with a team-high 28 points, the star combo guard also hauled in 8 rebounds, dished out 12 assists and had 2 steals on the defensive end. Murray also made the clutch plays to hold back the Lakers' furious comeback attempt, including a dagger three-pointer to seal the win for Denver.
LeBron James, Los Angeles Lakers
Despite the disappointing loss, LeBron did the heavy-lifting for the Lakers. The four-time MVP tallied a triple-double night of 30 points, 10 boards and 11 dimes, while also coming up with two steals and two blocks. James was a key cog of the Lakers' 18-2 run in the fourth quarter, although they came up short in the waning minutes.
Jerami Grant, Denver Nuggets
Known primarily for his elite versatility on defense, the 6-foot-9 Grant showed that he can also score with the best of them. The Nuggets combo forward amassed 26 points, 3 rebounds and 2 steals, missed only four of his eleven field goal attempts, and made a stellar 10-12 clip from the free throw line. Grant's aggressiveness on the offensive end was surely a welcome sight for the Nuggets.
Nikola Jokic, Denver Nuggets
Except for his five turnovers, Jokic outdueled Anthony Davis in Game 3. The Serbian big man was efficient with his shooting, and finished with 22 points, 10 rebounds and 5 assists. Jokic's shot-making off the post was again in full display, bailing out Denver's offense multiple times.