The 20-year old Tyler Herro exploded with 37 points as he willed the Miami Heat to a 3-1 series lead over the Boston Celtics in the Eastern Conference Finals.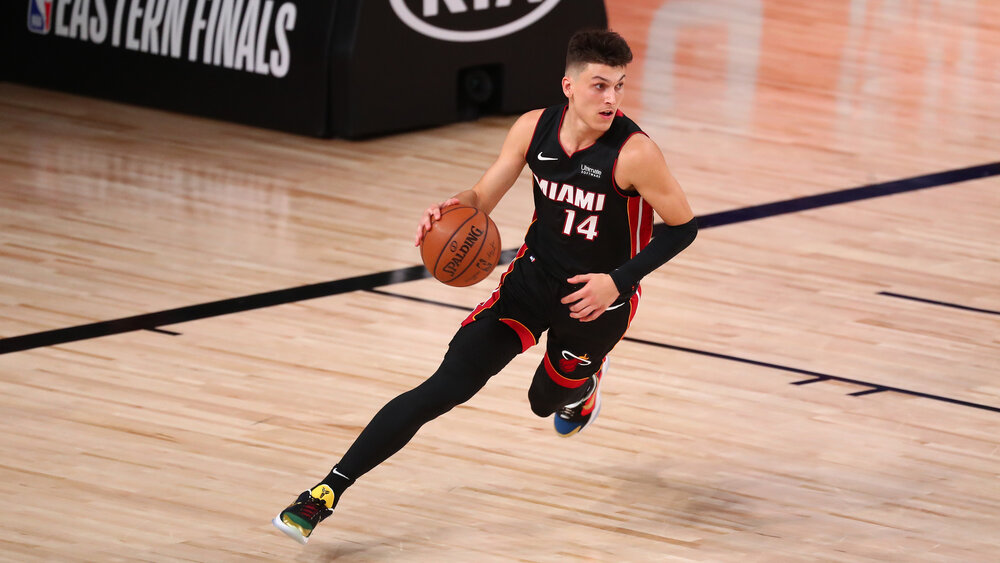 Tyler Herro poured in 37 points in Miami's Game 4 win over Boston. (Photo by Kim Klement/USA TODAY Sports)
With a hard-fought 112-109 Game 4 victory over the Celtics, the Heat are now one win away from booking a trip to the Finals. Rookie hotshot Tyler Herro led all scorers with 37 markers, to go along with his 6 rebounds and 3 assists. He also drained five three-pointers, while committing just a single turnover the whole game.
As Tatum struggled with his shooting in the first half, the Heat built a six-point lead after the first two quarters. The first half saw both teams failing to execute on their offense, but Herro bailed Miami out with his early 15 points.
Then Tatum finally shook off his shooting slump and absolutely took over in the second half. The All-Star forward scored all of his 28 points in the final couple of quarters, lifting the Celtics with his incredible shot-making. However, Boston committed costly turnovers in the waning minutes of regulation, and this Herro iso trifecta over a great defender in Marcus Smart ultimately sealed the 3-1 lead for the Heat.
TYLER HERRO in GM4

37 PTS
14/21 FG
5/10 3PT
6 REB
3 AST
1 TO

Off the bench
pic.twitter.com/xUvNXrCrR2

— Ballislife.com (@Ballislife) September 24, 2020
Jimmy Butler, Goran Dragic and Bam Adebayo also eclipsed the 20-point mark in the scoring column. The Heat's zone defense spelled problems for the Celtics in the crucial minutes, helping them hold off the offensive barrage from Tatum.
Tatum put up a team-high 28 markers, while Jaylen Brown and Kemba Walker contributed 21 and 20 points, respectively.
SCORES
Heat (112) – Herro 37, Butler 24, Dragic 22, Adebayo 20, Crowder 3, Robinson 3, Iguodala 3, Hill 0
Celtics (109) – Tatum 28, Brown 21, Walker 20, Hayward 14, Smart 10, Theis 8, Wanamaker 4, Williams III 4, Ojeleye 0, G. Williams 0