Phoenix Super LPG Fuel Masters' Matthew Wright's evolution into a full-blown superstar helps him land at the top of our recent Most Valuable Player rankings.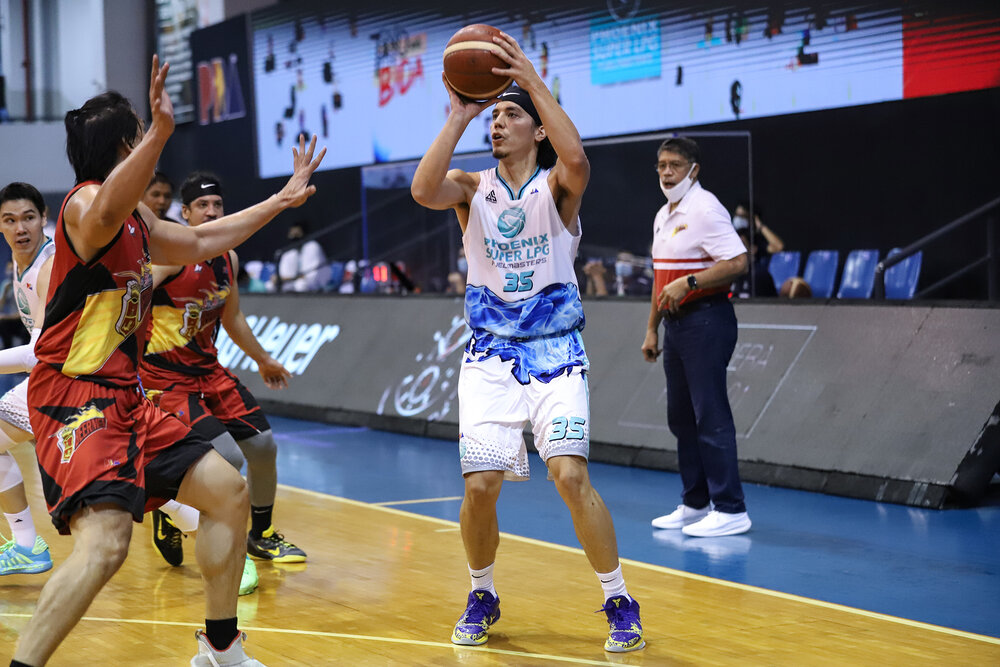 Phoenix's Matthew Wright is the second-highest scorer in the PBA bubble. (Photo from PBA)
1. Matthew Wright, Phoenix Super LPG Fuel Masters
2020 PBA PH Cup Averages: 24.0 ppg, 5.5 rpg, 5.8 apg, 1.5 spg, 38% 3-pt
Even with the return of a stat sheet stuffer in Calvin Abueva, Wright continues to impress with his all-around numbers. He is just right behind the league-leading CJ Perez in the scoring column, and he is also doing the role of the Fuel Masters' primary playmaker on offense. If Phoenix barges into at least the semifinals, Wright's body of work this conference should be a lock for the MVP plum.
2. Paul Lee, Magnolia Hotshots
2020 PBA PH Cup Averages: 20.9 ppg, 4.2 rpg, 3.0 apg, 1.2 spg, 43% 3-pt
Magnolia's Paul Lee produces a stellar 43% clip from three-point territory. (Photo from PBA)
It's been a while since we have seen Lee carry his team on his shoulders. In the previous conferences, he would just wait until the payoff period before he goes full clutch. But the "Lethal Weapon" has been locked and loaded all the way this season, and he is scoring at a very efficient rate. It's not a coincidence that the Hotshots are riding a five-game winning streak with Lee clicking on all fronts.
3. Stanley Pringle, Barangay Ginebra
2020 PBA PH Cup Averages: 18.7 ppg, 6.4 rpg, 3.1 apg, 43% 3-pt
Ginebra's Stanley Pringle has become one of the best rebounding guards in the league. (Photo from PBA)
When Pringle was traded to Ginebra, his production lessened especially with resident import Justin Brownlee taking the lion's share of the offense. But with Brownlee and Greg Slaughter out of the line-up this conference, Pringle has been in full takeover mode. His numbers dipped a bit the past week, but he is back to being an alpha dog of the league-leading Ginebra squad. His spectacular 43% shooting from the three-point line is also a work of magic.
4. Ray Parks, TNT Tropang Giga
2020 PBA PH Cup Averages: 21.1 ppg, 8.3 rpg, 2.8 apg, 1.3 spg, 48% 3-pt
TNT's Ray Parks has been racking up the nightly double-doubles this season. (Photo from PBA)
Parks' offense has lessened in volume the past week, but his efficiency is still at an all-time high. He is making an excellent 48% clip of his three-point shots, establishing himself as a multi-faceted operator on offense. On top of that, Parks is also racking up the nightly double-double performances as he is exerting more effort on defense and rebounds.
5. Christian Standhardinger, NorthPort Batang Pier
2020 PBA PH Cup Averages: 21.0 ppg, 12.6 rpg, 4.2 apg, 1.3 spg, 49% FG
NorthPort's Christian Standhardinger is logging in 38.3 minutes per contest. (Photo from PBA)
The Batang Pier is holding a lowly 1-8 record inside the Clark bubble, but it's safe to say that none of that is Standhardinger's fault. The 6-foot-8 workhorse center is doing everything he can for NorthPort on both ends of the floor. He is easily the best big man this conference, and his willingness to log in massive minutes every game is just tremendous. NorthPort is already eliminated from playoff contention, but their future is bright with Standhardinger as their cornerstone.
6 – 10
6. CJ Perez, TerraFirma Dyip (24.1 ppg, 6.5 rpg, 4.4 apg, 2.2 spg)
7. Mo Tautuaa, San Miguel Beermen (18.7 ppg, 7.4 rpg, 2.8 apg)
8. RR Pogoy, TNT Tropang Giga (19.8 ppg, 6.0 rpg, 2.5 apg, 1.9 spg)
9. Jason Perkins, Phoenix Super LPG Fuel Masters (18.0 ppg, 9.6 rpg, 2.5 apg)
10. Jayson Castro, TNT Tropang Giga (18.4 ppg, 3.4 rpg, 5.1 apg)