Russell Westbrook is garnering trade interest from the Los Angeles Clippers and the New York Knicks, while the Orlando Magic is actively shopping combo forward Aaron Gordon.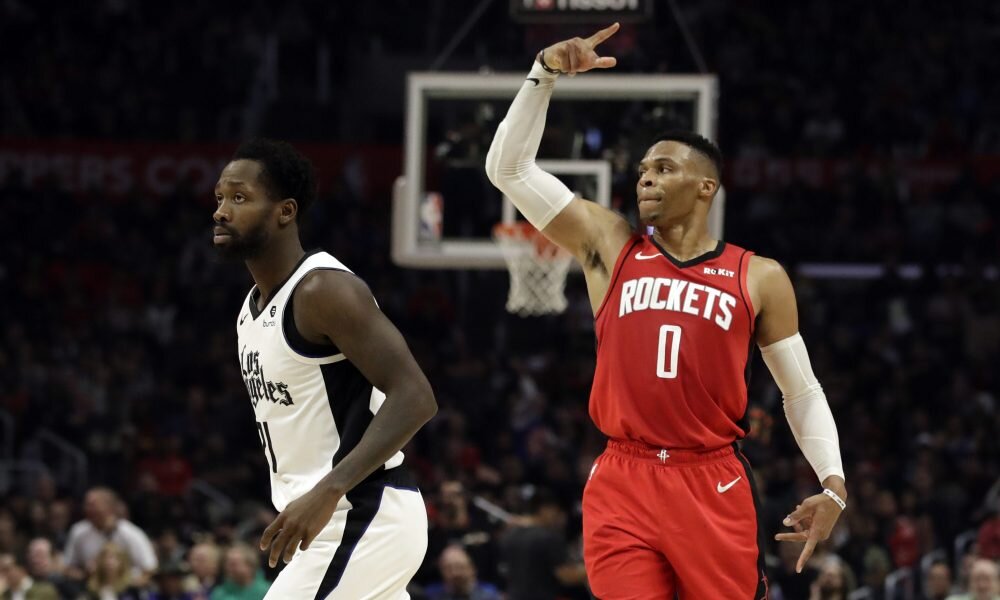 Rivals Russell Westbrook and Patrick Beverley battle it out during a Rockets-Clippers regular season game. (Photo via USA TODAY Sports)
Can the Clippers form a Big 3 with Westbrook, George and Leonard?
After a rollercoaster first season with the Houston Rockets, Westbrook might see himself on the trading block once again. According to Kevin O'Connor of The Ringer, the Clippers and the Knicks are considering trading for the all-around scoring point guard. (h/t Bleacher Report)
"I did have multiple sources that I trust tell me that teams believe Russell Westbrook could be had—that Westbrook could be had—and I've heard the Clippers have interest, I've heard the Knicks have interest in Westbrook, and whether anything materializes there, who knows?"
— Kevin Ö'Connor, The Ringer
Westbrook, 31, still has three years left in his lucrative contract. He is set to earn $41 million next season, $44 million in 2021, and a player option of a whopping $47 million in 2022. Any team trading for him should be willing to give up most of their financial flexibility for a player arguably entering the twilight stages of his career.
But it can be argued that Westbrook's explosiveness is still there. He is coming off a productive season with the Rockets in which he normed 27.2 points. 7.9 rebounds and 7.0 assists per contest. Those are impressive numbers, considering that he was with a ball-heavy star in James Harden.
If the Clippers pursue this trade for Westbrook, they might have to let go of their young assets in Landry Shamet and Ivica Zubac, plus a couple of salary fillers. A potential sign-and-trade involving restricted free agent Montrezl Harrell could also be in the works, especially if the Thunder front office show interest in acquiring the reigning Sixth Man of the Year.
As for the Knicks, it's becoming apparent that they are going after a proven star to fasttrack their rebuilding process. It is reported that they are also pursuing veteran star Chris Paul, although they will have plenty of competition as the Milwaukee Bucks have also showed interest for CP3's services.
Magic looking to move on from Gordon
Orlando has placed Aaron Gordon on the trading block. (Photo by Sam Greenwood/Getty Images)
O'Connor also reported that the Magic is indeed shopping versatile combo forward Aaron Gordon. O'Connor emphasized that Orlando is actually already talking to other teams, an indicator that there is a certainty that Gordon will wear new threads next season.
Orlando is having conversations about trading Aaron Gordon, via @KevinOConnorNBA. pic.twitter.com/MIezK3lt70

— Hoop Central (@TheHoopCentral) November 10, 2020
The 25-year old high-flyer averaged 14.4 points, 7.7 rebounds and 3.7 assists for the Magic last season. He is still under contract until the summer of 2022 so a team trading for him doesn't have to worry about him leaving anytime soon. Moreover, Gordon's salary is at a bargain price. He will be earning $18 million next season, and $16 million in the 2021-22 campaign. His versatility on both ends of the floor is a high commodity nowadays, and there's still room for him to improve.
As for the Magic, a trade involving one of their frontcourt players is long overdue. Orlando already has a bevy of forwards playing the same position, and it's assumed that they will be pursuing a star-caliber guard in exchange for Gordon.