After the opening week of the 2020 PBA Philippine Cup, Ray Parks and Matthew Wright landed at the top of our first Best Player of the Conference ladder.
Gilas Pilipinas guard Ray Parks led TNT to an unblemished record to start the new conference. (Photo from PBA)
1. Ray Parks, TNT Tropang Giga
2020 PBA PH Cup Averages: 31.0 ppg, 8.5 rpg, 2.5 apg, 2.0 spg
Parks missed the team's first win due to an injury, but he made sure to make his presence known in the next two games. The lefty scorer put up 40 points in TNT's win over TerraFirma, then came up with 22 points and 6 rebounds against San Miguel. Parks is also heating up from the three-point line, producing a staggering 69% clip from long-range.
2. Matthew Wright, Phoenix Super LPG Fuelmasters
2020 PBA PH Cup Averages: 29.5 ppg, 5.5 rpg, 7.5 apg, 50% 3-pt
Phoenix's Matthew Wright makes a move against NorthPort's Paolo Taha. (Photo from PBA)
Wright may be sporting a new hairstyle, but the league is still seeing the same deadly sharpshooter. Wright exploded for 36 points against Meralco, then put up an all-around performance in their next win. The Gilas Pilipinas mainstay isn't just doing it with his scoring, but he has become the Fuelmasters' primary facilitator.
3. Jason Perkins, Phoenix Super LPG Fuelmasters
2020 PBA PH Cup Averages: 24.0 ppg, 10.5 rpg, 3.5 apg, 50% 3-pt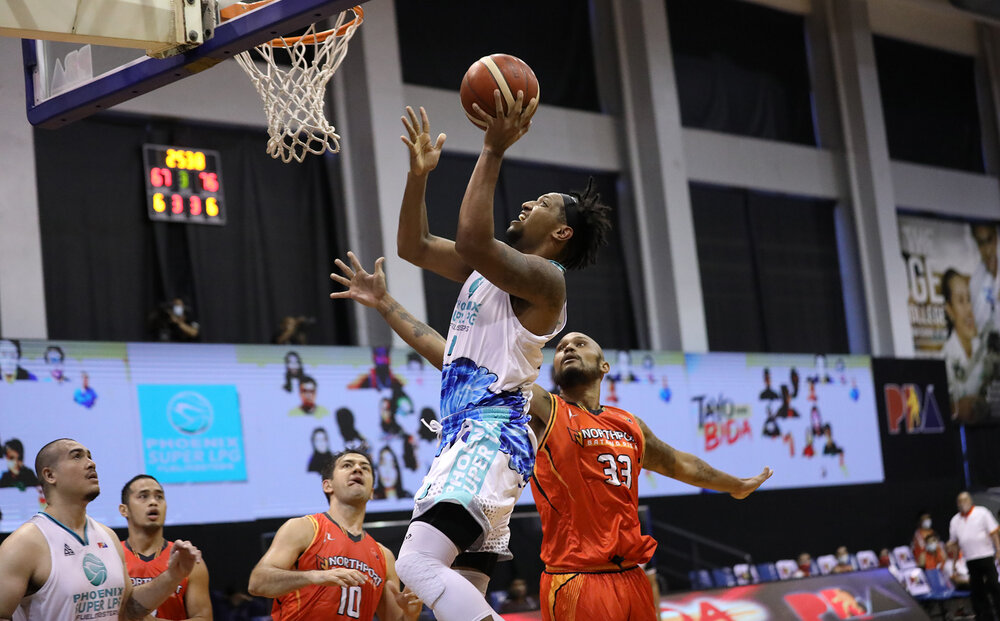 Jason Perkins drives to the hoop against Kelly Nabong of the Batang Pier. (Photo from PBA)
While Phoenix waits for the return of Calvin Abueva, Perkins continues to impress with his much-improved skill set. He is still hauling down the boards, but he has also become a more polished scorer. Perkins has now added a consistent three-point shot to his arsenal, while still finding holes in the defense for his timely cuts to the basket.
4. CJ Perez, TerraFirma Dyip
2020 PBA PH Cup Averages: 28.0 ppg, 8.0 rpg, 3.0 apg, 4.0 spg
TerraFirma is yet to win a game this conference, but Perez is still putting up monster numbers. The do-it-all star had 30 points against a powerhouse TNT squad, and finished with 26 markers in a loss to the defensive-minded Rain or Shine Elasto Painters. TerraFirma is not slated to be a serious contender this conference, but Perez's name will always be in this list.
5. Christian Standhardinger, NorthPort Batang Pier
2020 PBA PH Cup Averages: 21.3 ppg, 10.6 rpg, 4.3 apg, 1.0 spg
Christian Standhardinger tries to force his way against three Phoenix defenders. (Photo from PBA)
Without the injured Robert Bolick, Standhardinger is doing almost everything for the Batang Pier. He is logging in a massive amount of minutes, while imposing his presence on both offense and defense. However, Standhardinger's herculean efforts are yet to result in a win for the struggling NorthPort squad.
6. RR Pogoy, TNT Tropang Giga
2020 PBA PH Cup Averages: 25.2 ppg, 6.5 rpg, 1.5 apg, 1.7 spg
Pogoy set the tone for TNT with his 45-point brilliance in their first win. Since then, TNT has been on an unblemished run in the conference, and Pogoy has been a consistent fixture at the top of the scoring column. The former FEU star is also hitting a stellar 44% clip from beyond the arc, and his rebounding is still one of the best among current PBA guards.
7. Sean Anthony, NorthPort Batang Pier
2020 PBA PH Cup Averages: 19.3 ppg, 12.3 rpg, 6.3 apg, 1.7 spg
If the Batang Pier didn't go winless in their first three games, Anthony's name could have been further on the top of this list. The NorthPort workhorse forward has been severely underrated in the past couple of years, but his ability to stuff the stat sheet on both ends of the floor should merit him a place among the league's elite players today.
8. Don Trollano, Blackwater Elite
2020 PBA PH Cup Averages: 19.3 ppg, 10.3 rpg, 1.3 apg, 36% 3-pt
Don Trollano steps past Mike Ayonayon and Kenneth Ighalo of NLEX. (Photo from PBA)
There's no doubt that Trollano is already a star in the PBA. The combo forward is the type of all-around player that any team wants in today's pace-and-space offense. Trollano can shoot the ball well from the outside, and has the array of moves to drive past his defender. He is also leading Blackwater in points and rebounds this conference.
9. Stanley Pringle, Barangay Ginebra San Miguel
2020 PBA PH Cup Averages: 15.0 ppg, 6.6 rpg, 4.3 apg, 38% 3-pt
Stanley Pringle goes for a creative finish over Blackwater veteran KG Canaleta. (Photo from PBA)
These are not eye-popping numbers for Pringle, but he is still the best player on an unbeaten team. While it's true that Ginebra has been relying on a balanced attack on offense, those scoring opportunities are created by the gravity that Pringle attracts from opposing teams' defenders. In an All-Filipino conference where they will be without Justin Brownlee, Ginebra will continue banking on Pringle's shot-making as the focal point of their offense.
10. Javee Mocon, Rain or Shine Elasto Painters
2020 PBA PH Cup Averages: 15.0 ppg, 7.0 rpg, 3.0 apg, 1.3 bpg
In just his second year in the pro ranks, Mocon is slowly becoming the best player in a Rain or Shine squad brimming with seasoned veterans. The sophomore forward leads the Elasto Painters in the scoring column, and his work on defense encapsulates the team's tough and gritty identity.
Honorable Mentions: Jayson Castro (TNT), Poy Erram (TNT), Kiefer Ravena (NLEX), Marcio Lassiter (SMB), Paul Lee (Magnolia)