With the 2021 NBA Play-In Tournament just around the corner, let's take a look at the interesting match-ups in the Western Conference.
Last week, Dribble Media's Voltaire Lozada wrote a quick walkthrough to the 2021 NBA Play-In Tournament games. Then he followed it up with a preview of which teams will book the last two playoff tickets in the Eastern Conference.
This time around, Lozada came up with a preview of the exciting match-ups in the West play-in. Read down below!
The Western Conference Race
(7) Los Angeles Lakers, (8) Golden State Warriors, (9) Memphis Grizzlies, (10) San Antonio Spurs
The Western Conference Champions of the past eight years (with five championships of the decade) are all here. Then there's Memphis, who had an admirable showing last year. They're back in the Play-In tournament as well.
Despite LeBron and Luka's criticism, basketball fans actually win this new addition to the NBA season.
The Lakers shouldn't be here if they weren't ravaged by injuries. Steph Curry is putting on a shooting clinic when he's on the floor for the Warriors. The Spurs are surprisingly tough despite their relatively young core. The Grizzlies are pretty exciting to watch when they're healthy. 
Any combination of these teams matching up will be a must-watch.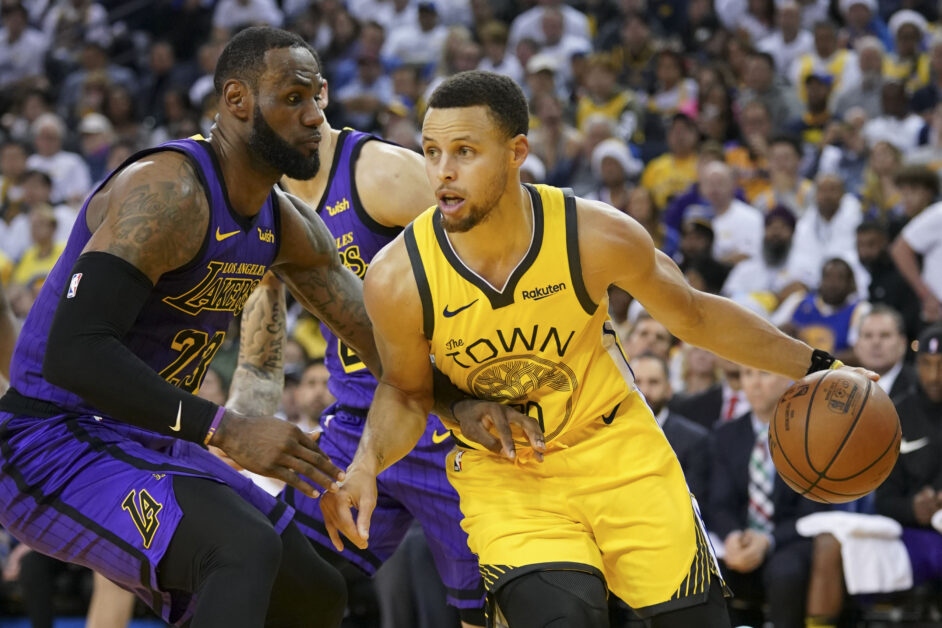 Los Angeles Lakers vs Golden State Warriors
(Los Angeles won reg. season, 2-1)
The Lakers have the seventh spot locked, and they will face the Warriors in the Play-In. It will be an early clash of Western Conference champions of the past five years.
LeBron James' MVP-like run this year was derailed by one of the longest stretches of games he's missed due to injury outside of his injury-filled Lakers debut season. His running mate, Anthony Davis, also missed games due to injury. On top of that, it seems like Davis isn't always locked in when he's on the floor.
However, we all know how the Lakers turn it up when it's winning time. The Lakers will always be a bad team to match up with when you're playing for your playoff life.
The same might be said for the Warriors as we can't discount their championship pedigree. Without Klay Thompson, Kelly Oubre Jr. still sidelined, Andrew Wiggins' inconsistencies, and Draymond's aversion to shooting wide-open shots, this could be a chance for Steph Curry to show just how much of a generational superstar he is by taking this team on his back.
The current version of the Warriors is far from the superteams that people criticize Curry for, and beating a LeBron-led Lakers will only add to the legend of Steph.
Memphis Grizzlies vs San Antonio Spurs
(Memphis won reg. season, 2-1)
These two up-and-coming teams will battle it out for the right to play for the eighth spot. While it's not an assurance of a playoff appearance just yet, a 9v10 matchup between these two squads could be our preview of the future.
The Spurs have been on the fence of a rebuild for a couple of years now. But they have remained competitive despite getting younger. They snapped their 22-year playoff appearance streak last year, and it looked like Coach Gregg Popovich was ready to call it a career.
However, Pop's favorites Dejounte Murray and Derrick White are coming into their own. Young frontcourt players like Keldon Johnson, Jakob Poeltl, and Drew Eubanks are steadily emerging. 
Needless to say, the system that Pop has built in San Antonio continues to bring them success.
Meanwhile, the Grizzlies turned heads last year owing to the brilliance of Ja Morant. Moreover, getting to this position despite Morant's struggles this year is a testament to the coaching of second-year coach Taylor Jenkins.
Interestingly, Jenkins hails from the Mike Budenholzer coaching tree, having served as an assistant to him in Atlanta and Milwaukee before taking on the head coaching job for the Grizzlies. Budenholzer gained prominence by transforming Atlanta into "Spurs of the East" and infusing the same professionalism in Milwaukee as he was taught by the best – Gregg Popovich, who he served as an assistant for 17 years before his first head coaching job.
This match could be a battle of youth and strategies and could have a college-energy feel when they clash.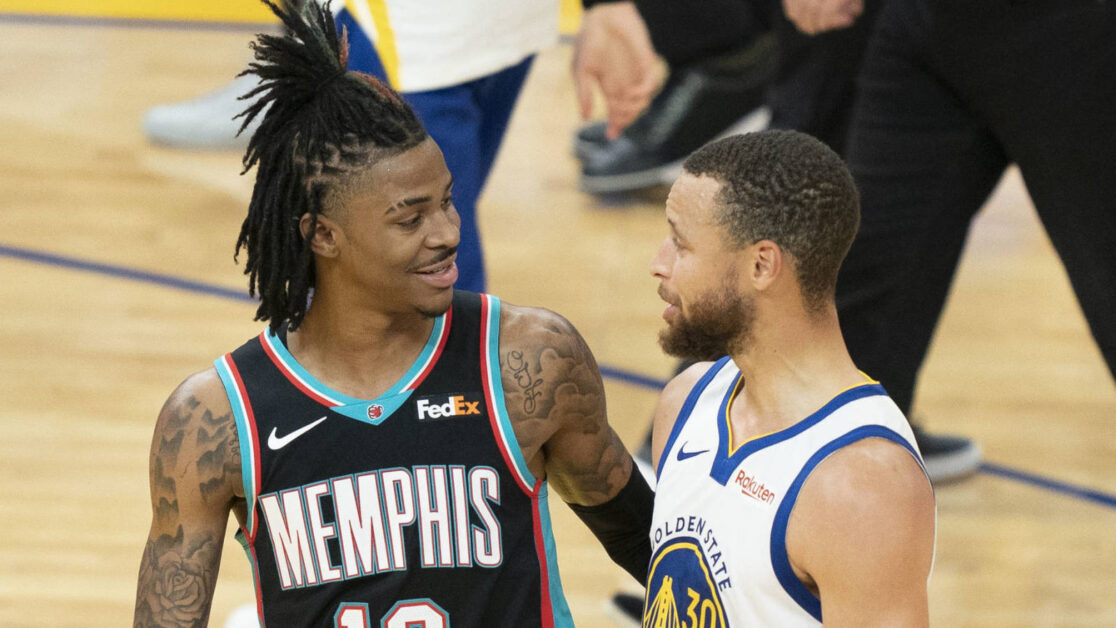 Memphis Grizzlies vs Golden State Warriors
(Golden State won reg. season 2-1)
If the Lakers beat the Warriors and the Grizzlies defeat the Spurs, it will be a Morant-Curry match-up for the right to claim the last playoff spot in the West.
Outside of Curry, the Warriors have a revolving door of offensive contributors ever since Draymond got scared of shooting the ball. But man, what an offensive force Curry has been!
For context, Klay Thompson has scored double-digit three pointers five times in his career – the second-most of all time. Steph has done it seven times in this season alone.
Meanwhile, the Grizzlies pinned their hopes on Morant to take them over the hump, but his inconsistent season has led the team to find other ways to win. Thankfully, the likes of Kyle Anderson, Dillon Brooks, and even rookie Desmond Bane have stepped up their game to keep them in contention until he finds his groove. The return of Jaren Jackson Jr. will only make them a dangerous team to come out of the Play-In.
Can Steph's individual brilliance outshine the total team effort of the young Grizzlies?
Who Comes Out: Los Angeles Lakers, Memphis Grizzlies
The Lakers are a no-brainer, as they shouldn't have even been a part of this process. However, the eighth spot will be a wide-open race.
The Warriors could very well take the final playoff spot here, but the lack of a credible supporting cast is very concerning. Outside of Curry and Draymond (okay, let's say Kevon Looney as well), this isn't the team that made those Finals runs.
For their part, the Spurs are still a well-coached team, and they've shown their versatility throughout the season. Say what you want about DeMar DeRozan's incredible season, but I'm still not sold on a team where he's supposedly the best player.
From the start of this season, both these teams already understand that this isn't the season they are going to win it all. For them, a playoff appearance would be a welcome surprise.
Meanwhile, the Grizzlies still have that chip on their shoulder for not getting into the playoffs last year. We arguably haven't seen their full potential this season because of all the injuries and missed games. Signs point to them not wanting to waste this second chance, especially as they get healthier toward the end of the season.
The top two seeds in the West are teams that haven't been in that position for years, so the 7th and 8th spots might be tough outs for them.
Article written by Voltaire Lozada. Follow his blog on https://voltlozada.com/
FOLLOW US ON OUR FACEBOOK PAGE TO GET DAILY NBA UPDATES AND LATEST NEWS ON SNEAKER RELEASES