The NBA is seeing more towering big men becoming more adept in the playmaking game. We rounded up a list of the 7-footers who produced the most career assists in NBA history.
Pau Gasol is one of the best playmaking big men in NBA history. (Photo via FanSided)
Last time around, we came up with a list of the seven-footers who scored the most career three-pointers. As the NBA trends towards a positionless game, we are seeing a bevy of big men now possessing elite guard skills.
Having said that, we rounded up an all-time list of the NBA 7-footers with the most career assists.
Who are the best playmaking seven-footers in NBA history?
10. Robert Parish – 2,180 career assists
9. Patrick Ewing – 2,215 career assists
8. David Robinson – 2,441 career assists
7. Shaquille O'Neal – 3,026 career assists
6. Hakeem Olajuwon – 3,058 career assists
Vlade Divac also played for the Los Angeles Lakers and the Charlotte Hornets. (Photo via SB Nation)
5. Vlade Divac
3,541 career assists (1990-2005)
In terms of flashy passes, there's no doubt that Divac tops this list. The 7-foot-1 gentle giant was also one of the first "stretch big men" in the NBA. He had a clean shooting form from the mid-range, and he consistently created plays for his teammates off the post or at the elbow.
Divac notched one All-Star appearance in his productive career, and came so close to an NBA Finals appearance when he and the Sacramento Kings reached the Western Conference Finals in 2002.
Divac, who was named to the FIBA 50 Greatest Players in 1991, is the fifth-best playmaking seven-footer in NBA history.
Dirk Nowitzki won his first and only NBA championship in 2011. (Photo via FanSided)
4. Dirk Nowitzki
3,651 career assists (1999-2019)
Nowitzki was just so exceptional with his scoring that people tend not to notice the other underrated facets of his skill set. The 14-time All-Star always attracted double-teams from opposing teams, paving the way for him to fling kick-out passes to his open shooters.
Nowitzki, who won his sole championship in 2011, is the fourth-best playmaking seven-footer in NBA history.
Pau Gasol is a six-time NBA All-Star. (Photo by Sam Greenwood/Getty Images)
3. Pau Gasol
3,925 career assists (2002-2019)
Even during the early stages of his illustrious career with the Memphis Grizzlies, Gasol always displayed a combination of finesse and skill that people don't usually see from a big man.
But it was during his championship runs with the Kobe Bryant-led Los Angeles Lakers that the whole world got to see just how versatile Gasol was. The six-time All-Star center was a vital cog of those two Lakers' championships, especially when he outplayed Boston Celtics star Kevin Garnett in the 2010 NBA Finals.
Gasol also accumulated 3,925 assists in his career, making him the third-best playmaking seven-footer in NBA history.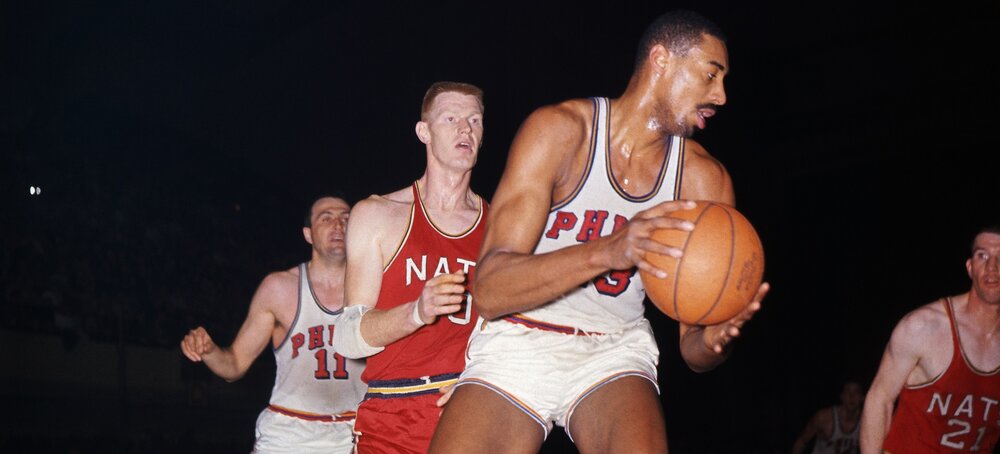 Wilt Chamberlain averaged 50.4 points during the 1961-62 season. (Photo via Getty Images)
2. Wilt Chamberlain
4,643 career assists (1960-1973)
Dubbed as "The Big Dipper", Chamberlain went on to break almost every record imaginable in the NBA. Defenders never had an answer for Chamberlain, and he scored at will inside the paint.
Wilt dominated with his scoring in the first half of his career, but he dived deeper into the passing game when he got older. He dished out a career-best 8.6 assists during the 1967-68 season.
Chamberlain, who is famous for scoring 100 points in a single game, is the second-best playmaking seven-footer in NBA history.
Kareem Abdul-Jabbar won the MVP award six times. (Photo via NBA.com)
1. Kareem Abdul-Jabbar
5,660 career assists (1970-1989)
Thanks to his Swiss Knife skill set, Kareem accomplished every individual accolade out there. He is a six-time MVP, a former Rookie of the Year, and a 19-time All-Star. Kareem also led the league in blocks for four seasons, and he won six championships during his 20-year career in the NBA.
But ever since he first entered the league in 1969, Kareem was already an exceptional passer for his position. He dished out a grand total of 5,660 assists in his career, making him the best playmaking seven-footer in NBA history.