The Alaska Aces rallied past the struggling NorthPort Batang Pier, while the TerraFirma Dyip got into the winning column with a win over the Blackwater Elite.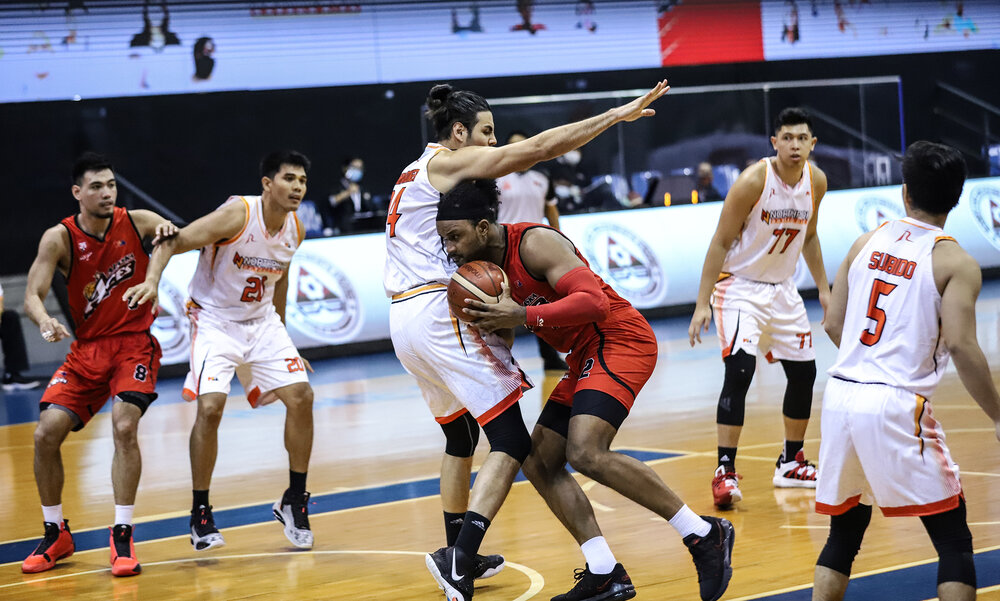 Alaska's Abu Tratter bodies up against Christian Standhardinger of NorthPort.
With a balanced effort on offense, Alaska hacked out a win over NorthPort in the 2020 PBA Philippine Cup inside the Angeles University Foundation Sports Arena and Cultural Center.
Abu Tratter topscored for the Aces with his 16 markers, while Jeron Teng stuffed the stat sheet with 14 points, 8 rebounds and 6 assists. Rodney Brondial came up with a double-double performance of 14 points and 10 boards, including a crucial offensive rebound in the waning seconds of the fourth quarter.
The Aces set the tone in the opening quarter as they held the Batang Pier to only 18 points during that span. But Christian Standhardinger, who finished with monster numbers of 39 points, 16 rebounds, 6 assists and 3 steals, exerted herculean efforts to keep NorthPort in the game.
Standhardinger tallied a career-high 39 points in NorthPort's loss to Alaska. (Photo from PBA)
But even a career night from Standhardinger wasn't enough to save the downward-spiralling Batang Pier. They tried to make a run in the payoff period to cut Alaska's lead to only four, but came up short.
The loss drops NorthPort to a measly 1-7 win-loss slate, while the win improves Alaska to a 6-4 record.
Perez-Adams combo leads TerraFirma to first win
TerraFirma's Roosevelt Adams makes a move against three Blackwater defenders. (Photo from PBA)
After 378 days of being in a losing skid, the TerraFirma Dyip finally barges into the winning column with a 110-101 victory over the Blackwater Elite. Prized rookie Roosevelt Adams easily had his best game in the conference as he hauled in a double-double of 20 points, 16 rebounds, 2 assists and 2 steals.
TerraFirma was able to build a nine-point lead entering the halftime break, but Blackwater came out storming in the third quarter to completely erase the deficit. Veteran forward KG Canaleta waxed hot for the Elite as he finished with a game-high 29 markers, and kept his team within striking distance in the second half.
But TerraFirma had plenty of trick up on their sleeve in this game a crucial buckets from CJ Perez and a dagger wing triple from Juami Tiongson gave them a 108-101 lead to seal the victory. Perez topscored for TerraFirma with his 27 points, while Tiongson chipped in 19.
It's another painful loss for Blackwater, who failed to make the most out of their trips to the charity stripe. Blackwater made only 26 of their 43 free throw attempts, and committed key turnovers in the crucial minutes. They drop to a 2-6 slate, and will go up against the Rain or Shine Elasto Painters on Sunday.
SCORES
First Game
TerraFirma (110) – Perez 27, Adams 20, Tiongson 19, Calvo 11, Camson 11, Faundo 7, Ramos 5, Celda 4, Khobuntin 4, Cahilig 0, Agovida 0, Balagasay 0
Blackwater (101) – Canaleta 29, Trollano 16, Sumang 15, Daquioag 12, Belo 10, Magat 8, Dennison 4, Tolomia 3, Dario 0, Escoto 0, Gabriel 0, Salem 0
Second Game
Alaska (102) – Tratter 16, Brondial 16, Teng 14, Herndon 13, Ahanmisi 11, Manuel 11, Digregorio 6, Casio 6, Ebona 6, Galliguez 3, Ayaay 0, Publico 0, Andrade0
NorthPort (94) – Standhardinger 39, Nabong 11, Lanete 11, Taha 10, Elorde 9, Ferrer 8, Subido 3, Cruz 3, Manganti 0, Revilla 0, Guinto 0