The Alaska Aces defeated the Rain or Shine Elasto Painters, while the TNT Tropang Giga grabbed the solo lead with their fifth straight win in the 2020 PBA Philippine Cup.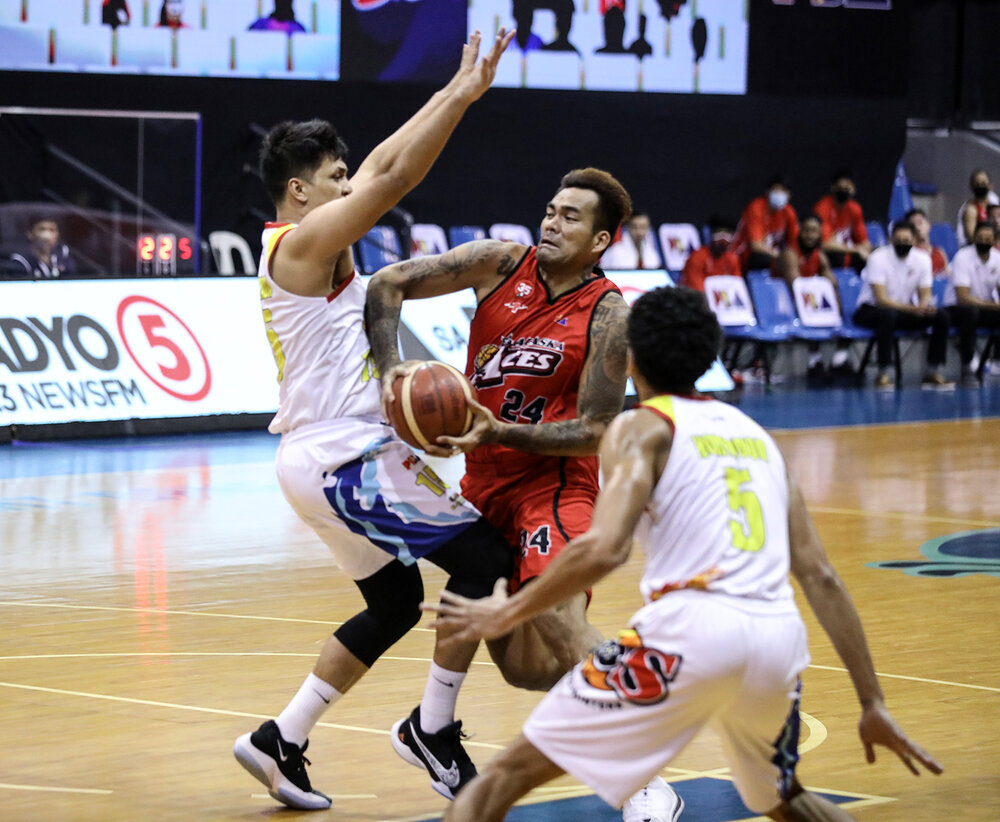 Alaska's Vic Manuel barges through against Jewel Ponferada of Rain or Shine. (Photo from PBA)
Behind Vic Manuel's heroics in the fourth quarter, Alaska escaped Rain or Shine with a thrilling 89-88 victory. Manuel paced the Aces with his 18 points and 7 rebounds, including the team's last seven points in the payoff period.
With the game tied at 80 entering the last two minutes of regulation, Robbie Herndon drilled a clutch triple to give the Aces a three-point lead. Manuel then followed it up with a signature mid-range jumper at the top of the key to extend Alaska's lead to five.
The Elasto Painters' sophomore star Javee Mocon answered with a triple of his own to cut the deficit to two, but Manuel again came up clutch with a very difficult semi-hook over Beau Belga.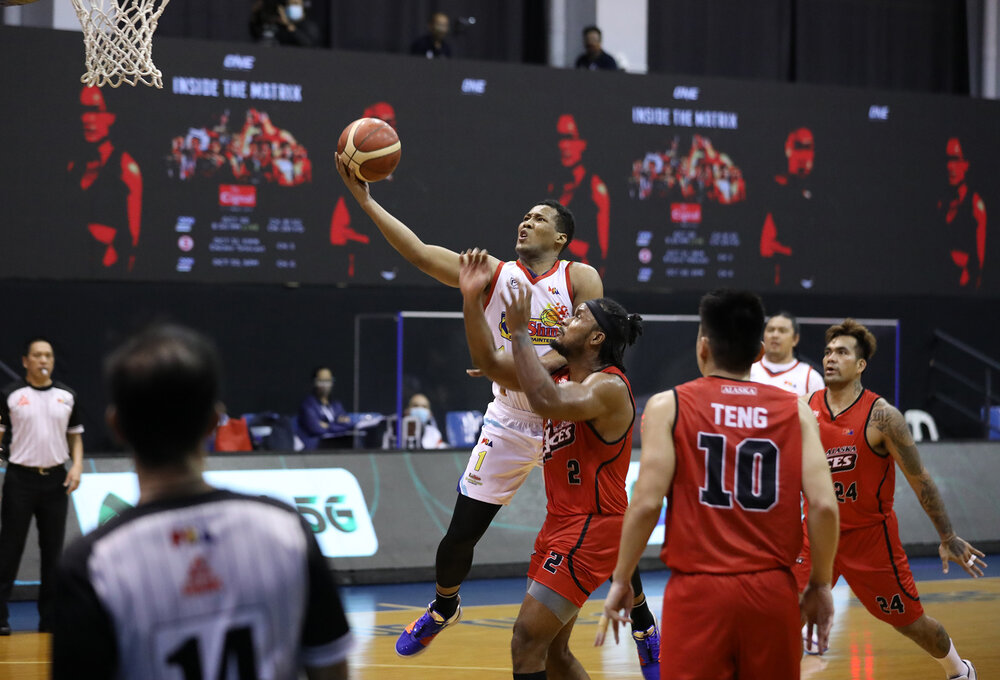 Sidney Onwubere tallied a team-high 16 points for Rain or Shine. (Photo from PBA)
Rey Nambatac would then push Rain or Shine within two after his crucial three-pointer, but his side-step lay-up for a potential game-winner missed the target. Young budding star Sidney Onwubere led the charge for the Elasto Painters with 16 markers, and Mocon finished with 14.
The loss was the first for the Rain or Shine this conference, and they will try to bounce back when they face Blackwater on Sunday.
Balanced offense leads to TNT's 5-0 start
TNT's RR Pogoy makes a transition lay-up over Blackwater's Frank Golla. (Photo from PBA)
The Tropang Giga grabbed the solo lead in the standings as they defeated Don Trollano and the Blackwater Elite with a resounding victory. RR Pogoy topscored for TNT with 20 markers, Ray Parks chipped in 18, and Troy Rosario came up with a double-double night of 17 points and 12 rebounds.
TNT again banked on their plethora of capable shot-makers as they saw five of their players eclipse double digits in the scoring column. They put up a 34-point performance in the opening quarter, setting the tone for the rest of the contest.
Trollano was again the steady hand for the Elite, as he finished with a game-high 23 points, to go along with 7 boards and 4 dimes. Mac Belo and Mike Tolomia both came off the bench to contribute 16 and 12 markers, respectively.
The Tropang Giga played without veteran star guard Jayson Castro, who sat out the game due to a back tightness injury.
SCORES
First Game:
TNT (109) – Pogoy 20, Parks 18, Rosario 17, Enciso 16, Erram 14, Washington 6, Semerad 5, Reyes 5, Vosotros 4, Flores 2, De Leon 2, Alejandro 0
Blackwater (96) – Trollano 23, Belo 16, Tolomia 12, Golla 9, Sumang 8, Daquioag 8, Gabriel 7, Canaleta 3, Salem 3, Dennison 3, Desiderio 2, Dario 2, Escoto 0
Second Game
Alaska (89) – Manuel 18, Teng 13. Tratter 10, Ebona 10, Herndon 9, Brondial 7, Digregorio 7, Casio 5, Ahanmisi 5, Galliguez 3, Ayaay 2, Marcelino 0
Rain or Shine (88) – Onwubere 16, Mocon 14, Wong 12, Belga 10, Torres 10, Nambatac 7, Yap 5, Norwood 5, Doliguez 3, Rosales 2, Rivero 2, Ponferada 2, Tolentino 0