The Alaska Aces made easy work of the Blackwater Elite, while Chris Newsome's game-winner lifted the Meralco Bolts to their second win in the 2020 PBA Philippine Cup.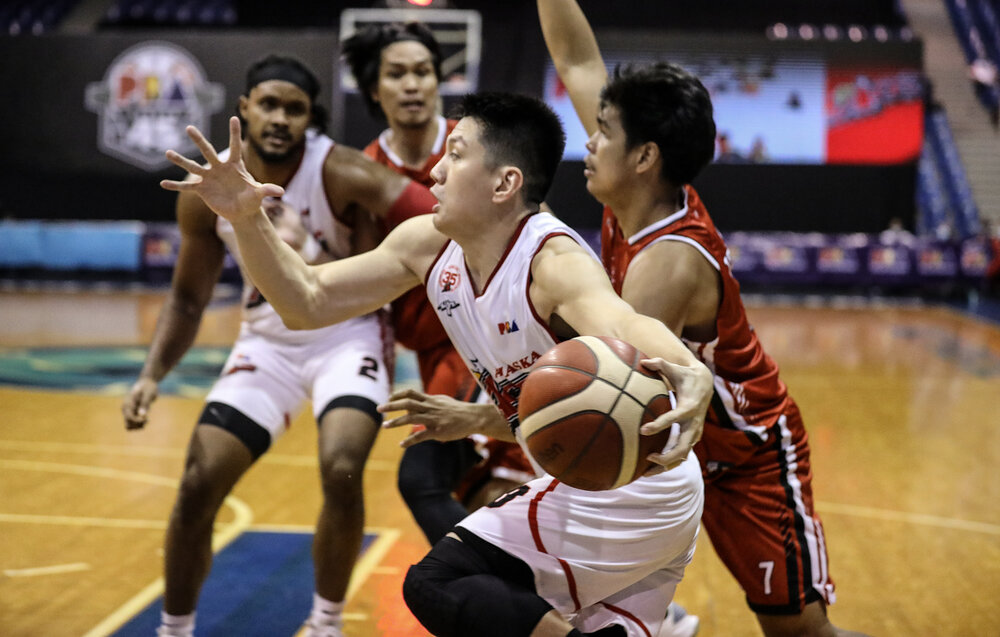 Alaska's Jeron Teng drives past Don Trollano of Blackwater. (Photo from PBA)
Aces win in lopsided fashion
Alaska dominated from start to finish as they hacked out a resounding 120-82 victory over the Blackwater Elite. Rookie big man Barkley Eboña put up a game-high 24 markers, while missing only one of his 11 total attempts. Robbie Herndon came off the bench to finish with 21 points, 3 rebounds and 3 assists.
The Aces stormed right out the gates in the opening period, establishing a 38-17 lead after the quarter. They would coast all the way to the finish line, with six of their players scoring in double digits.
Alaska rookie Barkley Eboña tallied 24 points against Blackwater. (Photo from PBA)
Combo guard Ed Daquioag paced Blackwater with his 18 markers off the bench, and Mike Tolomia chipped in 10 points and 7 assists. Main star Don Trollano was limited to only six points, and produced a measly 1-5 clip from the three-point line.
Trollano and the Elite will try to bounce back against a red-hot TNT Tropang Giga on Thursday.
Newsome comes up clutch for the Bolts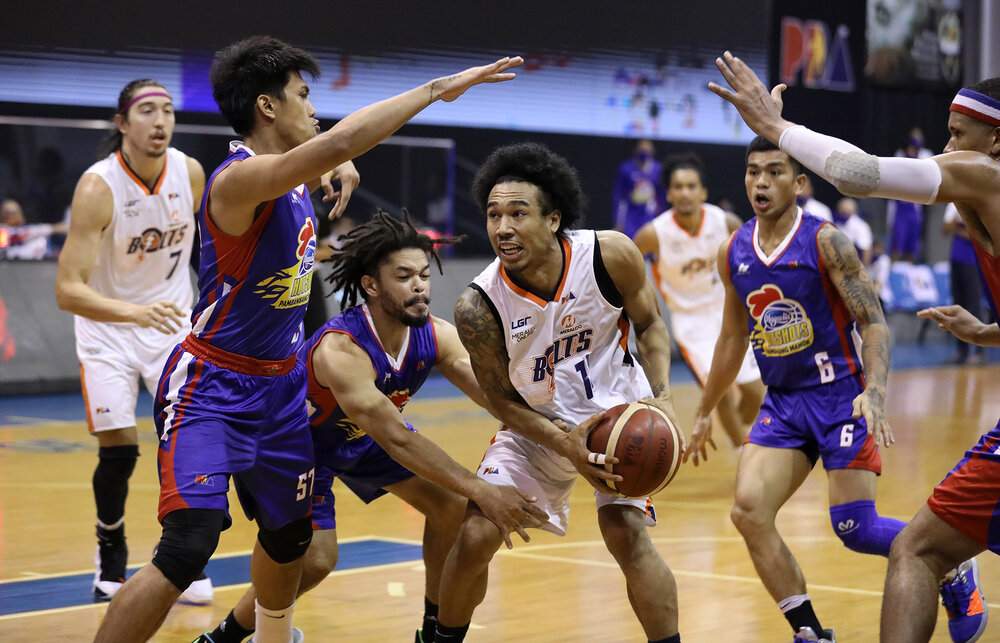 Meralco's Chris Newsome is surrounded by four Magnolia defenders. (Photo from PBA)
Behind Chris Newsome's game-sealing fadeaway jumper in overtime, the Meralco Bolts escaped Paul Lee and the Magnolia Hotshots, 109-104. Newsome tallied a team-high 23 markers, on top of 7 rebounds and 6 assists. Rookie Aaron Black produced 16 points, and Trevor Jackson chipped in 10 in the Bolts' second win of the conference.
The fourth quarter saw Meralco lean on their young guns as Jackson drilled three triples in that span, and Black and Newsome hit crucial baskets of their own. Newsome actually had the chance to end the game in regulation but his turn-around jumper at the buzzer clanked off the rim.
But Meralco would maintain their composure in the extension period as they made the defensive stops when it mattered. Newsome atoned for his missed game-winner in the fourth quarter as he scored seven in overtime, including a difficult corner jumper that he hit over the outstretched arms of Mark Barroca.
Lee led the charge for the Hotshots with his game-high 32 markers, while Barroca contributed 17 points and 6 boards off the bench.
SCORES
First Game
Meralco (109) – Newsome 23, Black 16, Hodge 12, Hugnatan 11, Jackson 10, Almazan 8, Quinto 8, Jamito 8, Maliksi 8, Pinto 4, Amer 1
Magnolia (104) – Lee 32, Barroca 17, Banchero 13, Jalalon 13, Corpuz 12, Melton 6, Reavis 4, Pascual 4, Dionisio 3, Calisaan 0
Second Game
Alaska (120) – Eboña 24, Herndon 21, Manuel 16, Tratter 14, Digregorio 12, Teng 11, Casio 7, Galliguez 3, Ahanmisi 2, Marcelino 2, Andrade 2, Ayaay 2, Publico 2, Brondial 2
Blackwater (82) – Daquioag 18, Tolomia 10, Salem 9, Canaleta 9, Dennison 6, Gabriel 6, Trollano 6, Belo 5, Desiderio 5, Dario 3, Sumang 2, Golla 2, Escoto 1, Magat 0