Los Angeles Lakers guard Alex Caruso admitted that he underestimated how exceptional of a talent Anthony Davis was.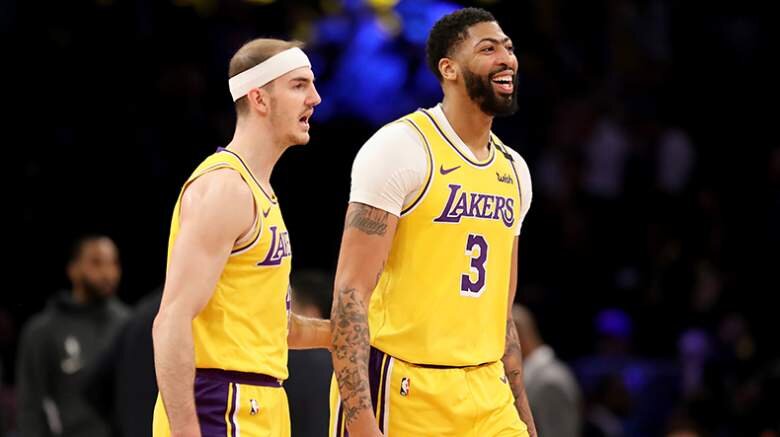 During a recent appearance on The Old Man and the Three podcast hosted by Tommy Beer and New Orleans Pelicans veteran guard JJ Redick, Caruso provided sneak peeks on how it felt to team up with Davis and LeBron James. Caruso would praise LeBron's tremendous work ethic, then confessed that he didn't know that Davis was as good as he was in his first go-around with the Lakers.
Caruso pointed out that it was easy for him and other NBA fans to underestimate AD, especially since he didn't get tons of playoff exposure with the New Orleans Pelicans.
"I was obviously excited because I knew what AD can be. We've seen how good he was in New Orleans. His talent was never in question," Caruso told Beer and Redick. "But going through the season, I think I underestimated how good he was. I don't think people really got to see the full extent of how good he is night in and night out (at New Orleans). But the dude is just a freak."
Davis, 27, normed impressive averages of 26.1 points, 9.3 rebounds, 3,2 assists, 1.5 steals and 2.3 blocks per contest for the Lakers. He was constantly in the conversation for the Most Valuable Player award, and was a frontrunner for the Defensive Player of the Year plum.
AD will be entering unrestricted free agency in the offseason, but it's already of solid certainty that he will re-sign with the Lakers for a lucrative, long-term deal. Davis is still young, and has just entered the peak years of his career. With James already turning 36 this December, there's no doubt that Davis is groomed to be the Lakers' cornerstone for the future.
To listen more to Alex Caruso's interview on The Old Man and the Three podcast, just click on the Spotify link below.