With reports saying that Avery Bradley may become a free agent in the offseason, here are five defensive-minded guards that the Los Angeles Lakers can sign in free agency.
Free agent Courtney Lee will gain interest among contending teams. (Photo by Smiley N. Pool/The Dallas Morning News)
In a sudden turn of events, Lakers veteran guard Avery Bradley recently announced that he will be making a switch in representation. This could lead the combo guard to decline his player option with the Lakers, and enter unrestricted free agency instead. Shams Charania of The Athletic was the first to report about this development.
Lakers guard Avery Bradley tells @TheAthleticNBA @Stadium he is changing representation and plans to sign with agent Charles Briscoe. He is evaluating whether to decline his $5M player option.

— Shams Charania (@ShamsCharania) November 12, 2020
The Lakers brought Bradley in primarily for his defensive prowess in the perimeter. Still, Laker fans need not to worry about Bradley's potential departure. Here are five free agent guards that the Purple-and-Gold squad can sign to inject more defensive presence on their backcourt depth.
1. Courtney Lee
2019-20 Season Averages: 4.5 points, 1.3 rebounds, 0.8 steals, 45% 3-pt
Lee appeared in only 24 games for the Dallas Mavericks last season, and didn't play in the bubble due to a calf injury. But the 35-year old shooting guard is still a serviceable back-up, and his defensive credentials can help the Lakers fill in for the void that Bradley could leave.
With his 6-foot-5 frame, Lee can guard all three wing positions. On top of that, he is a consistent three-point shooter who could help space out the floor for LeBron James and Anthony Davis.
2. Kent Bazemore
2019-20 Season Averages: 8.8 points, 4.3 rebounds, 1.4 assists, 1.1 steals, 34% 3-pt
Kent Bazemore could return to the Lakers. (Photo by Michael Conroy/AP)
Even in limited minutes for the Portland Trail Blazers and the Sacramento Kings last season, Bazemore was able to chip in significant contributions when he is on the floor. He guards the opposing team's best player, rebounds at a high rate, and shoots the ball well from long range.
This could also be a reunion as Bazemore spent a brief time with the Lakers during the 2013-14 season. The lefty swingman will be a solid 3-and-D player for the Lakers, although it's expected that he will also receive tons of interest from other contending teams.
3. Tyler Johnson
2019-20 Season Averages: 7.0 points, 1.9 rebounds, 1.9 assists, 32% 3-pt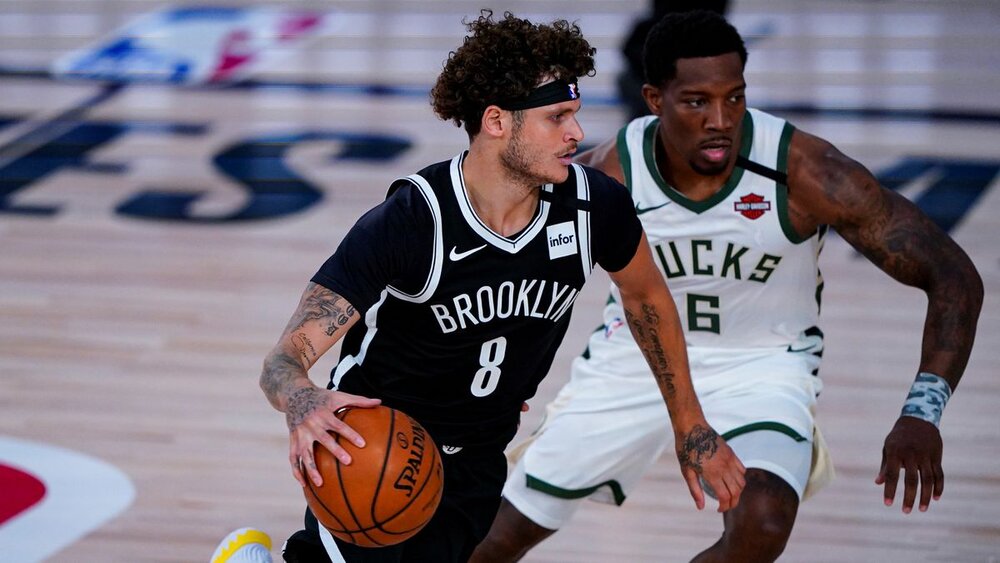 Tyler Johnson could provide immediate scoring boost for the Lakers. (Photo via Bleacher Report)
Johnson may not be the elite defender that you're looking for as a replacement for Bradley, but he is no slouch at that end either. Furthermore, his impressive numbers of 12.0 points, 3.0 rebounds and 3.0 assists in the eight games that he played for the Brooklyn Nets in the Florida bubble shouldn't be overlooked.
The lefty gunner is a good shot creator and a decent playmaker. He will be provide a much-needed double threat offensive boost for the Lakers off the bench.
4. Langston Galloway
2019-20 Season Averages: 10.3 points, 2.3 rebounds, 1.5 assists, 39% 3-pt
Langston Galloway shot a stellar 39% three-point shooting clip during the 2019-20 season. (Photo by Rick Osentoski/USA TODAY Sports)
This is a long shot as Galloway is expected to gain a relatively larger payday than what the Lakers' financial flexibility can afford. But if the team can convince him to join the team for the cause of chasing a coveted championship, then Galloway would surely be a solid pick-up.
Galloway is already one of the best three-point shooters that we have in the league, and his tremendous work on the defensive end will be valuable for the Lakers' repeat bid next season.
5. Justin Anderson
2019-20 Season Averages: 2.8 points, 2.1 rebounds, 0.8 assists
Anderson is still a shaky long-range gunner, but he can be a valuable asset on the defensive end. He has a wide body to go along with his 6'6 frame, and he has enough strength and mobility to defend all guard and forward positions. The Lakers will not get any scoring from him, but he would be able to inject a strong defensive presence for the team.