Los Angeles Lakers guard Alex Caruso says that Frank Vogel did everything right to earn the full trust of even the team's most seasoned vets like Rajon Rondo and LeBron James.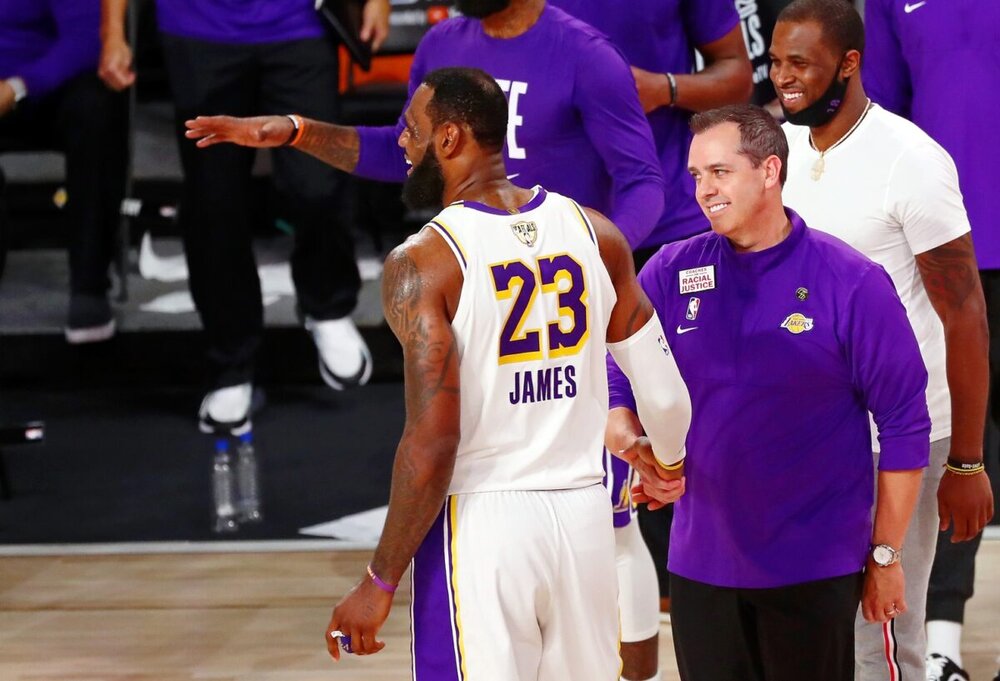 Lakers star LeBron James and head coach Frank Vogel share a laugh in the Orlando bubble. (Photo by Mike Ehrmann/AP)
During an appearance on The Old Man and the Three podcast hosted by Tommy Beer and veteran NBA guard JJ Redick, Lakers key cog Alex Caruso talked about the team's successful championship run last season. Caruso also chimed in his thoughts on head coach Frank Vogel, the man who steered the Purple-and-Gold to their 17th championship banner.
Caruso detailed out how prepared Vogel is in readying the Lakers before games, and how well he connected to each player in the roster. (h/t Essentially Sports)
"Frank's really good at just diving into the work and being prepared," Caruso told Beer and Redick. "You are gonna have the most information, and it's going to be accurate.
I think that's what he's really good at. He did a great job at gelling in too… He wasn't hesitant to shed his ego and let the assistants run a meeting or Bron or Rondo speaking up at a session. That build the trust that you need to win at high level."
When the Lakers surprisingly hired Vogel as their new coach, there were many people who doubted the move. In his previous stops with the Indiana Pacers and the Orlando Magic, Vogel never reached the Finals. In a team in which you have two superstars in LeBron and Anthony Davis, the mindset is always championship or bust.
But Vogel has always been an excellent defensive coach, and it sure paid dividends in steering the Lakers to the top. DeMarcus Cousins pointed out that Vogel is a coach a player would want to play for, a great heap of praise coming from a player who had his share of difficulties with his past coaches.
Aside from talking about Vogel, Caruso also discussed how effective LeBron is as a leader, while also admitting that he underestimated AD's overall talent.
If you want to listen more to Caruso's conversation with Beer and Redick on The Old Man and the Three podcast, just click on the Spotify link below.