In the absence of main star Jimmy Butler, the Miami Heat turned in a balanced offensive attack to even up their regular season series with the Milwaukee Bucks.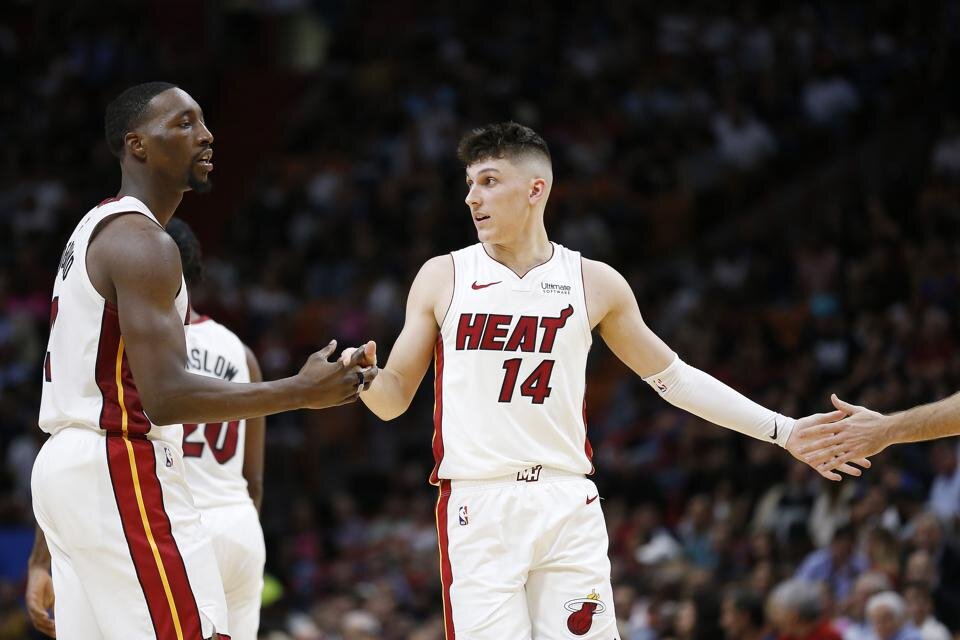 Bam Adebayo and Tyler Herro powered the Heat past Giannis Antetokounmpo and the Bucks. (Photo by Michael Reaves/Getty Images)
Butler-less Heat returns the favor to the Bucks
After absorbing an embarrassing 144-97 loss to the hot-shooting Milwaukee Bucks last night, the Miami Heat bounced back with a 119-108 win this time around. Goran Dragic led all scorers with his 26 markers off the bench, but it was the all-around performances from young stars Bam Adebayo and Tyler Herro that spelled the victory for the reigning Eastern Conference champions.
With Jimmy Butler sitting out the game, Adebayo was the Heat's anchor on both ends of the floor. He finished with 22 points, 8 rebounds, 10 assists, and 2 blocks. Herro was also a key cog in the win as he amassed a double-double night of 21 points and 15 boards, along with four assists and an efficient 61% clip from the field.
Giannis Antetokounmpo tallied a triple-double for the Bucks, but his co-star Khris Middleton only came up with eight points in the disappointing loss.
Nets turn back undefeated Hawks
The Brooklyn Nets have chalked up a loss in the Atlanta Hawks' previously-unblemished record. Kevin Durant tallied 33 points, 11 boards, and 8 dimes, while Kyrie Irving had a strong finishing kick in the fourth quarter and ended up with 25 points and 6 assists.
Young stars Trae Young and John Collins both produced 30 markers for the Hawks, who started their season with a 3-0 win-loss slate. With this Hawks loss, the Orlando Magic is now the lone team with an undefeated record.
Lakers gift LeBron with a birthday win
The Los Angeles Lakers beat the San Antonio Spurs on LeBron James' birthday. With The King turning 36 years of age today, he produced another do-it-all stat line of 26 points, 5 rebounds, and 8 assists. Dennis Schroder and Anthony Davis chipped in 21 and 20 points, respectively.
James, who is coming off his fourth championship and first with the Lakers, is not showing any signs of slowing down. The 36-year old superstar is still on pace to contend for the MVP award this year.