The Boston Celtics were spectacular on both ends of the floor as they finally defeated the Miami Heat with a 117-106 Game 3 victory.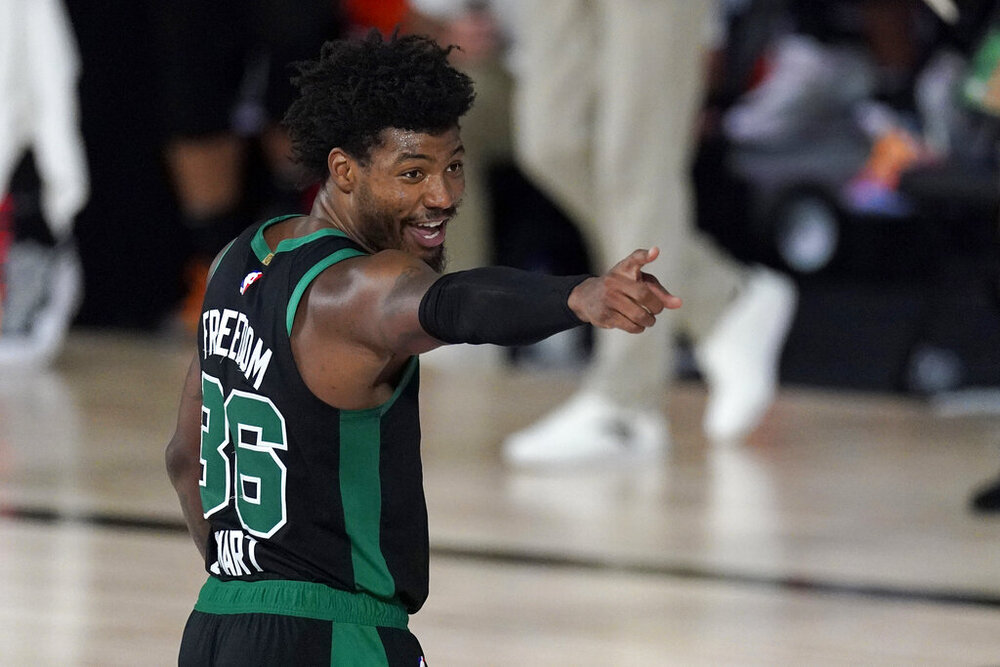 Marcus Smart's all-around play helped Boston take Game 3 in their Eastern Conference Finals match-up against Miami. (Photo by Mark J. Terrill/AP)
In an effort to avoid a glaring 0-3 hole, the Celtics put up a strong stand on defense as they suffocated the Heat in Game 3. Jaylen Brown topscored for Boston with his 26 markers, while Jayson Tatum came away with a huge stat line of 25 points, 14 rebounds and 8 assists.
The Celtics again built a double-digit lead by the end of the first half, the same story in the first two games of the series. But this time around, they did not let up as they turned back any Heat's attempt at a comeback. Miami came as close as five points in the fourth quarter, but Boston maintained their composure and made the big shots and defensive stops in the clutch.
Defensive ace Marcus Smart, who reportedly had a heated conversation with Brown following the disappointing Game 2 loss, produced 20 points, 4 boards and 6 dimes. Kemba Walker also contributed 21 markers, including a corner trifecta in the payoff period that cut the Heat's momentum.
Bam Adebayo hauled in a solid performance of 27 points, 16 rebounds, 3 steals and 2 blocks to lead the charge for Miami. Rookie hotshot Tyler Herro came off the bench to contribute 22 markers, including four hits from the three-point line.
SCORES
Celtics (117) – Brown 26, Tatum 25, Walker 21, Smart 20, Theis 8, Hayward 6, G. Williams 5, Kanter 4, Wanamaker 2
Heat (106) – Adebayo 27, Herro 22, Butler 17, Robinson 13, Dragic 11, Crowder 10, Jones Jr. 3, Olynyk 3, Iguodala 0, Nunn 0