Celtics' Jaylen Brown and Pacers' Domantas Sabonis lead the early list of the under-the-radar MVP candidates in this new NBA season.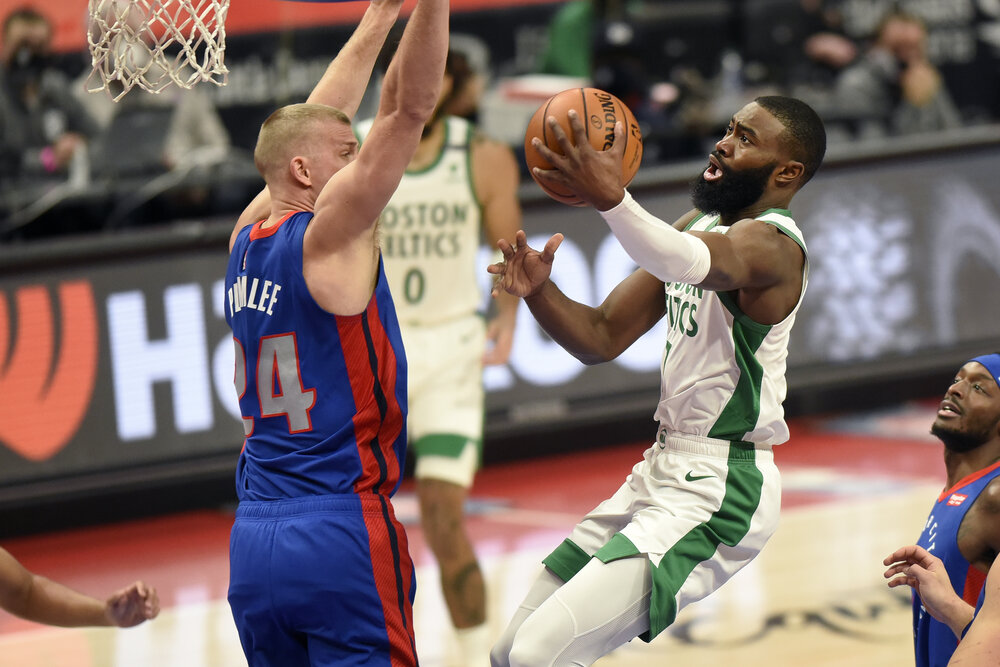 Jaylen Brown is putting up a team-high 26.9 points per game for the Celtics. (Photo by Jose Juarez/AP)
Giannis Antetokounmpo is tallying another MVP-worthy stat line. Nikola Jokic and Luka Doncic are finishing with the nightly triple-doubles. The 36-year old LeBron James hasn't shown any signs of decline. Jayson Tatum's growth into a bona fide superstar has been widely-documented.
These popular names will definitely be in MVP conversations all season long, especially if their teams keep on racking up the wins. Still, we have always seen stars break out and put up MVP-caliber performances every year. So early into this new NBA season, let's take a quick look at the under-the-radar candidates for the most coveted individual plum in the league.
Jaylen Brown, Boston Celtics
Season Averages: 26.9 points, 4.6 rebounds, 3.1 assists, 1.6 steals, 43% 3-pt
Tatum isn't even the highest scorer for the Celtics. Although Tatum has been the primary shot creator for the team, Brown is actually having a more efficient start to the season. Brown is norming a stellar 57% overall clip from the field, which is a very high percentage for a perimeter player who mostly takes his shots off the dribble.
Most importantly, Brown's body of work on the defensive end makes him one of the most elite two-way players in the league right now. The Celtics have a dynamic 1-2 punch in the wing, and it's time for people to recognize how much of a star Brown already is.
Domantas Sabonis is averaging a career-best 6.7 assists for the Pacers this season. (Photo by Ken Blaze/USA TODAY Sports)
Domantas Sabonis, Indiana Pacers
Season Averages: 20.6 points, 11.3 rebounds, 6.7 assists, 0.9 steals, 57% FG
Remember when people were still debating on who the Pacers will choose between Sabonis and Myles Turner as their frontcourt cornerstone? Well, that's not a debate anymore. Turner is still a good 3-and-D big man, but Sabonis is just performing on another level this season.
Sabonis is norming a career-high in assists this season and has already racked up one triple-double stat line. He is producing a 53% clip from beyond the arc, although he might want to take more three-point shots to really make the most out of that skill of his.
With Victor Oladipo rounding out to form, Malcolm Brogdon logging in his usual efficient outings, and Sabonis developing into an all-around star, don't be surprised if the Pacers land at the top of the East this year.
Brandon Ingram, New Orleans Pelicans
Season Averages: 25.0 points, 6.4 rebounds, 5.7 assists, 0.9 blocks, 39% 3-pt
Ingram just continues to progress year after year. Even with the heavier gravity that he is attracting from the defense this season, Ingram's numbers and efficiency have not dipped. He is tallying career-highs in points, rebounds, and assists for the Pelicans.
Ingram is doing all these while being tasked with more ball-handling duties. Jrue Holiday was traded to the Bucks in the offseason, leaving Ingram with a bigger workload in terms of creating his shots and involving his teammates. So far, he is doing an admirable job in his role, and there's no doubt that Ingram is soon headed for superstar status.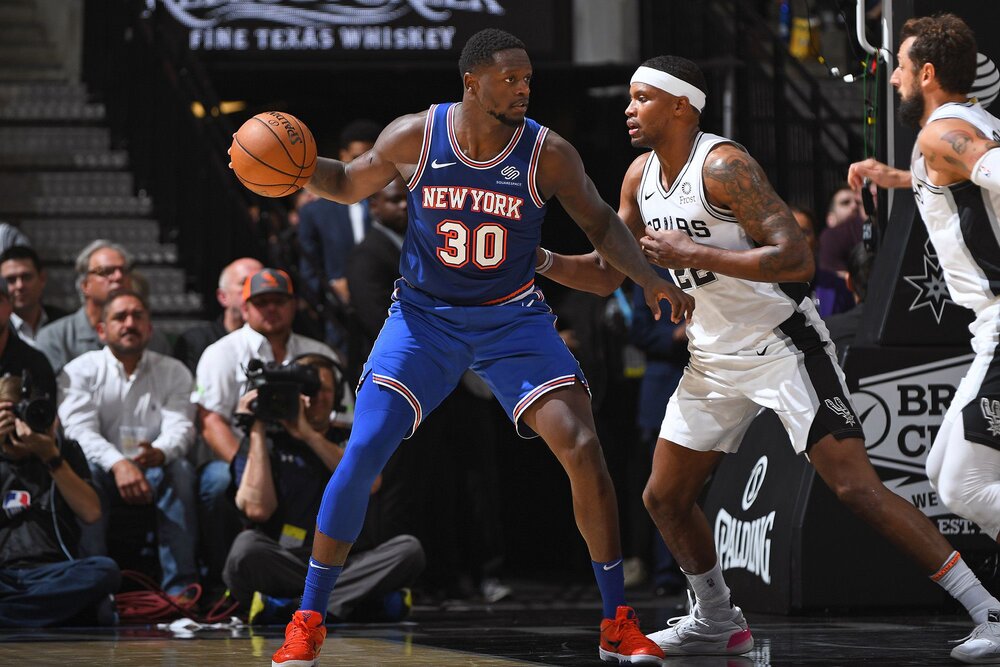 Julius Randle is making 40% of his three-point shots for the Knicks this season. (Photo via the New York Post)
Julius Randle, New York Knicks
Season Averages: 22.1 points, 11.4 rebounds, 7.4 assists, 0.7 steals, 51% FG
If the Knicks pull off the improbable and book a ticket to the playoffs this season, Randle should be a lock in the MVP race. The Knicks entered the season without a star, but Randle is quickly making a solid case to be one. His points, rebounds, and assists numbers are all career-highs, and he is doing it in a very efficient manner.
Randle's three-point shooting has climbed to a 41% clip, and it seems like he has lessened his knack for forcing his shots. The Knicks have become a fun team to watch this year, and Randle's fine play is at the center of it.