Montreal's own Chris Boucher may not be starting games for the Toronto Raptors, but he is quickly becoming the team's best big man.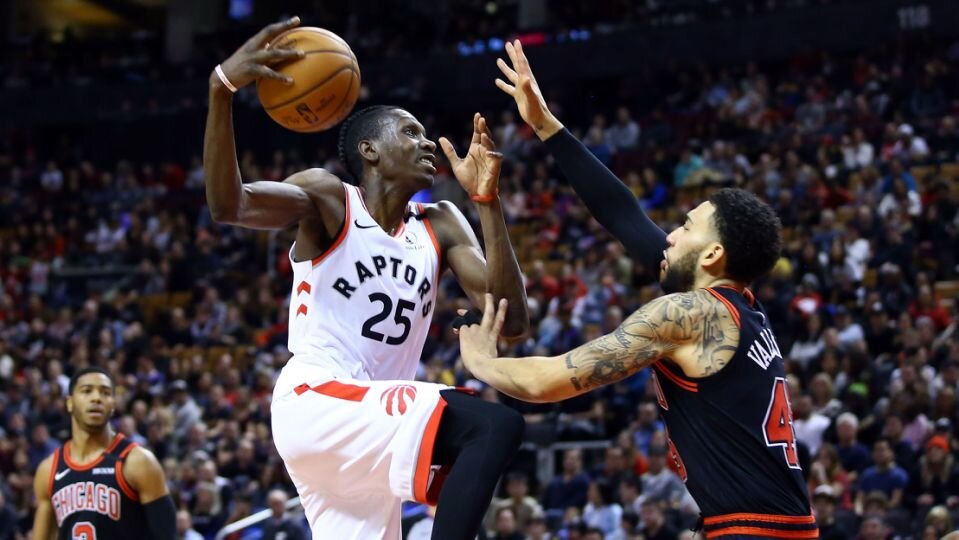 Chris Boucher is putting up 14.8 points for the Raptors this season. (Photo via FanSided)
The current NBA season has so far been dominated by the postponement of games due to COVID-19 infections or close contacts among teams and the James Harden saga that ended with him reuniting with Kevin Durant in Brooklyn. Lost in the narrative of all the uncertainties is the rise of Toronto Raptors center (and Montreal's very own) Chris Boucher, whose energy and effort are just some of the few positives in the Raptors' 6-9 start.
Averaging career-highs of 14.8 points (on 58.6-49.1-78.4 shooting splits), 6.5 rebounds, and 2.3 blocks through 15 games, Boucher has brought in the much-needed rim protection and quickness on defense that Toronto needed with the departure of veteran big men Marc Gasol and Serge Ibaka.
25 Pts | 10 Reb | 2 Blk | @chrisboucher

The man is a human highlight machine pic.twitter.com/mOKeXD9u3U

— Toronto Raptors (@Raptors) January 15, 2021
Unlike the league's marquee players, Boucher did not have a straight path to the NBA. He played for New Mexico Junior College and Northwest College, earning the NJCAA player of the year award after posting 22.5 points, 11.8 rebounds, and 4.7 blocks per game. He transferred to the University of Oregon and earned Pac-12 Defensive Team honors, but his final season was cut short after tearing his ACL.
While he went undrafted in the 2017 NBA Draft, his play prior to the injury did not go unnoticed as he was signed to a two-way contract by the Golden State Warriors. The following season, he signed with the Raptors as a free agent.
Boucher has also emerged as another product of the elite developmental program the Raptors have established through their NBA G-League affiliate, Raptors 905. He joined the likes of teammates Pascal Siakam, Fred VanVleet, and Normal Powell in spending a significant amount of time honing their skills and getting the touches they wouldn't have gotten had they been on the bench in an NBA game.
Even with Gasol and Ibaka gone, Boucher was not even slated to start or feature heavily in Raptors head coach Nick Nurse's big man rotation. Free agent centers Aron Baynes and Alex Len were poised to share minutes with the Canadian center, but his performance over the course of the young season made it difficult to take him off the court.
Unlike the plodding Gasol and Ibaka, Boucher is an agile athlete who can also switch on defense and remain competitive when teams shift to their small-ball lineups. While he does give up heft to the likes of Joel Embiid, Bam Adebayo, and even Nikola Jokic, his quickness and high block rate (9.9 percent) regardless of who he's facing (except maybe for that poster from Miles Bridges) make up for any perceived shortcomings.
Chris Boucher's averaging 2.6 BPG (4th in the NBA)… Watch his TOP BLOCKS from the season so far!
⠀⠀⠀⠀⠀⠀⠀⠀
Watch the Raptors & Hornets TONIGHT (7:30 PM/ET, TSN) in the Game of the Week presented by @Bell. pic.twitter.com/fPUVPuLhIr

— NBA Canada (@NBACanada) January 14, 2021
Chris Boucher comes across to swat it away for the @Raptors! pic.twitter.com/fjn5enJSCa

— NBA (@NBA) January 9, 2021
Offensively, he picks the right spots to catch passes and, as evidenced by his 0.7 turnovers per game, is not one to easily fumble the ball. While it is a requisite for today's NBA big men to have shooting, his ability to knock down 3-pointers seem more wing-like than your typical big man.
Chris Boucher cut and jam. So good. pic.twitter.com/9Hx8GiJnpw

— Michael Gallagher (@MikeSGallagher) January 19, 2021
Chris Boucher, Walking Bucket pic.twitter.com/T73pMG1rsS

— Raptors Nation (@RaptorsNationCP) January 15, 2021
Despite his significant strides, however, Boucher remains a work in progress. His defense has certainly made him stand out, but his 2.8 fouls per game could make it difficult for him to stay on the court during crucial moments. His talent and physical abilities have carried him this far, but more and more reps at the NBA level will help him learn when to close out and read the floor both on offense and defense.
The likes of Boucher are further proof that the G-League has emerged as an avenue for players to seek further development yet remain close to the NBA. Thirty teams passed on him on draft night but Boucher's performance this season is a reminder for the 29 teams that didn't sign him that a nightly matchup with him could be a handful.
chris boucher to the rest of the nba pic.twitter.com/UOAte8bfrE

— Yahoo Sports Canada (@YahooCASports) January 12, 2021