As the Miami Heat continue to struggle in these early stages of the season, don't be surprised if they pull off a move to acquire another proven star.
Bradley Beal could team up with Jimmy Butler in Miami. (Photo by Steve Mitchell/USA TODAY Sports)
This is a star-driven league. It's becoming almost impossible to win an NBA championship without having multiple All-Stars on your team. In the past couple of decades, only the 2003 San Antonio Spurs, the 2004 Detroit Pistons, and the 2011 Dallas Mavericks won the 'chip with only one All-Star on their roster.
But those teams also filled out their roster with tons of quality veterans, which is another route to take to seriously pursue a championship. Still, fielding in a couple or more All-Stars is the way to go, and it's an avenue that the Heat will be heading into if they continue to rack up the losses this season.
Is it already "panic button time" for the Heat?
When Jimmy Butler, Tyler Herro, and Avery Bradley return to the active lineup, the Heat will still boast one of the most complete rosters in the league. They have a two-way superstar in Butler, a frontcourt All-Star in Bam Adebayo, and a couple of excellent shooters in Herro and Duncan Robinson. Kendrick Nunn and Goran Dragic should provide scoring punch off the bench, and quality vets like Bradley, Andre Iguodala, and Mo Harkless should provide much-needed defense at the wing.
But there's no doubt that the offense has to improve. The Heat is currently ranked 2nd in highest turnovers per game, and that's the main reason why they are losing. They are 5th in the league in field goal percentage (48%), and 9th in team assists. That means that the Heat makes their shots when they do take them.
With numerous absences every game, head coach Erik Spoelstra is still tinkering with lineup combinations. The Heat will absolutely give this team a chance to rebuild their chemistry when Butler comes back, but don't be surprised if Pat Riley works his magic and makes a move for another star if the losses pile up.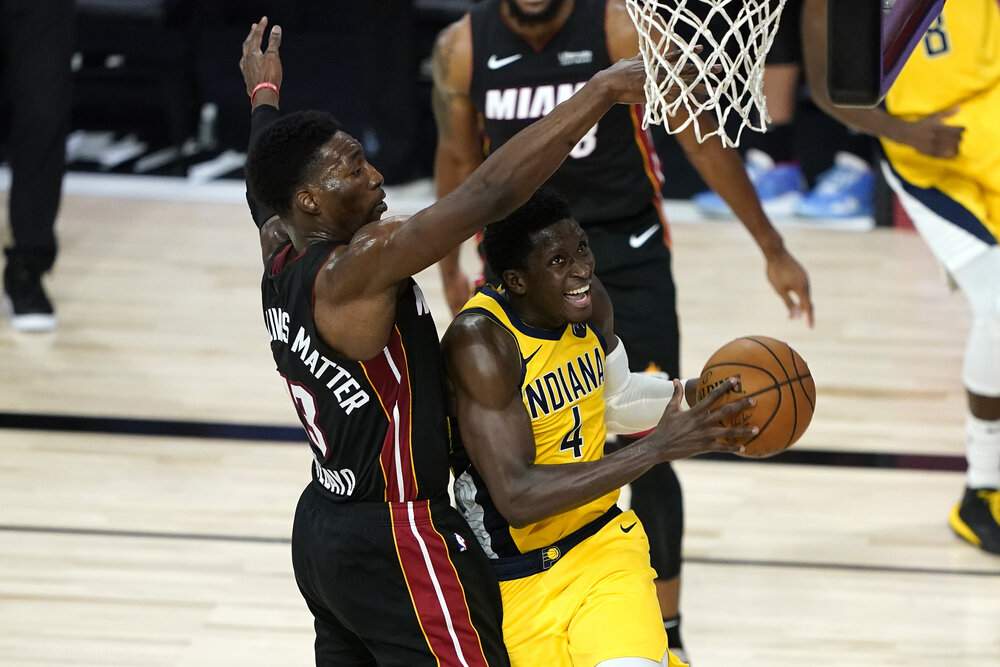 The Heat could snag Victor Oladipo from the Rockets. (Photo by Ashley Landis/USA TODAY Sports)
Who between Beal and Oladipo is Option A?
It's already an open secret that the Heat front office is enamored with the prospect of landing either Bradley Beal or Victor Oladipo. But who between these two shooting guards is the Heat's primary target?
Well, the Heat will give up more assets in trade if it involves Beal. Aside from the truth that Beal has a higher value and the better player right now, there's also the fact that the Heat can make a play for Oladipo in the 2021 free agency. Kevin O'Connor of The Ringer reported that despite being recently shipped to the Houston Rockets, Oladipo's preferred destination is still in South Beach.
So with the expectation that they can be a frontrunner for Oladipo in free agency, the Heat will opt not to give up leverage in a potential deal. That makes Beal the first option for the Heat and securing his services will take this team to another level this season.