During his rookie year in the NBA in 2003, Carmelo Anthony reveals that the Denver Nuggets almost signed a 42-year old Dennis Rodman to a contract.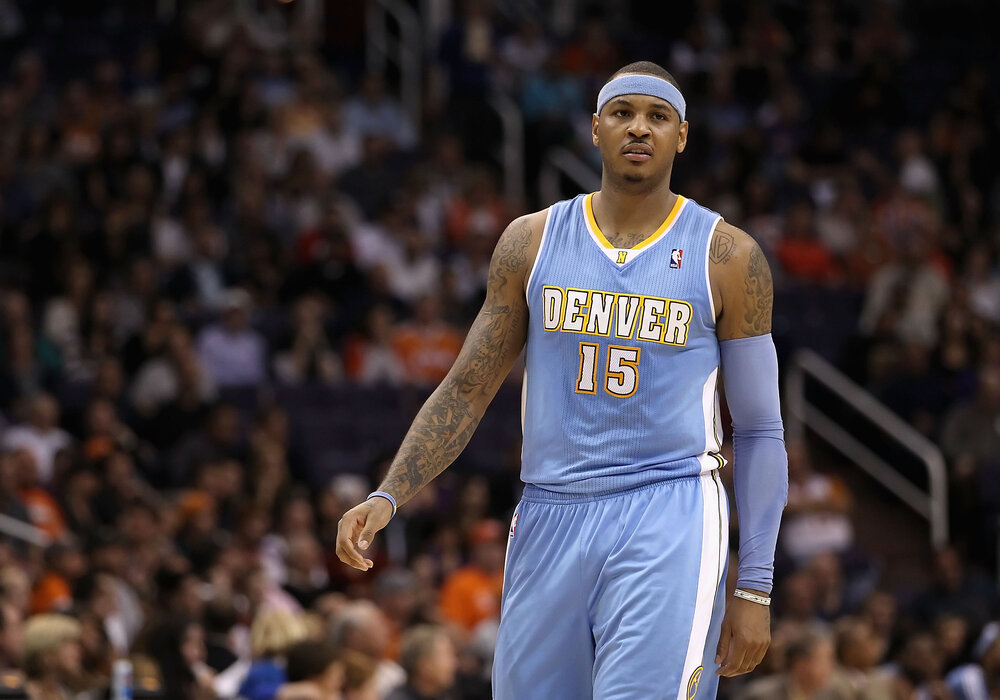 Carmelo Anthony spent the first seven years of his NBA career in Denver. (Photo by Christian Petersen/Getty Images)
During a recent appearance on The Old Man and the Three podcast hosted by New Orleans Pelicans guard JJ Redick and Tommy Alter, Portland Trail Blazers veteran star Carmelo Anthony talked about the early years of his career in Denver. Anthony revealed that the Nuggets invited former Chicago Bulls champion forward Dennis Rodman to a workout in his first year with the team in 2003.
The 10-time All-Star then went on to tell the podcast that the Nuggets also extended try-out invites to Percy Miller, an American rapper more known for his "Master P" nickname, and former Seattle Supersonics star Shawn Kemp.
"I played with Dennis Rodman during the pre-season," Anthony told Redick and Alter. "People don't know that. Master P also came and tried out for the Nuggets. I also played with Shawn Kemp in my first year. These were the caliber of guys that we were attracting."
Rodman was not given a roster spot by the Nuggets at that time, but it would have been a sight to see how the tough, polarizing power forward will mesh with a young Melo. Anthony was the third overall pick of the 2003 NBA Draft, and there were high hopes that he will immediately be the team's go-to-guy in his rookie year.
Rodman, who won three championships with Michael Jordan and the Bulls, had brief stops with the Los Angeles Lakers and the Dallas Mavericks before he went on a hiatus in 2000. An ESPN report from Marc J. Spears back then emphasized that Rodman was still in "prime shape" and the Nuggets front office believed that he could provide a solid veteran presence for the squad.
Rodman won three championships with Michael Jordan and the Chicago Bulls. (Photo by Jonathan Daniel/Allsport)
However, Rodman's possible tenure with the Nuggets didn't materialize and basketball fans never got to watch the rebounding king play in the NBA again. Rodman, who also captured two rings with the Detroit Pistons, ended his productive career by averaging 7.3 points, 13.1 rebounds and 1.8 assists per contest.
To listen more on Carmelo Anthony's thoughts on The Old Man and the Three podcast, click on the Spotify link below.