With the Washington Wizards' future still in limbo, we might see budding superstar Bradley Beal finally getting traded next season.
Bradley Beal could make the Nuggets an elite championship contender. (Photo by David Zalubowski/AP)
Despite being the biggest All-Star snub this season, Beal went on to have a career-best year for the Wizards. The 6-foot-3 combo guard averaged 30.5 points, 4.2 rebounds and 6.1 assists per contest, taking most of the offensive workload in Washington.
From being a spot-up shooter and slasher, Beal has grown into a tremendous playmaker and shot creator. But he will be turning 28 years old next year, and if the Wizards front office don't get their act together, it won't be a surprise if Beal asks for a trade to a more serious championship contender.
Denver Nuggets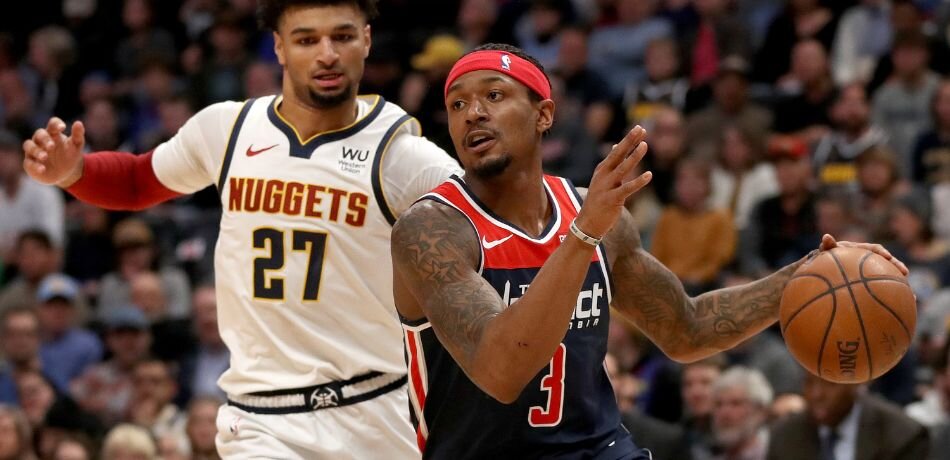 Beal and Jamal Murray could form a deadly backcourt duo in Denver. (Photo by Matthew Stockman/Getty Images)
The basketball community witnessed the the Jamal Murray show in the bubble, and what's better than pairing him up with another proven backcourt star? The Nuggets, under head coach Mike Malone, are an unselfish bunch of versatile players who could all make the right passes at the right time. There's no doubt that Beal can fit in perfectly with the team, especially with Nikola Jokic's brilliant playmaking and court smarts.
Denver can move shooting guard Gary Harris to Washington, as well as let go of a future star in Michael Porter Jr. It's not an easy ask, especially if you consider the 6-foot-10 Porter's value in today's positionless basketball. But Beal is a star, if not already a superstar. He is no slouch on defense, either.
A trio of Murray-Beal-Jokic would be a force in the West, and probably a Top 5 team on paper.
Philadelphia 76ers
The Sixers can have their own version of the Big 3 with Beal, Ben Simmons and Joel Embiid. (Photo by Mitchell Leff/Getty Images)
As the Sixers retool under new head coach Doc Rivers, the team has been emphasizing that they are not open to trading either Ben Simmons or Joel Embiid. However, Philly still has a couple of tradeable pieces that they can use as centerpieces to acquire Beal from the Wizards.
Those trade assets would be two-way guards Josh Richardson and Matisse Thybulle. Both Richardson and Thybulle are young guns who already established their defensive prowess in the league. Add to that the fact that they can also put up the buckets on the other end.
Philly could move Tobias Harris' massive contract to make a deal work, along with both Richardson and Thybulle. Beal will immediately catapult the Sixers to championship status, especially with Simmons and Embiid still continuously improving.
New Orleans Pelicans
The Pelicans can move Jrue Holiday to the Wizards in exchange for a masterful scorer in Beal. (Photo by Keith Allison)
This is a long shot, especially with how the Pelicans value Jrue Holiday's defense and all-around leadership. But we have seen how the New Orleans' offense would get stuck with no true go-to-scorer, and they could definitely get that from Beal.
Lonzo Ball would assume primary point guard duties, and Zion Williamson will have more leeway inside thanks to the spacing that Beal will provide. Furthermore, Beal forces opposing defenders to pick their poison, with Brandon Ingram also growing into a multi-dimensional operator on offense.
It remains to be seen how the Pelicans can make a package more enticing for the Wizards, but there's no doubt that Beal would be an upgrade over Holiday. However, the Pels should bank on more growth from Ball, Ingram and Williamson on defense so as to make up for the loss of Holiday's defensive presence.