Boston Celtics star Jaylen Brown made NBA history as his efficient 33-point display landed at the top of last night's best individual performances.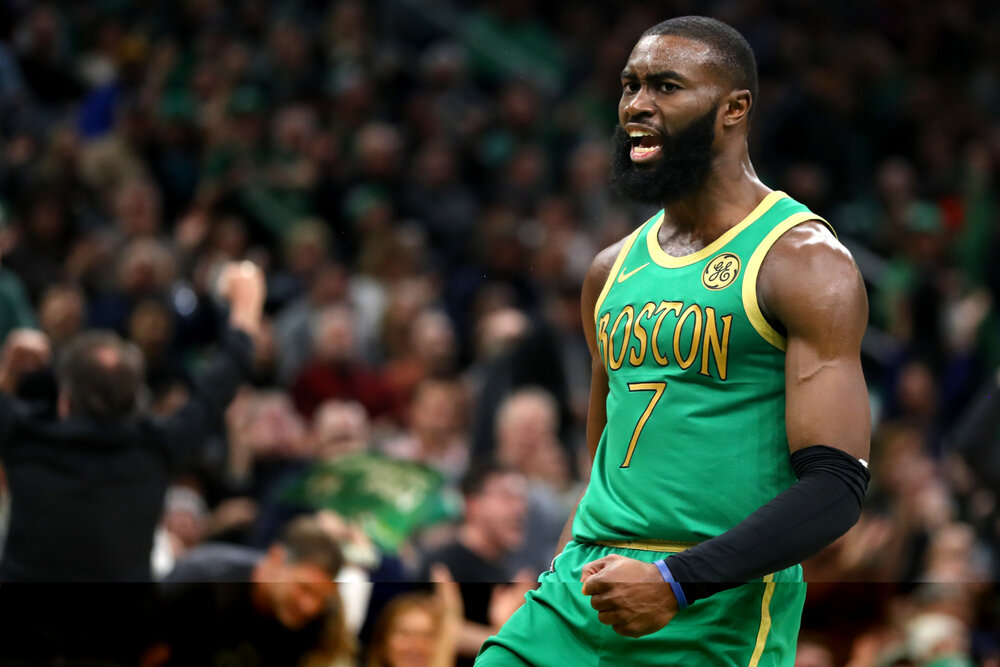 Jaylen Brown tallied 33 points in the Celtics' win over the Cavaliers. (Photo by Maddie Meyer/Getty Images)
Jaylen Brown, Boston Celtics
33 points, 3 rebounds, 2 steals, 19:14 minutes of play
33 points in just 19 minutes. That is efficiency personified. In doing so, Brown has now surpassed Kevin Durant (!!!) for the most points scored while playing fewer than 20 minutes in a single game.
Jaylen Brown scores the MOST POINTS in under 20 minutes played during the shot clock era (1954-55)!

☘️ @FCHWPO: 33 PTS in 19 minutes played ☘️ pic.twitter.com/zPdiEbxPvJ

— NBA (@NBA) January 25, 2021
Brown is not just a record-holder, and this is not a fluke of a performance. His brilliance has been in full display this season, and he should already be considered as a darkhorse contender for the coveted MVP plum. He's not even the Celtics' most-heralded player right now, but don't be surprised if you see him becoming a more-rounded star than Jayson Tatum in a couple of years.
Gordon Hayward, Charlotte Hornets
39 points, 9 rebounds, 5-8 3-pt, 60% FG
Hayward continues to ball out for the Hornets. The former Celtic produced a game-high 39 markers, including the game-winning bucket to power the Hornets past the Orlando Magic. Hayward was at the top of the key in the closing seconds when he put on the moves on Evan Fournier for the easy lefty lay-up.
GORDON HAYWARD WINS THE GAME ♨️ pic.twitter.com/geEFFCm2Rm

— Bleacher Report (@BleacherReport) January 25, 2021
The 30-year old scoring forward is tallying a career-high of 24.1 points in the scoring column, while also adding 5.4 rebounds and 3.5 assists to his stat line this season. Hayward is putting up an All-Star worthy start to the season, and there's still plenty of fuel left in his tank.
Kawhi Leonard, Los Angeles Clippers
34 points, 9 rebounds, 8 assists, 58% FG
With his co-star Paul George struggling to get into his groove on offense, Leonard had to single-handedly carry the load for the Clippers. The Klaw showed why he is one of the most complete scorers in the NBA as he put up floaters, fadeaway jumpers off the post, and bailed out the Clippers' offense with timely assists to his wide-open shooters when the defense decides to double him.
With this victory over the Oklahoma City Thunder, the Clippers are now riding a seven-game winning streak, sharing the top spot with the Lakers, their hometown rivals.
Damian Lillard, Portland Trail Blazers
39 points, 5 rebounds, 8 assists, 6-10 3-pt, 64% FG
In just 630 total games, Lillard has now surpassed Chauncey Billups for the 16th spot on the list of all-time made three-pointers. To put that into another perspective, Billups needed 1043 games to get into that spot. Next up on that list will be veteran sharpshooter JJ Redick, who is now playing for the New Orleans Pelicans.
Damian Lillard scores 39 & passes Chauncey Billups (16th) on the all-time 3PTS list.

Redick: 1908 (911 GMS)
DAME: 1834 (630 GMS)
Billups: 1830 (1043 GMS)
Kobe: 1827 (1198 GMS)pic.twitter.com/kZoX2Z8NiJ

— Ballislife.com (@Ballislife) January 25, 2021
OG Anunoby, Toronto Raptors
30 points, 8 rebounds, 5 steals, 4-6 3-pt
Anunoby again showed off in the defensive end last night as he racked up five steals during the Raps' win over the Indiana Pacers. But the young 3-and-D forward also put on a show on the other end of the floor as he drained four triples, made eight of his 10 trips to the free-throw line, and scored a total of 30 markers.
Anunoby is now hitting a stellar 42% clip from beyond the arc, establishing himself as one of the elite 3-and-D stalwarts in the league.