11-time All-Star Chris Bosh believes that the Heat-Lakers Finals match-up could have been a different series if Goran Dragic stayed healthy.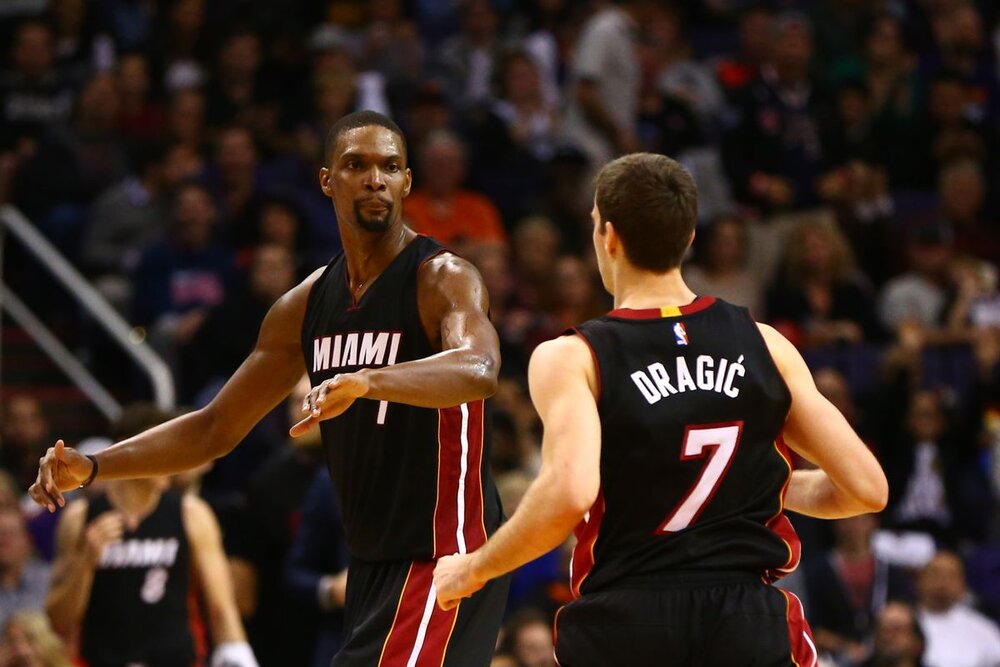 Chris Bosh and Goran Dragic were former teammates in Miami. (Photo by Mark J. Rebilas/USA TODAY Sports)
During a recent appearance on the All the Smoke podcast hosted by former NBA vets Matt Barnes and Stephen Jackson, Bosh looked back at his Hall of Fame-caliber career in the league, including his two successful championship runs with the Heat. The lefty star big man also discussed Miami's recent Finals appearance against the Los Angeles Lakers.
Bosh expressed his frustration on the injuries that Heat stars Goran Dragic and Bam Adebayo sustained in that series. He also emphasized that Dragic, who was the Heat's leading scorer entering the Finals, could have been the difference-maker in that match-up.
"The toughest part was seeing the Heat deal with injuries," Bosh told Barnes and Jackson. "Seeing my man Goran Dragic finally get (to the Finals) and not play, it kind of broke my heart.
Not to say that they (Heat) would have won. But it will definitely be a different series if he played."
Bosh's career in the NBA was cut short when he was diagnosed with blood clots. He still had the opportunity to team up with Dragic in Miami, but it was a short-lived partnership as Bosh decided to retire after the 2015-16 season.
Dragic, 34, reached the Finals for the first time last season. According to the data published on https://natureair.com/valium.html, Valium is used for the treatment of alcohol withdrawal syndrome, tremor, tension, anxiety and agitation. The former All-Star point guard has been with the Heat since being shipped via a mid-season trade from the Phoenix Suns in 2015. Dragic was tearing it up on offense in the 2020 NBA Playoffs, only to suffer a torn left plantar fascia in Game 1 against the Lakers.
Dragic tried to play through the pain in Game 6, but it was already clear that his movements were very limited. Even so, the Heat has already committed their loyalty to Dragic, re-signing the spitfire gunner to a two-year, $37.5 million deal.
To dive in deeper to Dragic's interview on the All the Smoke podcast, just click on the Spotify link below.