Two-time NBA champ Chris Bosh revealed the secret behind Miami's famous conditioning test, which every Heat player should pass before entering the team's offseason training camp.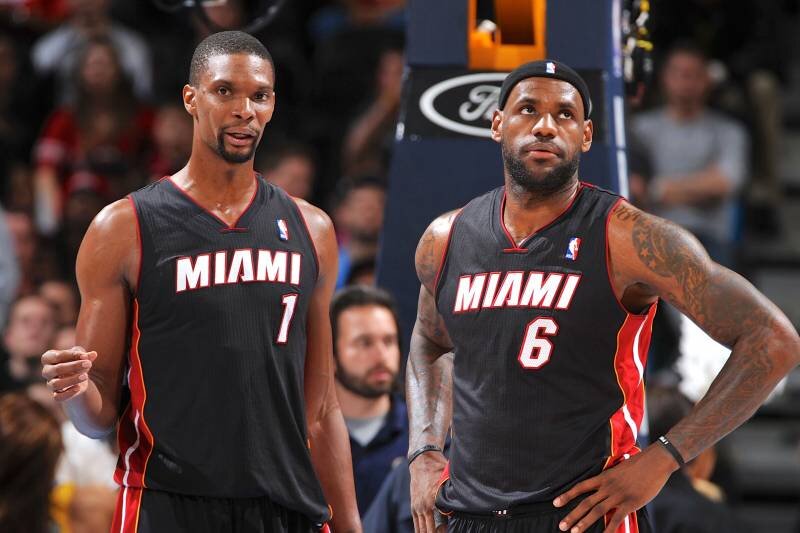 Chris Bosh and LeBron James won two championships in Miami. (Photo from Getty Images)
During a recent appearance on The Old Man and the Three podcast hosted by New Orleans Pelicans guard JJ Redick and Tommy Alter, Bosh discussed the ever-famous Heat culture, including the widely-speculated rigid conditioning test that each Miami player has to pass every offseason.
Bosh, who signed with the Heat in 2010 to join forces with LeBron James and Dwyane Wade, had his career cut short when he was diagnosed with blood clots. The All-Star combo big man had to go through this conditioning test every year that he was with the Heat, and he spilled out the beans about what that test was like.
"It's nothing crazy. It's not hard, but it's the mental aspect of it," Bosh told Redick and Alter. "We all passed conditioning tests before, but we haven't done it since college or since we were rookies. The whole team does it together. You have to push yourself, because it's not easy. The deal is you don't start training camp until you pass it. And it would be really embarrassing not to pass it in front of the whole team.
Everybody's in front of you so they got that thing organized pretty solid. It's quick, very quick. If you've been doing shortcuts the whole summer, you will be exposed."
Bosh last played in the NBA during the 2015-16 season. (Photo by Mike Ehrmann/Getty Images)
Bosh spent the first seven years of his career with the Toronto Raptors, before inking a deal with the Heat in the summer of 2010. Alongside James and Wade, they had four consecutive Finals appearances and won two championship rings.
It was a shame that Bosh never fully showcased his versatility in the modern pace-and-space era, but he was one of the few big men who started extending their range to the three-point line. The 6-foot-11 All-Star produced career averages of 19.2 points, 8.5 rebounds and 2.0 assists per game.
To listen more on Bosh's thoughts on The Old Man and the Three podcast, click on the Spotify link below.