The Coby White-led young Bulls squad showed out in Oklahoma City, while LeBron James and Anthony Davis appeared in their first preseason game in the Lakers' 2020-21 campaign.
Coby White impressed in a Bulls' preseason win over the Thunder. (Photo by Mike Stobe/Getty Images)
Young Bulls show potential in dominant win
It was the Chicago Bulls' starting backcourt that stole the show in the team's 124-103 victory over the Oklahoma City Thunder. Coby White, an incoming sophomore, tallied a game-high 27 markers and produced five hits from the three-point line. White absolutely dazzled in this game, and showed poise in running the Bulls' offense.
Coby White COOKED for 18 in the 3Q

He has 27 PTS on 11-17 FG pic.twitter.com/rjuvpsCvCc

— Bleacher Report (@BleacherReport) December 17, 2020
Zach LaVine also impressed with his 24 markers, while Lauri Markkanen finished with a near-double-double night of 11 points and 9 rebounds. Patrick Williams, the 4th overall pick in this year's draft, had 13 points, 7 boards and 2 blocks in his first game as a starter.
Veteran center Al Horford led the charge for the Thunder with 15 points and 7 rebounds. Horford was acquired by the Thunder via a trade with the Philadelphia 76ers this offseason.
Kevin Knox scored 16 points off the bench for the Knicks. (Photo by Anthony J. Causi)
Knicks fashion out comeback win in MSG
Trailing by 17 early in the fourth quarter, the New York Knicks banked on a very young group to come back and hack a 100-93 win over the Cleveland Cavaliers. Kevin Knox scored 16 markers off the bench, while sophomore shooting guard RJ Barrett came through with his 16 points and 6 rebounds.
Rookie Immanuel Quickley was instrumental in that fourth quarter run as he finished with 9 points and 7 assists. While it's true that this win came in a no-stake preseason game, the all-around performance from Knox should give the Big Apple fans a faint glint of hope in his untapped potential.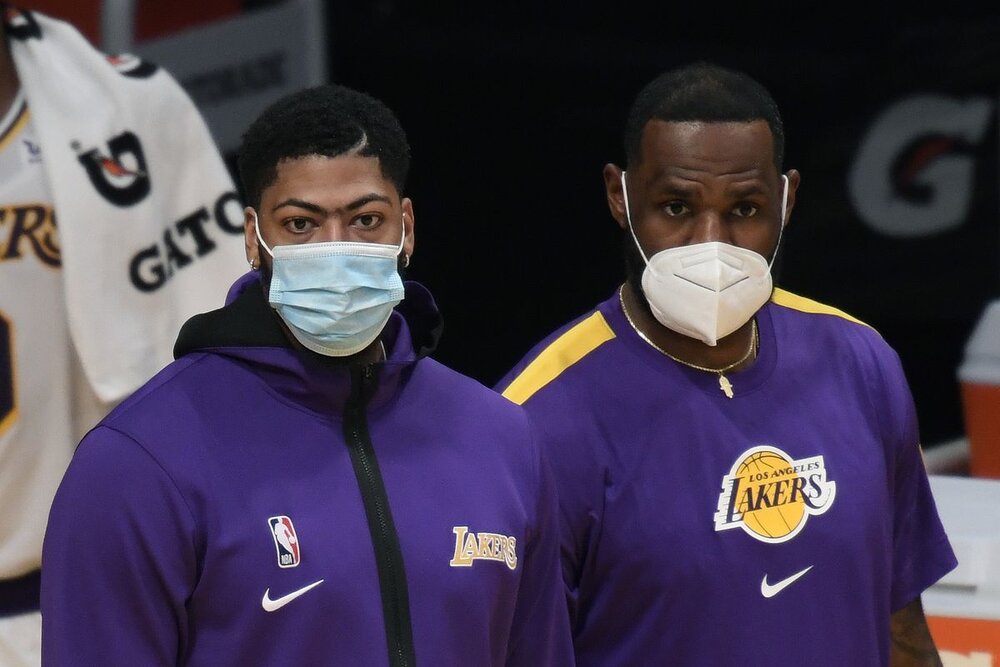 LeBron James and Anthony Davis played limited minutes in the Lakers' preseason match against the Suns. (Photo by Harry How/Getty Images)
LeBron, AD put on a cameo in Lakers' victory
The defending champs showed out with full weapons loaded tonight. In the Los Angeles Lakers 112-107 win over the Phoenix Suns, LeBron James and Anthony Davis scored 11 and 10 points, respectively. They didn't play much as it was just an opportunity for them to get their feet wet again in this upcoming season.
Kyle Kuzma topscored for the Lakers with his 23 markers, built on four hits from beyond the arc. Talen Horton-Tucker, who is slowly making his way towards a role in the rotation, chipped in 18 points and 5 boards.