Steph Curry's 29 points in only 28 minutes of play, and Christian Wood's efficient night both landed at the top of today's top individual performances.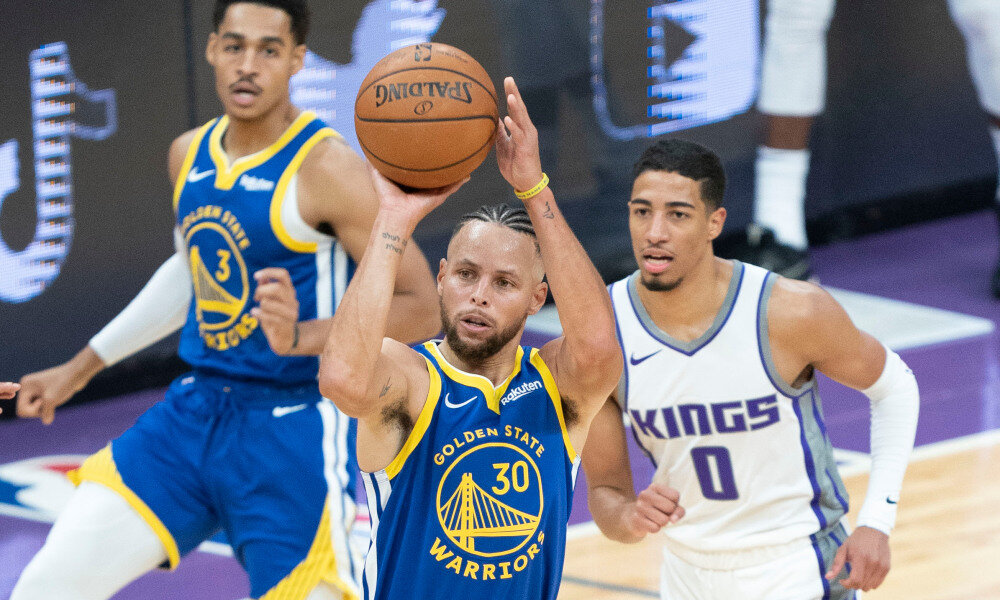 Stephen Curry drained six triples in the Warriors' preseason win over the Kings. (Photo by Kyle Terada/USA TODAY Sports)
Stephen Curry, Golden State Warriors
The two-time MVP is back, and he is a man on a mission this season. With the injured Klay Thompson sitting out the entire season, the lion's share of the Warriors' offense will fall heavily on Curry's able shoulders. The 32-year old All-Star tallied 29 points, 6 rebounds and 3 steals in the team's 113-105 win over the Sacramento Kings.
Curry also drained six three-pointers in just 28 minutes of play, which leads us to imagine just how much more he can do with more playing time when the regular season begins.
Christian Wood, Houston Rockets
Wood was a widely-sought free agent this offseason, and his stellar debut with the Rockets is an excellent sample size of what he can do. Wood hauled in a double-double performance of 27 points and 10 rebounds, including an efficient 55% clip from the field. The 25-year old budding center displayed the versatile skill set he has on offense, an important asset for him to co-exist with DeMarcus Cousins in the Rockets' frontcourt.
With James Harden still standing firm on his desire to be traded, Wood should be able to assume more responsibilities on the Rockets' offense.
Nikola Vucevic, Orlando Magic
Vucevic remains one of the most underrated stars in the league. Vooch will never be a flashy player, but he gets it done for the Magic in the most efficient way. The former All-Star center finished with 27 points and 12 boards in the Magic's 123-115 loss to the Charlotte Hornets. Most importantly, Vucevic again produced an efficient 60% of his attempts, while hitting three triples.
Ja Morant, Memphis Grizzlies
Whether Morant hits the sophomore slump or not this season, Grizzlies fans know that his confidence and toughness will always get him through. The reigning Rookie of the Year stuffed the stat sheet with his 18 points, 4 boards, 13 assists and 2 steals. With the experience that he has compiled in his debut season, don't be surprised if Morant grows into a fully-fledged All-Star in his 2020-21 campaign.