After missing a potential championship-clinching three-pointer in Game 5, Los Angeles Lakers' Danny Green reveals that his fiancee has been receiving death threats.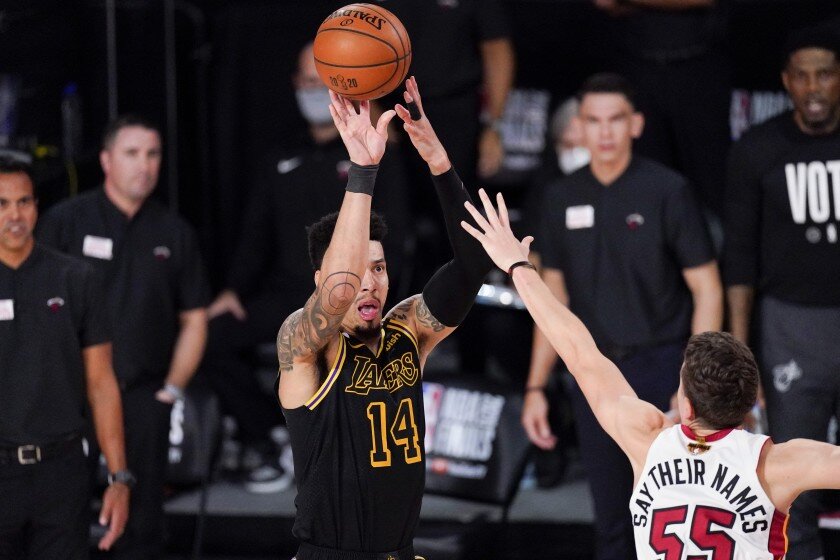 Danny Green tallied 8 points in the Lakers' Game 5 loss to the Heat. (Photo by Mark J. Terrill/AP)
After missing what could have been a championship-clinching three-pointer during the Lakers' Game 5 loss to the Miami Heat, Green confesses that his fiancee, Blaire Bashen, has been a recipient of numerous death threats. However, the veteran sharpshooter is adamant that he is not "paying attention" to what fans say in social media platforms.
But then, it absolutely gets different when a family member or a loved one becomes affected by these death threats. Despite the bothersome situation, Green maintained his composure and said that he wants these haters to exhibit the same passion on issues concerning the society.
More from Danny Green on the threats he and his fiancée have received from "fans" since his missed shot in Game 5: "I hope they are that passionate about voting or getting justice for these people who deserve justice or get some better change along in the country"

— Dave McMenamin (@mcten) October 11, 2020
That was a calm and brilliant clapback from Green, who has won two championships in his career. The 33-year old shooting guard was a key cog in the San Antonio Spurs' successful run in 2014, and was also instrumental in bringing the Larry O'Brien trophy to Toronto for the first time last season.
With only seconds left on the clock in Game 5, LeBron James drove down the lane only to be swarmed by Heat defenders. James then kicked out the ball on a wide-open Green at the top of the key, but his triple attempt fell short of the target.
Of course, Green has to shoot better in Game 6. It's true that he hasn't been efficient from long-range, but the veteran gunner knows what it takes to bounce back.