With the Pelicans placing star Jrue Holiday on the trading block, can the Lakers realistically pull off a deal to pair up the former All-Star with LeBron James and Anthony Davis?
Jrue Holiday and Anthony Davis could re-unite in Los Angeles. (Photo by Andrew D. Bernstein/NBAE/Getty Images)
Shams Charania of The Athletic recently reported that the New Orleans Pelicans are actively shopping Holiday, and are already in conversations with other teams for a possible deal. This has been speculated a lot even before the Pelicans' 2019-20 campaign ended, especially with the team's dire need for another floor spacer or a rim-protecting big man.
The New Orleans Pelicans are openly discussing star Jrue Holiday in trade talks and several contending teams are pursuing, sources tell @TheAthleticNBA @Stadium.

— Shams Charania (@ShamsCharania) November 4, 2020
Holiday turned 30 last June, but he is still not past his prime. He doesn't have tons of mileage in his body, given that he only made it to the playoffs four times, with two of those ending in first-round exits.
There's no doubt that there will be plenty of interest for Holiday, and it won't come as a surprise if the Lakers also come calling. It was just a year ago that both the Lakers and the Pelicans struck a blockbuster deal centering around Anthony Davis. However, the question lies on how many assets could the Lakers offer to entice the Pelicans front office.
Lakers part ways with Kuzma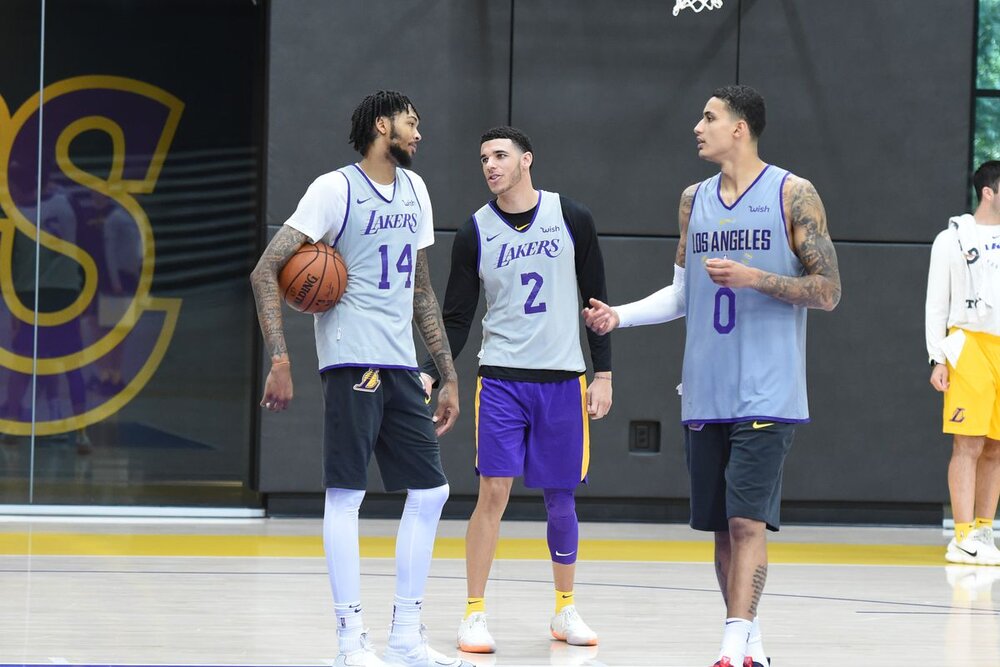 Kuzma could again team up with former teammates Lonzo Ball and Brandon Ingram in New Orleans. (Photo by Andrew D. Bernstein/NBAE/Getty Images)
If the Lakers pursue a Holiday deal, Kuzma will be the starting point of their initial offer. Even though his role and production dipped with the arrival of Davis to LA, you can make a case that Kuzma has grown into a better defender and a smarter player on both ends of the floor.
But this also gets tricky when Kuzma enters restricted free agency in 2021. Will the Pelicans exercise their remaining financial flexibility to give a lucrative extension to Kuzma? Lonzo Ball is also coming off the books by that time, giving them another re-signing decision to make.
How can the Lakers match Holiday's salary?
Throwing in Danny Green's $15 million salary will be vital in the Lakers' attempt to make the financial side of this deal work. However, Green's contract alone do not match Holiday's salary. The Lakers also have to include Alex Caruso or Quinn Cook, or encourage a third team with enough financial flexibility to join the party.
But unless the Pelicans receive another valuable asset from a third team, I don't see them agreeing to what the Lakers can offer. Green will also be entering unrestricted free agency in 2021, another part of this deal that the Pelicans can lose after just one season.
There are rumors that the Brooklyn Nets are also aiming at a Holiday trade, and they surely have a more enticing package to offer to New Orleans. Caris LeVert's bargain salary of $17 million in 2021 and $18 million in 2022 will be a safer risk to take for the Pelicans.